Artist in Residence
Apply to Be an Artist-in-Residence

The 2023 Artist in Residence application period has ended. Thank you for your applications.

Learn more about the AiR Application Information.
About the Artist-in-Residence Program

"A place of color and silence" is how Robert Limbert described Craters of the Moon's haunting landscape in the early 1920s. To this day, light, color, and solitude continue to define the Craters of the Moon experience. These qualities also inspire ideas expressed through photography, painting, sculpture, writing, and other forms of art.

The monument's Artist-in-Residence program began in 2010. During the residency artists develop works that express various facets of Craters of the Moon while honing their craft in a one-of-a-kind location. They also share different park meanings with the public through lectures, workshops, and videos.

Residences generally run two to four weeks with negotiable start and end dates. Artists from a variety of mediums are encouraged to apply, including photographers, sculptors, painters, composers, digital storytellers, graphic designers, and writers. Selections are made by a panel of park and partner staff who consider artistic merit, relevance of Craters of the Moon to the artist's work, proposals for public outreach and interaction, and appropriateness for a national park residency.
Previous Artists-in-Residence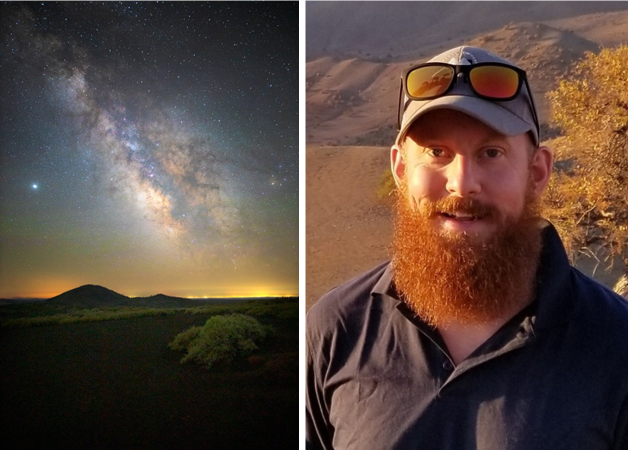 2020 Matt Dieterich
Matt Dieterich is an award-winning photographer who enjoys showcasing the beauty of the night sky. His creative vision is to pair landscapes with stunning night sky views to highlight the importance of protecting our natural resources. Matt's photography has been published around the world by sources such as Astronomy Magazine, Sky & Telescope, and NASA Astronomy Picture of the Day. Matt leads astrophotography workshops in national parks and his goal is to inspire others to experience the night sky and get outdoors into nature. He created an
astrophotography video
about his trip to Craters of the Moon.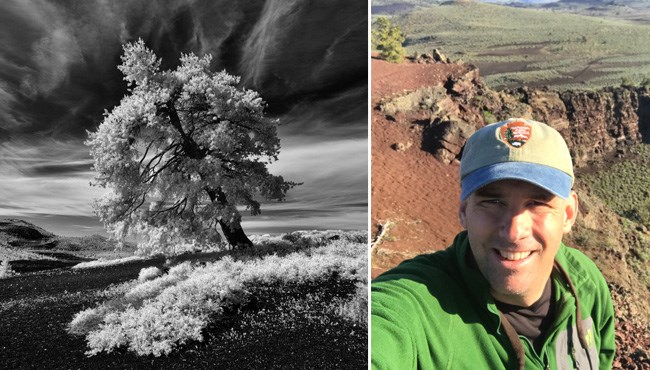 2019 David Hunter
David photographed Craters of the Moon's natural wonders, concentrating on landscapes and small details that are often overlooked. A selection of his photographs are available on our
Flickr page
.
2018 Flannery Cunningham
Flannery recorded natural sounds in the field that will be incorporated into new musical compositions. She recently premiered her first work from this residency at the Toronto Creative Music Lab,
Three Frogs in Arco, Idaho.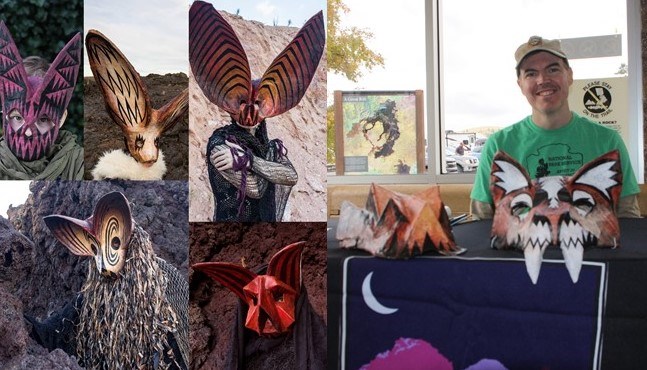 2017 Jym Davis
Jym created fantastic masks modeled after wildlife found in the park. He also modeled and took photographs of these mask creatures in a variety of Craters landscapes.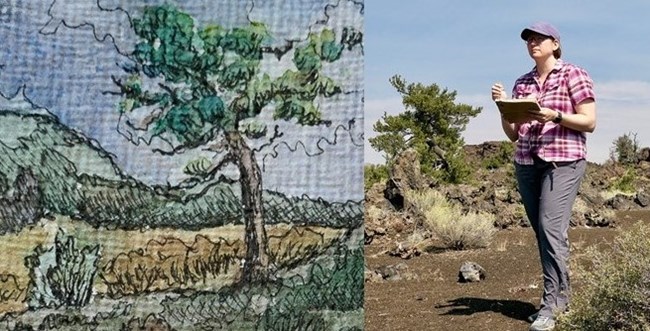 2017 Victoria Hussey
Victoria created
tiny paintings
of Craters of the Moon which she called "Mini-Monuments". She gave the images away to lucky visitors.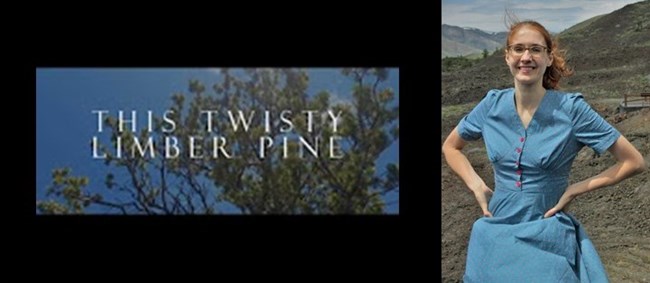 2017 Hannah Rodabaugh
Hannah wrote and recited a
variety of creative poems
about the Craters of the Moon landscape.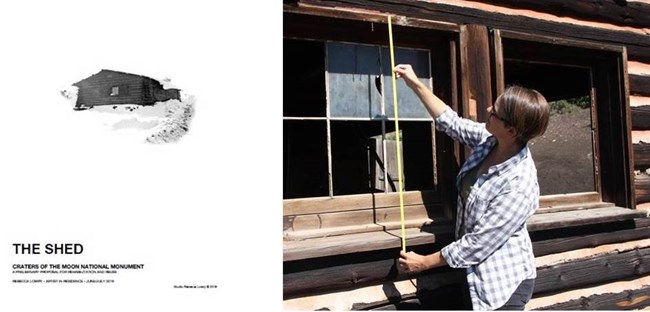 2016 Rebecca Lowry


Artist and architect, Rebecca Lowry, completed a proposal for rehabilitation and reuse of a historic structure and developed recommendations for a new interpretive trail.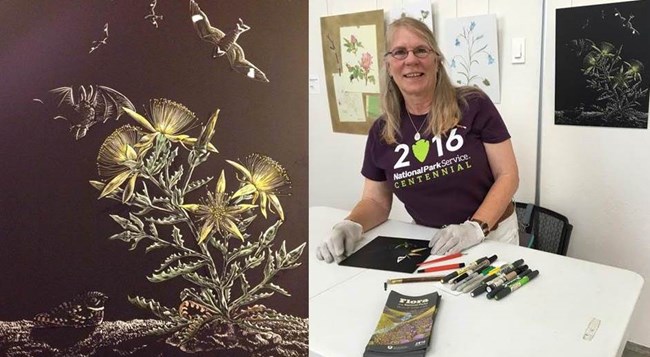 2015 Poo Wright-Pulliam

Poo's work concentrated on the flora and fauna of Craters of the Moon. The art work shown, "Night on the Moon", was chosen to be part of a special exhibit on the Flora of the National Parks at the U.S. Botanic Garden in 2016.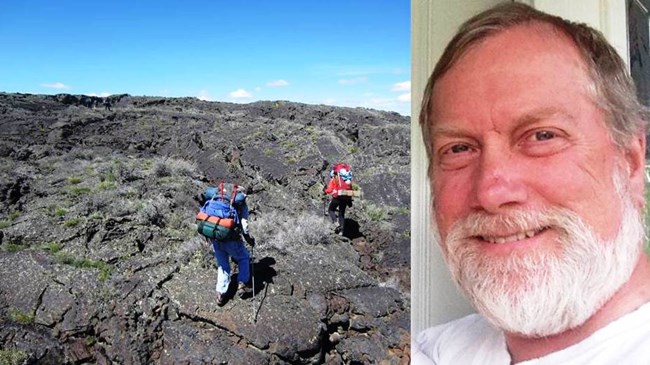 2015 Paul Miller


Paul explored the Craters of the Moon Wilderness and wrote an essay about his experiences there.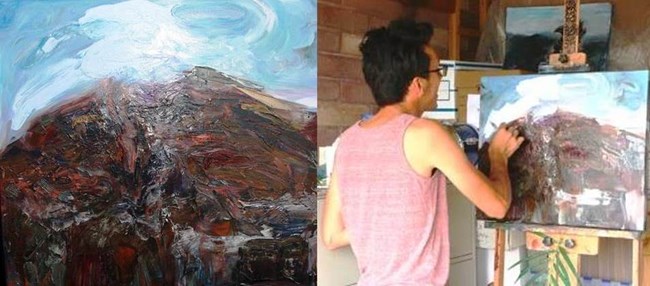 2014 Israel Aguilar Pacheco

Israel focused his paintings on features found in the Craters of the Moon Wilderness during the 50th Anniversary of the Wilderness Act.

2013 Shelly McCarl

Idaho artist Shelly McCarl focused on the dream-like winter landscapes of Craters of the Moon.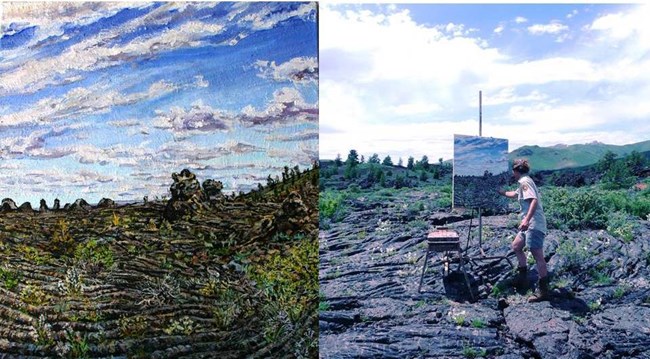 2010 Cindy Tower

Cindy created dramatic textured paintings of the lava landscape. We were pleased that several of her works were featured in the Sun Valley Center art show in 2016.
Last updated: April 2, 2023