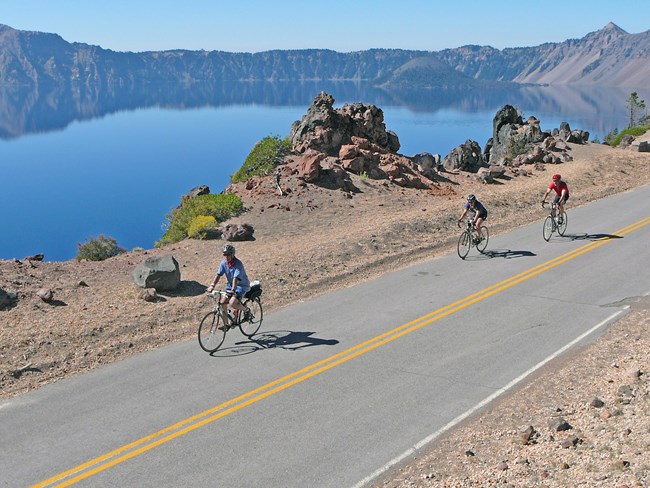 Each year, increasing numbers of cyclists come to Crater Lake National Park to ride around the lake on the physically demanding, 33 mile (53 km) Rim Drive. Steep hills at high elevation may encourage even the most fit riders to pause at many of the road's thirty overlooks and pull-outs. The payoff however is spectacular scenery, viewed at a pace that few visitors choose to take enough time for.
Rules and Safety
Cyclists must respect and obey all rules that apply to automobile traffic, including speed limits and stop signs. Bicycle helmets are highly recommended for all riders and are required for riders under the age of 16. Bicyclists must ride single file, and are prohibited from riding abreast, or side by side. When the Rim Drive is closed to motor vehicles but open to bicycles, riders may ride side by side; however they should be aware of vehicles using the roadway for administrative use.


Riders face many hazards including high speeds on steep downhill sections, rocks, animals, potholes and other road hazards as well as heavy traffic volume. Only cyclists experienced at riding with auto traffic should consider biking at Crater Lake. Cycling the three mile road section between Park Headquarters and Rim Village is discouraged due to limited sight distance, and a narrow, steep, winding road with heavy traffic.
Park roads seldom have shoulders and no bike lanes exist. Cyclists should use extreme caution, particularly along narrow areas and blind curves. Wear bright, highly-visible clothing to help drivers see you.
Cyclists unaccustomed to high altitudes may find that the elevation makes breathing difficult and the trip may take longer than anticipated. Bicycles are not permitted on park trails.
Water is available only at Rim Village, Park Headquarters, and Mazama Village.