Bicycling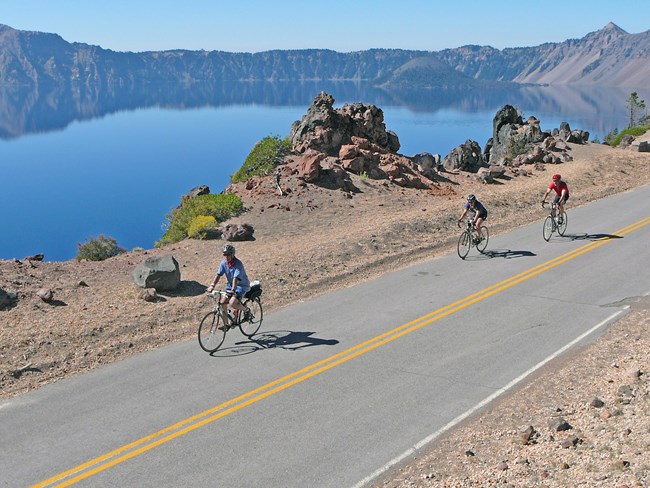 Riding Rim Drive
Each year, increasing numbers of bicyclists come to Crater Lake National Park to ride around the lake and enjoy the spectacular views.

Rim Drive is 33 miles (53 km) and physically demanding with steep grades at high altitude. Riders face many hazards including accelerated speeds on steep downhill sections, narrow roads without shoulders, rocks, animals, potholes and other road and weather-related dangers.

Only cyclists experienced at riding with elevated vehicle traffic in two directions, should consider biking at Crater Lake. Cycling the three miles of road between park headquarters and Rim Village is discouraged due to limited sight distance, and a narrow, steep, winding road with heavy traffic.
Rules and Safety
Drinking water is available only at Rim Village and Mazama Village.
Bicyclists may ride the roads anytime motor vehicles are allowed. Bicycles are also permitted on Rim Drive and North Entrance Road, during the seasonal periods when the road is snow free and closed to motor vehicles. When Rim Drive is closed to motor vehicles but open to bicycles, riders may ride side by side; however they should be aware of vehicles using the roadway for administrative use.
Park roads do not have bike lanes or shoulders. Use extreme caution particularly along narrow corridors and blind curves.

Cyclists must respect and obey all rules that apply to automobile traffic, including speed limits and stop signs.

Riding a bicycle abreast of another rider is not allowed. Please ride single file.

Cyclists unaccustomed to high altitudes may find that the elevation makes breathing difficult and the trip may take longer than anticipated.

Wear a helmet and brightly colored clothing to help drivers see you. Helmets are required for riders under the age of 16.

Bikes are not allowed on trails. The park has one dirt road, Grayback Drive, where mountain biking is allowed.
Bicycling To and Through the Park
Getting Here by Bicycle
All routes into the park have long, steep grades. Because road conditions are unfavorable to cyclists most of the year, and because many roads are closed during the long winter, we recommend you plan trips only for the summer months July, August, and September.
Entrance stations provide maps and information during summer daytime hours. Fees to enter the park are payable at the entrance stations.
Mountain Biking on Grayback Drive
Crater Lake has one dirt road where mountain biking is allowed. Grayback Drive provides eight miles of unpaved and vehicle free roadway. Those seeking the thrill of single track trails will have to look outside the park. Crater Lake does not offer any single track mountain biking trails.
E-Bikes
For a description, regulations, and safety regarding e-bikes in national parks go to Electric Bicycles (e-bikes) in National Parks.
Winter Fat Tire Biking
The activity of fat tire biking is growing in popularity in many winter recreation areas. Current park regulation prohibit the use and operation of fat tire bikes on winter trails within the park.
Vehicle-Free Days and Ride the Rim
Two Saturdays a year East Rim Drive is closed to vehicle traffic, allowing bicyclists and pedestrians an opportunity to enjoy 24 miles (39 km) of scenic roadway without vehicle noise and traffic. For more information regarding the event visit the official website of "Ride the Rim". This includes a Route Map & Elevation Chart .
Waypoints and Distances Around Rim Drive
| | | | | |
| --- | --- | --- | --- | --- |
| Point Name | Total Mileage | Distance (from last) | Climb (feet) | Elevation (feet) |
| Park HQ | 0.0 mi | 0.0 mi | 0 | 6450 |
| Rim Village | 3.0 | 3.0 | 650 | 7100 |
| Discovery Point | 4.1 | 1.1 | 50 | 7100 |
| Watchman Trailhead | 6.8 | 2.7 | 400 | 7350 |
| North Junction | 9.1 | 2.3 | 200 | 7050 |
| Cleetwood Cove | 13.7 | 4.6 | 450 | 6850 |
| Wineglass | 16.5 | 2.8 | 350 | 6700 |
| Skell Head | 17.9 | 1.4 | 400 | 7100 |
| Cloudcap | 20.9 | 2.6 | 600 | 7700 |
| Kerr Notch | 24.4 | 3.5 | 0 | 6700 |
| Dutton Ridge | 27.0 | 2.6 | 650 | 7350 |
| Vidae Falls | 30.0 | 3.0 | 0 | 6600 |
| Park HQ | 33.0 | 3.0 | 150 | 6450 |
Last updated: July 17, 2023