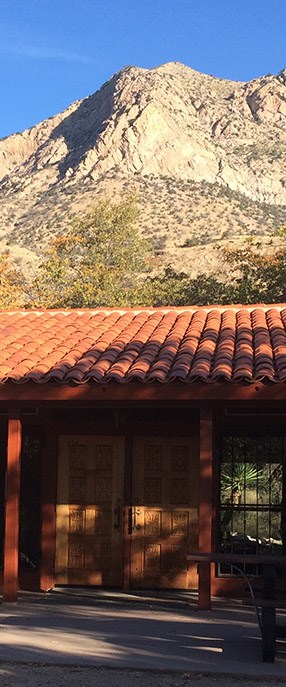 Coronado National Memorial Visitor Center
Open daily, year-round: 8:00 am to 4:00 pm.
Phone
520-366-5515
Closures
Closed Christmas day (December 25). Buses, RVs, and trucks with trailers should park in the picnic area.
Exhibits
New exhibits and museum pieces were installed in December, 2015. Be sure to visit us and explore the exhibits about the Coronado Expedition, the legacy of Spanish and Native American cultures in the region, and the natural history of Coronado National Memorial. There are hands-on displays of 16th century clothing and armor for visitors to try on and a 14-foot picture window provides visitors with a wonderful opportunity to view and photograph the flora and fauna in a relaxed atmosphere. A park film is available on park ipads.
As a memorial site - as opposed to a monument or historic site - there are no tangible artifacts or relics of the Coronado Expedition within the park. The park was established (initially in 1941) to commemorate the Coronado Expedition of 1540-1542 and the lasting legacies of the first interaction between American Indians and Europeans in the American Southwest and northwest Mexico. Many of these first interactions proved violent and bloody at the hands of the Spanish and Aztec allies that joined the expedition. In this regard, the park serves as a site of conscience, a place where one can reflect on the past and the trials and tribulations that the Native Americans of this region endured. However, these first interactions ushered in an era of cultural change and endurance, resulting in a unique combination of traditions, music, arts, and architecture that is distinctively representative of the people and places of the American Southwest and northwest Mexico.
The location of the park, sharing a southern border with Mexico, reminds visitors of the collective shared history that the US has with its neighbor.
Bookstore
Coronado history books, local history guides, bird and animal guides, and maps of hiking trails in the Huachuca Mountains and the surrounding area are available through the
Western National Parks Association
bookstore in the visitor center. Gift items are also available including baskets woven by Tarahumara artisans, Native American wood flutes, Coronado National Memorial pins, stickers, magnets, shirts, and much more.