Canoe Trail Information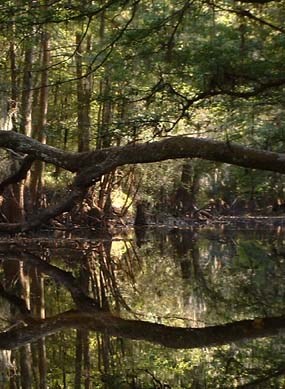 Paddlers should be prepared for numerous portages and carry-overs of logs and other obstacles in the creek.
Flowing through the heart of Congaree National Park, Cedar Creek is a major part of this dynamic floodplain wilderness area. Conditions on the creek vary from season to season, so being prepared is important for having an enjoyable and safe trip.
What You Should Know
Before beginning your trip, make sure that you have the proper equipment. Besides a canoe or kayak, you should have a personal flotation device (PFD), whistle, weather appropriate clothing, water, food, sunscreen and insect repellent.
While the canoe trail is marked, these markers may or may not be visible depending on water levels. No matter the length of your trip, it is highly advisable to always carry a map and compass with you.
Water levels can fluctuate as much as 10 feet on the creek. Know beforehand what the water level is. The USGS maintains two gauges in the park: the Cedar Creek Gauge and the Congaree River Gauge
Water level can significantly change the nature of a trip on Cedar Creek. The Cedar Creek Water Level Chart can help you get an idea of what conditions will be like for the current water level.
Flood stage for Cedar Creek is set at 8 feet. Currents when the creek is in flood are highly unpredictable and the trail is hard to distinguish. When the creek is above this level, it is not advisable to paddle the creek, especially if you are a novice paddler or not experienced with Congaree.
Downed trees and log jams are a common occurrence on Cedar Creek. Depending on water levels, travelers may need to portage around these obstacles. The trail is cleared as staffing and weather conditions allow. If you come across one an obstacle, please pass it on to a park ranger so that the most up to date information can be passed on to other visitors.
Be aware of other potential hazards associated with downed trees. Poison ivy vines, spiders, wasps and other stinging insects, and snakes are common here in the park, especially during the summer months. Downed trees are a good place to find these and other hazards. Please use caution when navigating around or under a downed tree.
For more information or questions, please contact the information desk during our hours of operation at (803) 776-4396.
Last updated: January 3, 2023