Your Safety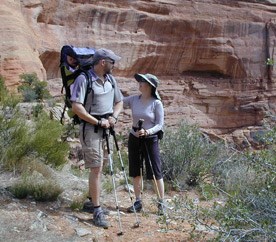 Colorado National Monument contains rugged and remote landscapes. Always be prepared when hiking by carrying a map, compass, extra water, food, first aid kit, sun protection, and warm clothing.
Bicyclists and motorists

share the Rim Rock Drive. Please drive or bike cautiously and never pass cars or bikes on curves

. Please pack your patience and wait if a car or bicycle ahead of you is driving slowly. Slow vehicles and bikes should use pullouts to allow faster vehicles to pass.

Bicyclists are required to ride single file at all times within the monument. Use bicycle lights in the tunnels. Learn more about biking in the Monument here.

Be sure everyone has their seatbelts on every time you start your vehicle, even if you are just going between overlooks.

Watch your step and your children at overlooks, along canyon rims, and at steep dropoffs. Stay at least six feet (2 meters) away from the edge, don't climb fences at overlooks, and do not run near canyon edges. Don't back up without first looking behind you to see where you are going.

Don't throw anything over canyon edges. Hikers or rock climbers could be below you, and an object falling from that height could seriously injure another person.

Watch where you put your feet and hands. You are sharing the land with

rattlesnakes

and scorpions. While they are usually seen only at night, reaching into one of their daytime resting places could startle them. Make sure you can see where you are placing your hands and feet to avoid encounters.

When hiking, carry a minimum of one gallon of water per person, per day. There are no water sources in the park.

Use sunscreen and a hat to protect yourself from sunburn. Wear sturdy footwear, a long sleeve shirt and long pants. Gnats (biting midges) can be a problem from May to August. Be sure to carry insect repellant.

Let someone know where you're going and when you expect to return.

If your group decides to seperate to do different hikes, set a meeting time and place for everyone to return to at the end of the day.

From April to July, seasonal pools may exist in canyon bottoms. Please do not enter these pools. Sunscreens and lotions pollute these waters that are important to wildlife.

Avoid ridgetops and open ground during lightning storms.

Less than ¼-inch of rain can produce flash floods. Flash floods are caused by run-off from intense, localized thunderstorms that drop a large amount of rain over a short period of time. They are most common in July, August, and September, but can occur at any time of the year. Move to higher ground immediately.


Last updated: November 30, 2020