Saddlehorn Campground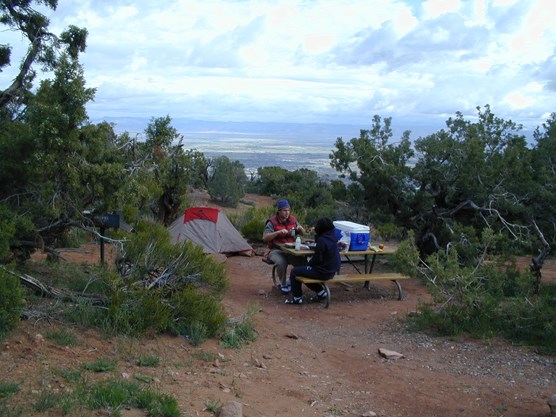 Saddlehorn Campground is located near the Saddlehorn Visitor Center, four miles from the west entrance (near Fruita, CO), and is the only established campground within the Monument. Overnighting in overlooks, picnic areas and other pull-offs is not permited.
$22.00 camping fee is in addition to monument entrance fees. $11.00 camping fee for Senior and Access Pass holders.
Seven (7) person per site limit, three (3) tents per site, and two (2) vehicles per site.
A-Loop is typically open year round.
A-Loop and B-loop sites are reservable Late-March through Mid-October, up to 6 months in advance. These dates may vary. Maximum of two sites per individual. Reservations can only be made online at Saddlehorn Campground, Colorado National Monument - Recreation.gov or by calling 1-877-444-6777.
If not reserved, sites in A-Loop and B-Loop can be used for one night only on a first-come-first served basis.
C-Loop is designed for group camping as well as individual camping.
Groups of 15 or more people require reservations through the monument by calling 970-858-3617 ext. 330.
Sites are suitable for tents and recreational vehicles, with some pull-through sites in the A and B loops.
Length limit of 40 feet for recreational vehicles.
Restrooms have flush toilets and water available during the summer.
Each site includes a picnic table, charcoal-only grill, and a parking area.
No electric hookups or showers.
Hanging anything (hammocks, clothes lines, clothing, food, etc.) on trees or vegetation is prohibited.
Wood fires are not permitted anywhere in the monument.
Generator use is prohibited from 8 p.m. to 8 a.m.
Checkout time is 11:00 a.m.
In any calendar year, campers are limited to 14 overnight stays, whether occurring consecutively or in any combination of separate visits.
Pets are allowed at campsites, but must be on a leash 6 ft. in length or less, well behaved, and attended at all times. Please clean up your pet waste and place in garbage receptacles. Also remember that pets are NOT allowed on hiking trails but ARE allowed on paved surfaces.
Campsites #5 and #70 are accessible. They are reserved for the use of mobility-impaired persons only. Monument accessibility information
Walk-ins: Both A and B loops of the campground are able to accomodate walk-ins as long as the site has not been reserved. Reserved sites will have a red colored tag attached to the numbered post in each campsite. Pick an unoccupied site that is marked with a green colored tag and use self-registration instruction.
Backcountry camping is also permitted. A free backcountry permit is required and may be obtained at the visitor center. Water is not available in the backcountry, even during spring runoff due to a high Selenium content. Remember to take plenty of water with you: one (1) gallon (4 liters) per person is recommended per day in the summer months.
Other camping is available outside of Colorado National Monument. Check with Grand Junction Visitor and Convention Bureau and the City of Fruita for details.
Other national park information is in Nearby Attractions.


Last updated: April 1, 2022