For Kids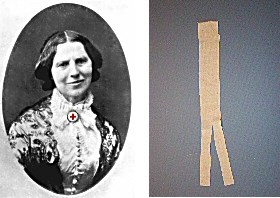 Students do you have to dress like Clara Barton for a school report or presentation? Download and print out our Dress Like Clara Barton handout for tips and ideas. Make your own Red Cross pin.
Do you need some ideas on what props or supplies to use in your presentation? Download and print our What Would Clara Barton Bring? handout for ideas. Bandage your classmates!
We have a few transcriptions of "primary source" documents and a photo gallery of Clara Barton you may use for school reports also. Don't forget to look through the Clara Barton Chronology for a timeline of important dates and events from her life.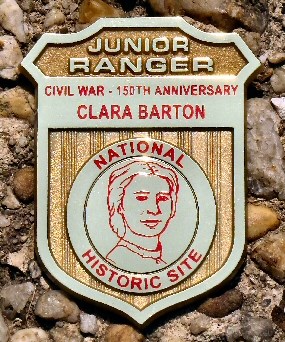 Traveling Clara Barton is a fun way to learn about Clara Barton's Civil War accomplishments and earn a Clara Barton National Historic Site Civil War Junior Ranger Badge.
Print out your Traveling Clara Barton document.
Visit or mail Traveling Clara Barton to each of the six sites listed on the document.
Collect a stamp at each site.
Print out and complete the Junior Ranger Worksheet.
Bring or send your completed Traveling Clara Barton document and Junior Ranger Worksheet to Clara Barton NHS.
Receive a Clara Barton NHS Civil War Junior Ranger Badge.
Quick links to the sites associated with this program are on the Traveling Clara Barton page.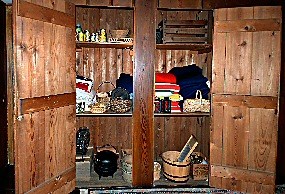 Supplies stored at Clara Barton's home, ready for disaster assistance, provided the necessities of survival - food, clothing, and shelter; but also provided tools for cleaning-up and rebuilding. Her principle was be prepared before the disaster occured.
Clara Barton stated:
"Before us now lie the problems of the future, and the question is: How shall we meet them? As friends of humanity, while there is still a possibility of war or calamity, it behooves us to prepare... the world-wide motto of the Red Cross:
In time of peace and prosperity, prepare for war and calamity."

Clara Barton taught us that we should be prepared before something bad happens. You can help your family do this. Be a leader, develop emergency kits and emergency plans for your family. The Department of Homland Security has a fun website to help you learn more. Play games and learn how your family can be prepared before a disaster strikes, just like Clara Barton.
Visit their web site at: http://www.ready.gov/kids

Last updated: August 3, 2021