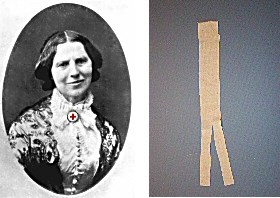 Students do you have to dress like Clara Barton for a school report or presentation? Download and print out our Dress Like Clara Barton handout for tips and ideas. Make your own Red Cross pin.
Do you need some ideas on what props or supplies to use in your presentation? Download and print our What Would Clara Barton Bring? handout for ideas. Bandage your classmates!
We have a few transcriptions of "primary source" documents and a photo gallery of Clara Barton you may use for school reports also. Don't forget to look through the Clara Barton Chronology for a timeline of important dates and events from her life.