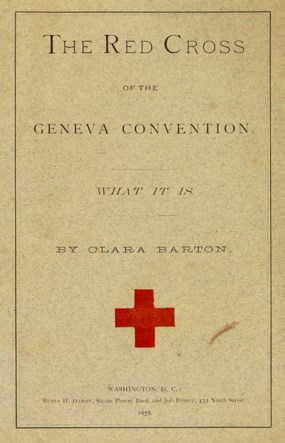 The following was transcribed from The Red Cross of the Geneva Convention. What It Is written and published by Clara Barton in 1878:
---
To the People of the United States,
Senators and Representatives in Congress:
Having had the honor conferred upon me of appointment by the Central Commission holding the Geneva Convention to present that treaty to this Government, and to take in charge the formation of a National organization according to the plan pursued by the committees working under the treaty, it seems to me but proper, that while I ask the Government to sign it, the people and their representatives should be made acquainted with its origin, designs, methods of work, &c. To this end I have prepared the following statement, and present it to my countrymen and women, hoping they will be led to indorse and sustain a benevolence so grand in its character, and already almost universal in its recognition and adoption by the civilized world.

CLARA BARTON,
Washington, D.C.