Virtual Programs and Distance Learning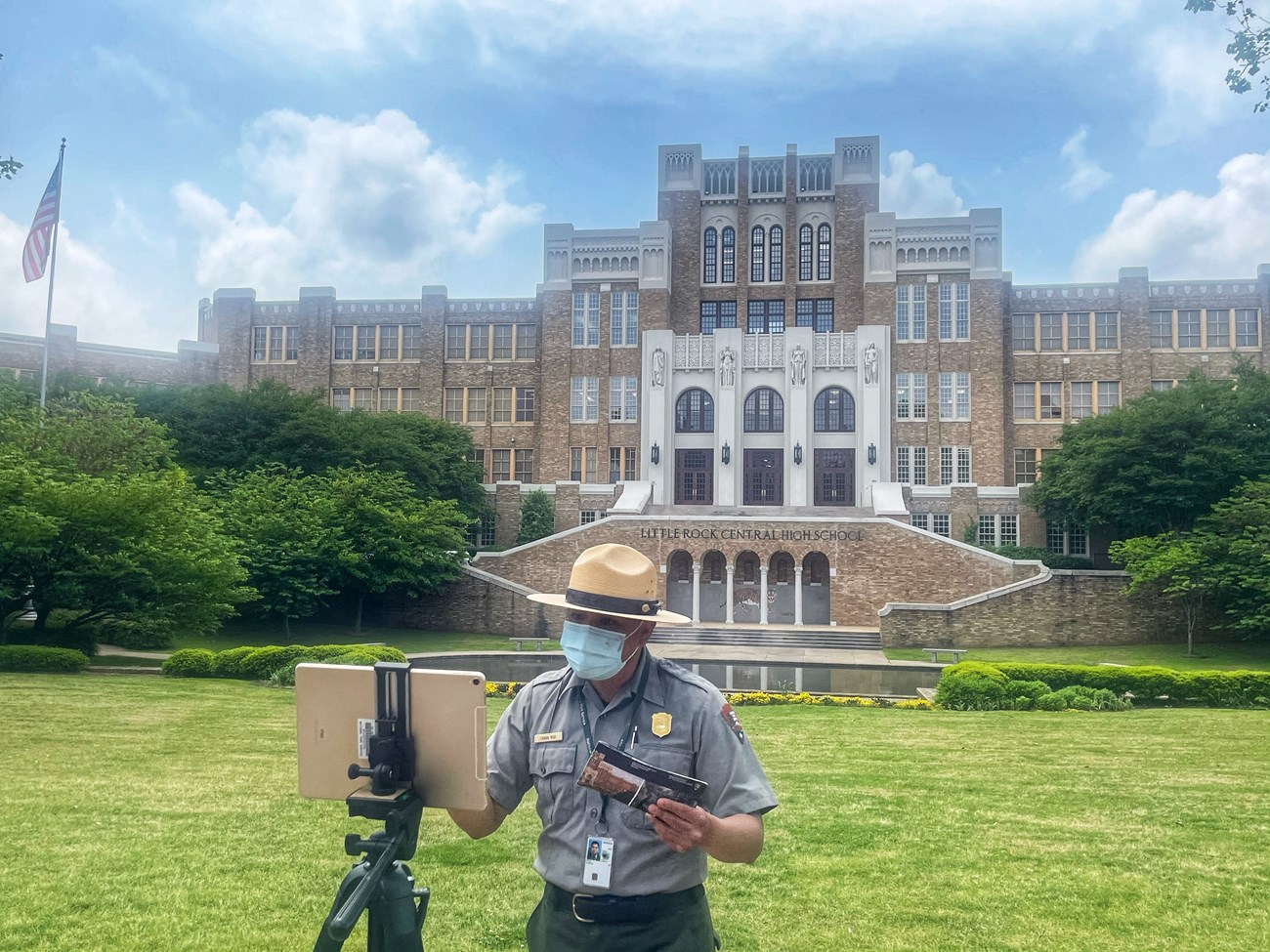 If you are interested in interpretive or educational programming but cannot visit us at Little Rock Central High School National Historic Site, we can connect with you virtually. Programs are available for schools, colleges/universities, civic organizations, businesses, etc.

Presentation Overview
Opened in the era of Jim Crow laws and at a time when Supreme Court-mandated policy allowed educational facilities to be separate but equal, Little Rock Central High School admitted only white students during its first three decades. These students received greater educational opportunity than did their African American counterparts throughout the city. The landmark Brown v. Board of Education decision in 1954 held separate educational facilities to be inherently unequal. Three years after Brown, Little Rock Central High School became the epicenter of a direct challenge to federal authority and enforcement not seen since post-Civil War Reconstruction. In September 1957, angry mobs, the governor of Arkansas and the Arkansas National Guard blocked two attempts by African American students to enter and integrate the school. Later dubbed by the media as the Little Rock Nine, this group of students succeeded on their third attempt. They entered classes on September 25, 1957, escorted by the 101st Airborne, which had been ordered by President Dwight D. Eisenhower to enforce the ruling and prevent interference with court orders of integration. Despite the presence of troops, the Little Rock Nine faced harassment—verbal and violent, private and public, latent and life-altering—throughout the school year. The following year, voters chose in a special election to reject immediate racial integration of all schools within the Little Rock School District, allowing four local high schools to be shuttered for an entire school year. In our program, we will discuss the heroic story of the Little Rock Nine, the struggle to maintain segregation, the surging tide of the civil rights movement, and how the sacrifice and struggle endured by nine African American teenagers more than a half century ago have provided opportunities and opened doors to those seeking equality—and education—around the world.

To schedule a virtual program about the Little Rock Nine and the story of desegregation at Little Rock Central High School, contact the National Historic Site at:

501-374-1957 (main number) OR brian_schwieger@nps.gov (email)

Note: programs do not include virtual access inside Little Rock Central High School
Last updated: February 3, 2023