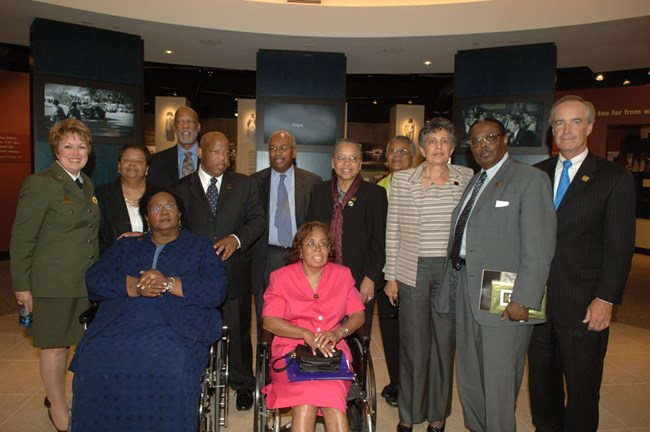 A half-century after nine courageous black teenagers attempted to enter the previously all white Central High School, nearly 2,000 visitors, many of them former Central High School students themselves, attended the dedication of Little Rock Central High School National Historic Site's new visitor center.
Each member of the Little Rock Nine was escorted onstage by a current member of the U.S. Army's 101st Airborne Division.
Remarks featured an impassioned keynote tribute to the Little Rock Nine by U.S. Representative John Lewis, a former Freedom Rider and member of the Student Nonviolent Coordinating Committee (SNCC), and Elizabeth Eckford gave an equally expressive accounting of her experiences that fateful year at Central High School. Members of the Arkansas National Guard served as color guard for the dedication; the SNCC Freedom Singers performed a stirring a capella rendition of the National Anthem; and both the Freedom Singers and Lawrence Hamilton and Rennaissance vocalized a selection of songs representative of the civil rights movement throughout the program.
Other honored guests and participants included Secretary of the Interior Dirk Kempthorne, U.S. Senators Blanche Lincoln and Mark Pryor, U.S. Representative Vic Snyder, and National Park Service Director Mary Bomar. World renowned poet, author, activist and educator Nikki Giovanni received perhaps the most enthusiastic response of the day following her powerful reading. Central High School Student Body President Cyrus Bahrassa spoke eloquently to the responsibility of the current and future classes of Central High School to carry on the legacy of the Little Rock Nine. The program concluded with a ceremonial ribbon-cutting by the Little Rock Nine.