News Release
Calling all gongoozlers!* experience the only restored operational masonry canal aqueduct in North America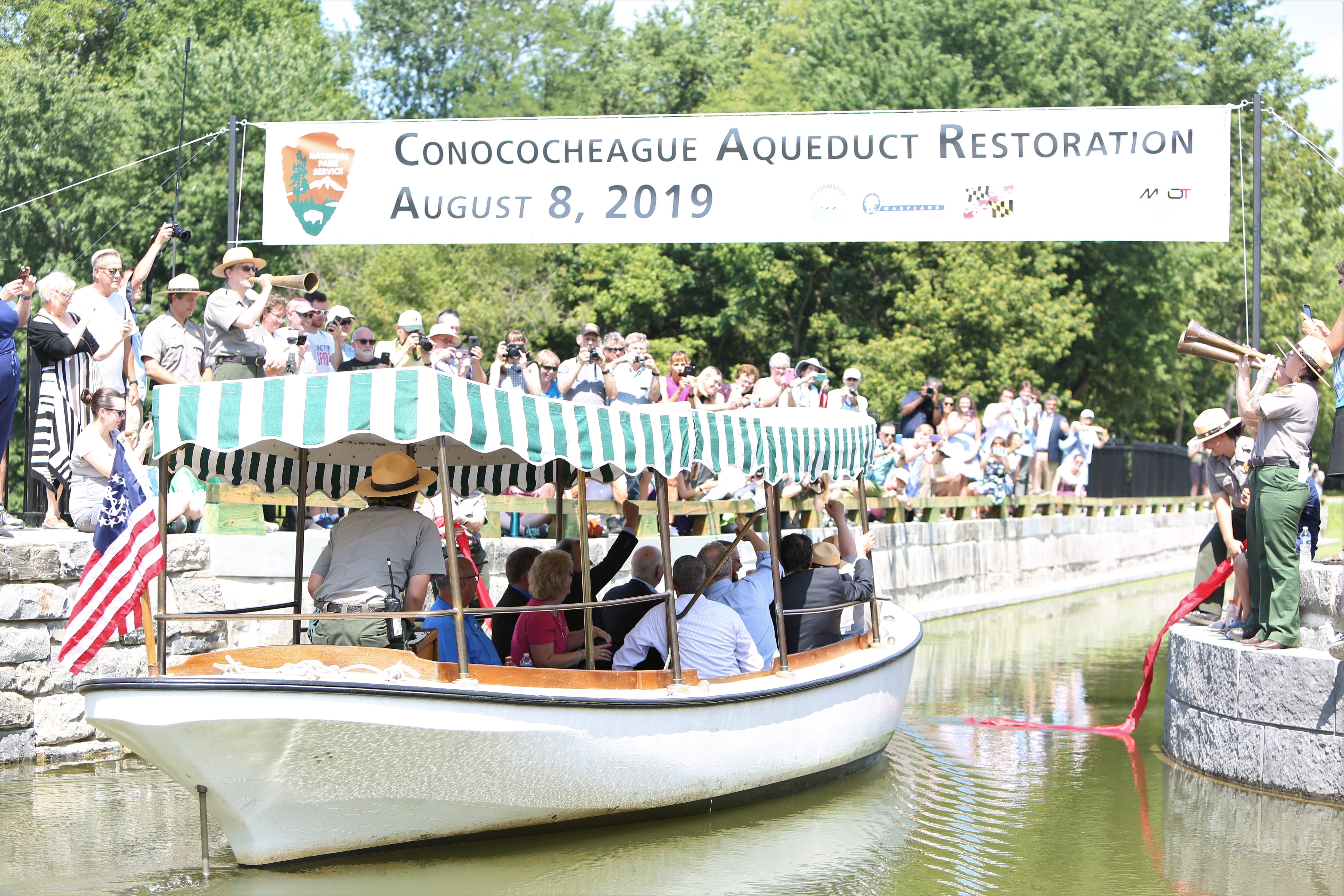 News Release Date:
August 8, 2019
Contact: Hollie Lynch, 301-491-0149
Contact: Brendan Wilson, 240-291-8466
Williamsport, Md. — For the first time in nearly 100 years, a canal boat crossed the Conococheague Aqueduct of the Chesapeake and Ohio Canal National Historical Park today in Williamsport. The National Park Service, the Town of Williamsport and friends and neighbors of the canal celebrated the completion of the Conococheague Aqueduct restoration project and the groundbreaking for a new C&O Canal Headquarters and Visitor Center.
"The Conococheague Aqueduct restoration project, a two-year endeavor to rebuild the historic aqueduct using timber and original stones, creates the first watered, operational aqueduct along the C&O Canal since 1924," said Superintendent Kevin Brandt. "The Town of Williamsport, long known for its importance during the C&O Canal's operational days, is now the only place in North America where visitors can view multiple canal features in one location, including a lift lock and refurbished lockhouse, railroad lift bridge, canal turning basin and warehouse, and a watered aqueduct." 
Crowds gathered to hear remarks by Maryland Governor Lawrence J. Hogan; U.S. Senator Benjamin L. Cardin; U.S. Senator Christopher Van Hollen, Jr.; Maryland Senator George C. Edwards; Maryland Delegate William J. Wivell; Congressman David Trone; Hagerstown-Washington County Convention and Visitors Bureau President Dan Spedden; Washington County Chamber of Commerce Board Chairman Keith Grunow; Williamsport Mayor Bill Green; President of Washington County Commission Jeffrey Cline; National Park Service Deputy Director P. Daniel Smith; and C&O Canal National Historical Park Superintendent Kevin Brandt. Tom Riford, Assistant Secretary of Commerce, State of Maryland, served as master of ceremonies. 
Construction will begin on a new visitor center and park headquarters in 2020 and is projected to be completed in late 2021. The headquarters move from Hagerstown will bring about 70 jobs to Williamsport with an annual payroll of about $5 million. The total project cost is $15 million. 
"Today, we are making Williamsport a capital of sorts as we break ground on an incredible project to make this wonderful, historic Maryland town literally the epicenter of the historic 184.5-mile C&O Canal," said Governor Hogan. "This is the kind of transformative project that only comes along once in a generation, and it has taken years of collaboration, cooperation and hard work by so many people at the federal, state and local levels of government to help make this important project become a reality."
"Today's news is a huge win for Williamsport and for Maryland as a whole. We are proud to serve as the headquarters of the C&O Canal and to steward this national treasure. The new headquarters and renovated Conococheague Aqueduct will boost Williamsport's recreation and tourism industries and ultimately spur economic growth. I'm glad we were able to work together, partnering on the state, local and federal levels to get this done," Senator Chris Van Hollen said. 
Four canal boats, filled with guest speakers and dignitaries, took inaugural boat rides across Conococheague Aqueduct. The crowd cheered as the first boat broke through a ribbon spanning nearly 20 feet across the aqueduct entrance. Boat rides continued the remainder of the afternoon, along with living history activities at Lockhouse 44 and family and youth activities in the historic Trolley Barn. 
"The National Park Service brand is one of the most trusted brands among domestic and international travelers, and national parks are among the most sought after destinations," Dan Spedden, President of Hagerstown/Washington County Convention and Visitors Bureau, said. "The aqueduct restoration and new headquarters and visitor center will make the C&O Canal synonymous with Williamsport, Md., and establish the town as a preferred destination."  
Eventually, the entire section of the C&O Canal in Williamsport will be restored to its 1920s appearance. Additional funding will be sought to create a user-friendly, fully accessible crossing of the canal and ways to bring the story of the industrial revolution along the canal to life for visitors of all ages. 
"The C&O Canal National Historical Park is Maryland's largest and most-visited national park. At 184.5 miles, and with nearly 5 million visitors, the economic benefits, and the benefits to residents' quality of life, makes this a treasure for everyone." Tom Riford, Assistant Secretary of Commerce, in charge of the state's Tourism, Film, the Arts, Marketing and Communication, said.
Canal boat rides and ranger programs will continue through the weekend at C&O Canal National Historical Park Cushwa Basin, 205 West Potomac Street, Williamsport, Md. For more information, visit the C&O Canal National Historical Park website or call 301-582-0813. Follow the event on Facebook at chesapeakeandohiocanal and on Twitter @COcanalNPS
*A gongoozler is a person who has an interest in observing canals and canal life.
Last updated: March 14, 2022