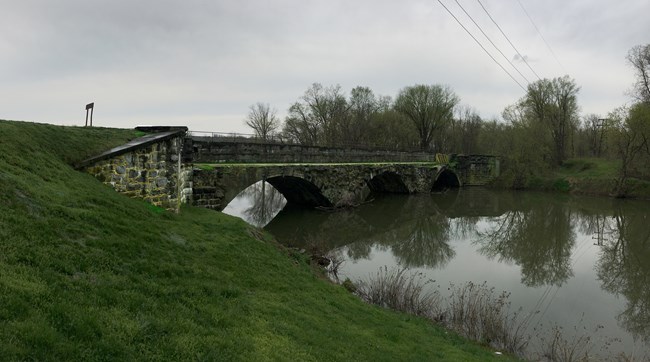 Conococheague Aqueduct Restoration Project Quick Facts
Groundbreaking Ceremony Press Release
The groundbreaking ceremony of the restoration of the Conococheague Aqueduct will take place on Friday, May 5, 2017, at 11:00 am in Williamsport, MD. This aqueduct along the Chesapeake and Ohio Canal National Historical Park is located at mile marker 99.6.
The next phase of the restoration project for the entire Williamsport interpretive complex will return the Conococheague Aqueduct to its 1920's appearance and create the first watered, operational aqueduct along the C&O Canal since 1924.
The restoration project for the entire complex is a true federal-state-local partnership, with $6.24 million coming from a State of Maryland Transportation Alternatives Program Grant, $722,904 from a State of Maryland Bikeways Grant, and the remainder from the National Park Service. The Town of Williamsport has been an active, supportive and essential voice in bringing this project to fruition.
The Conococheague Aqueduct, second largest of the eleven aqueducts on the 184.5 miles of the C&O Canal, is listed on the National Register of Historic Places. Nearly 97 years ago, in April of 1920, the upstream wall of the Conococheague Creek Aqueduct gave way, crumbling into the creek below. The C&O Canal Company temporarily repaired the aqueduct with a wooden wall, but the canal only operated for three more seasons before being abandoned in the spring of 1924.
The project will restore the aqueduct to its appearance in the early 1920's, with a new upstream wall designed to appear as the wooden temporary replacement wall. More importantly, the aqueduct will be restored to the condition where it can once again hold water, the first canal aqueduct to be restored to full operation. When complete, Williamsport, Maryland will be the only place in North America where visitors can ride boats across an aqueduct and through a working canal lock.
The Conococheague Aqueduct Restoration Project will provide a watered section of the canal to allow for canal boat operations and other public uses between Lock 44 and approximately 450 feet upstream of the existing aqueduct. During the project, the towpath across the aqueduct will be fully closed to public use and a temporary bypass established for thru-bikers and hikers.
Background Project Information
Conococheague Aqueduct Restoration Project Info Page

Partner Organizations
The Town of Williamsport, Md.

Maryland Department of Transportation

Visit Hagerstown & Washington County