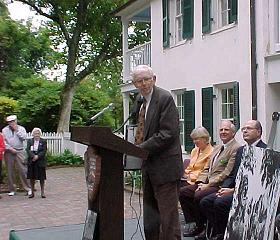 On October 12, 1998, the C&O Canal National Historical Park commemorated the 100th Anniversary of William O. Douglas' birth by unveiling a portrait of Justice Douglas hiking along the towpath. Speakers at the ceremony included Park Superintendent Douglas D. Faris, U.S. Representative Connie Morella (MD), and those in the picture on the right. At the podium is former U.S. Representative Gilbert Gude (MD) who introduced the legislation that preserved the C&O Canal by designating it a National Historical Park. Seated from left to right are Cathleen Douglas Stone (widow of Justice Douglas), Carl Linden (C&O Canal Association), Tom Kozar (the portrait's artist), and U.S. Senator Paul Sarbanes (MD).
The portrait, commissioned by the C&O Canal Association, now hangs in the Great Falls Tavern Visitor Center.
Millions of people each year enjoy the natural, cultural, and recreational resources of the C&O Canal, making it one of the most heavily visited national parks in the country. Yet, many visitors don't realize that this beautiful strip of land alongside the Potomac River was almost paved over.