Volunteer

The Chesapeake and Ohio Canal National Historical Park has a diverse range of opportunities for our visitors who are interested in volunteering for the park. Whether your interest is in living history, bike patrolling, park maintenance, or staffing a visitor center, the C&O Canal has many rewarding volunteer jobs.

A few of the volunteer programs we have are:

Antietam Creek Campground Host
Do you want to live in a National Park for a month or more? Do you enjoy camping? Apply for the Antietam Creek Campground Host position! Hosts are responsible for welcoming campers and helping them get acquainted to the campground.

Billy Goat Trail Stewards
Are you an avid hiker and fan of the C&O Canal's Billy Goat Trail? Then join the ranks of the Billy Goat Trail Stewards! BGTS are well versed in Leave No Trace, and the ins-and-outs of Bear Island.

Bike Loaner Program
The C&O Canal is looking for volunteers to assist with the Bike Loaner Program, operating out of the Visitor Center in the Great Falls Tavern. Volunteers help visitors select and make adjustments to loaner bicycles for rides on the towpath.

Bike Patrol
Enjoy riding your bike along the towpath and interacting with visitors? Join the Bike Patrol! This program operates out of the Cumberland, Williamsport, Great Falls, and Georgetown Visitor Centers. Members patrol the canal on bicycle and offer information to visitors, report hazards, and serve as resource protection stewards.

Canal Steward Program
Do you have a favorite section of the C&O Canal? Perhaps it is a stretch of towpath, or a particular historic building, lock, aqueduct, campsite, picnic area, Canal Quarters Program or boat ramp? If so, we could use your help! Become a C&O Canal Steward and adopt a site! Adoption areas available from Georgetown to Cumberland.

Level Walkers
Walkers wanted! Do you love walking? Do you have a favorite part of the canal you like to walk? Are you interested in volunteering for the C&O Canal? If so, you are just the person we are looking for!

Mercer Boat Crew
Interested in working on a canal boat? The Charles F. Mercer, in Great Falls is currently the only mule pulled boat on the C&O Canal. We are looking for individuals who can assist in the operation of the boat during the visitor season.

Roving Interpretation
Share your knowledge (or learn something new!) about the C&O Canal's unique history, geology, ecology, and more with park visitors! Hike the towpath and trails greeting and welcoming visitors, and provide them with park information.

Trails and Rails Program
The Chesapeake & Ohio Canal National Historical Park and Harpers Ferry National Historical Park began an exciting new program onboard Amtrak's Capitol Limited between Cumberland, Maryland, and Washington, DC, in May, 2012. A recent addition to the National Park Service Trails & Rails Program, this route runs through the Potomac River valley parallel to the historic C & O Canal and through the town of Harpers Ferry, West Virginia.

Visitor Center
Volunteers at the C&O Canal Visitor Centers welcome thousands of park visitors every year and provide invaluable information regarding the park's historical, natural and recreational resources. Visitor centers are located in Georgetown, Great Falls, Brunswick, Williamsport, Hancock, and Cumberland.

To learn more about these opportunities or to find out about other opportunities in the park, please go to www.volunteer.gov and search for C&O Canal. Thank you for your interest in volunteering.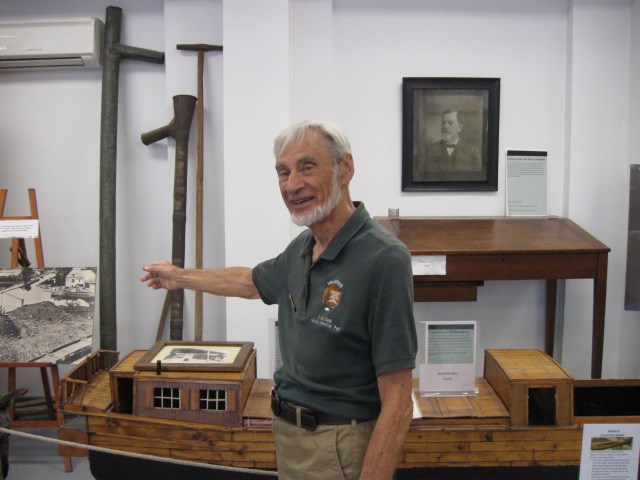 For more information about volunteer opportunities, please contact the Volunteer Coordinator at emily_hewitt@nps.gov or 301-714-2219.


Last updated: October 25, 2019