Plan Your Visit
Channel Islands National Park provides a wide variety of recreational opportunities and a delightful break from the congestion and clamor of urban life. However, since the park encompasses five islands and their surrounding one mile of the ocean, the decision of where to go, what to do, and how to do it can be challenging. So compiled within this "Planning Your Visit" section is detailed information to help you make sense of it all. Click on the links below or in the navigation to start planning a great trip to the park.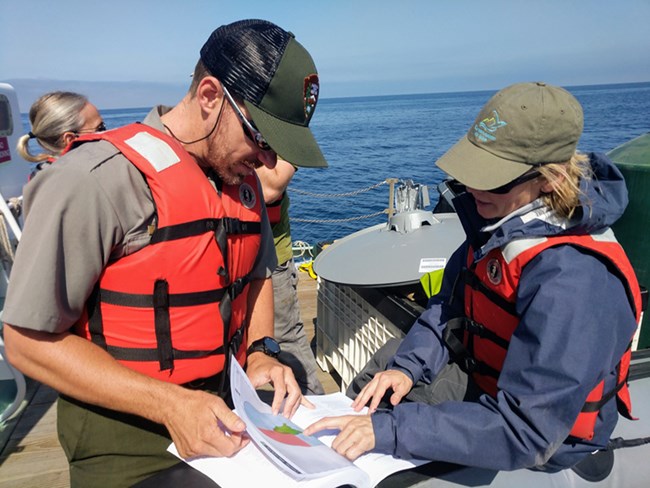 Plan Like a Park Ranger: Top 10 Things to Know Before You Go

1. Plan ahead.
A visit to the Channel Islands is an exercise in preparation and self-reliance. Read through our extensive Plan Your Visit webpages to plan your trip in advance. The islands are very different from each other, offering unique experiences. To help you decide, please visit Places To Go for a description of each island and Things To Do for a list of activities in the park.

2. Book your transportation and campsites in advance.
While the mainland visitor center in Ventura is readily accessible by car or public transportation, the islands are only accessible by park concessionaire boats (Island Packers) or private boat and reservations must be made in advance. Learn more at Island Transportation. Advanced camping reservations are also required for all of the park's campgrounds.

3. Services are limited.
All services (including food, cell, and emergency services) are extremely limited or non-existent on the islands. As stated above, a visit to the Channel Islands is an exercise in preparation and self-reliance. Advanced planning will ensure a positive and safe experience in the park. Learn more at Good & Services.

4. Use our mobile app to enhance your experience.
Download the free NPS Channel Islands app (and offline content) before you depart the mainland.

5. Use our calendar to learn about scheduled programs and events.
The park Calendar shows upcoming, scheduled events in the park.

6. Ensure a safe visit.
Due to the remote and primitive nature of the islands, a safe visit to the park depends on visitors assuming individual responsibility for planning their trips and recreating safely. Learn more at Safety.

7. Pets are only allowed outside the mainland visitor center.
Pets are not allowed inside the visitor center or on the islands. Service animals are allowed inside the visitor center and are allowed on the island once they have satisfied a protocol of vaccination, parasite prevention, and health exam to ensure they will not compromise the health of island species. Visit Pets and Service Animals for more information.

8. Channel Islands welcomes visitors with disabilities.
The National Park Service welcomes people with disabilities and strives to make Channel Islands National Park as universally accessible as possible. However, extra obstacles will be encountered because of the remote nature of this special place. Learn more at Accessibility.

9. Help protect your park.
The protection and preservation of your park's biological, cultural, and historical resources is a major mission of the National Park Service. Help us protect the Channel Islands by following the park's regulations and guidelines. Learn more at Limiting Your Impact.

10. Contact us for more information.
A ranger is just a click or phone call away. Visit Contact Us for more information.

"Plan Like a Ranger" to all your national parks by visitiing: The National Park Service's Trip Planning Guide
Welcome from the Superintendent
The park staff and I wish to welcome you to Channel Islands National Park, one of North America's magnificent treasures. Close to the California mainland, yet worlds apart, the park encompasses five of the eight California Channel Islands (Anacapa, Santa Cruz, Santa Rosa, San Miguel, and Santa Barbara) and their ocean environment, preserving and protecting a wealth of natural and cultural resources. The park bridges two biogeographical provinces and in a remarkably small place, harbors the biologic diversity of nearly 2,500 miles of the North American coast. The Channel Islands are home to over 2,000 plant and animal species, of which 145 are found nowhere else in the world.
Like the Galapagos Islands of South America, isolation has allowed evolution to proceed independently on the islands. Marine life ranges from microscopic plankton to the blue whale, the largest animal to live on Earth. Archeological and cultural resources span a period of more than 13,000 years of human habitation.
The protection of these fragile island resources was ensured when Congress, in the act that created Channel Islands National Park in 1980, established a long-term ecological monitoring program to gather information on the current health of resources and predict future conditions. This information provides park and natural resource managers with useful products for recreation planning, conservation and restoration programs, and early identification of critical issues.
The islands were set aside by Congress not only to preserve these resources, but also to provide for your enjoyment. If you visit the park, you will be one of a very select group. Few people actually see this park because it is not easy to get to-you can't drive to the islands. A short but exciting ocean voyage or a commercial flight in a small airplane is required. The park is one of the least visited of all of America's national parks. The relatively light visitation enhances the islands' feeling of solitude and assists in the protection of fragile resources. In establishing the park, Congress recognized the value of solitude by allowing for low intensity, limited entry visitation. So a visit to this national park will always provide a marked contrast to the bustle of southern California most people experience. It will always be a place where you can step back in time and experience coastal southern California the way it once was.
We are delighted you are interested in this marvelous place. Thanks for making the effort! We hope our park website encourages you to safely explore and discover Channel Islands National Park while taking care to protect and keep these beautiful and fragile islands unimpaired for future generations.
Ethan McKinley
Superintendent


Last updated: May 9, 2023