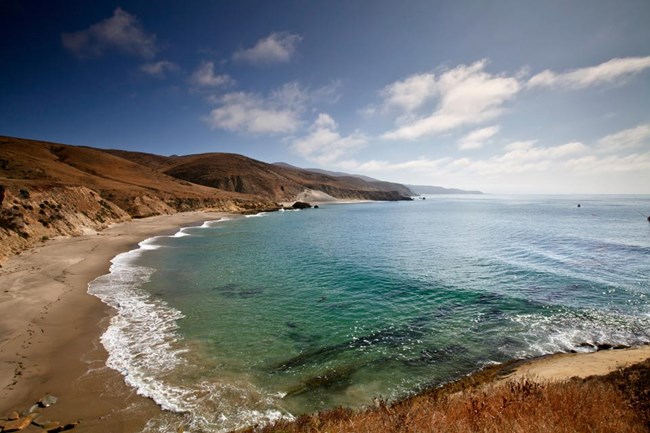 Santa Rosa Island Public Closures
Certain areas throughout Santa Rosa Island are closed to protect island wildlife. Visitors to the island need to be aware of these closures prior to planning their trips. Please visit
Conditions
for more information.
Click here to download a PDF site bulletin of the text below with a map. This file requires Adobe Reader.

Backcountry beach camping is available mid August through December along Santa Rosa Island's extensive, beautiful, and undeveloped 55-mile coastline. This coastline is reminiscent of a California in days gone by. The rocky coast and sandy beaches are much the same as the ones the Chumash Indians, Spanish explorers, and early ranchers may have known. This remote, fragile environment is critical for sea and shorebirds, marine mammals, and plant communities.
In 1992, the National Park Service opened the island to backcountry beach camping in recognition of its rare wilderness values. As you explore these wild areas by kayak or on foot, please take responsibility to help us protect and preserve these delicate natural resources for future generations. The following information will help you enjoy your visit while leaving the smallest impact on the island.
WARNING: While backcountry camping is an incredible experience, it is not for the inexperienced backpacker or kayaker. Due to difficult weather, rugged terrain, and off-trail hiking, backcountry camping is an arduous endeavor and should be undertaken only by experienced, well-conditioned backpackers and kayakers.