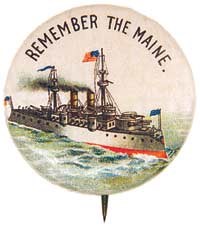 On April 21, 1898, the United States declared war against Spain. It would be the first overseas conflict fought by the U.S. It involved major campaigns in both Cuba and the Philippine Islands.
The reasons for war were many, but there were two immediate ones: America's support the ongoing struggle by Cubans and Filipinos against Spanish rule, and the mysterious explosion of the battleship U.S.S. Maine in Havana Harbor.
Half a world away and only 11 days after the war began, the Spanish Pacific fleet in Manila Bay was defeated by the U.S. Navy in swift strike made by Commodore George Dewey. Unaware of Dewey's quick success, President McKinley ordered troops to mount a campaign against the capital of Manila.
The military base best suited to stage this campaign was the Presidio of San Francisco. Volunteer soldiers from all over the United States gathered and trained at the Presidio before the long sea voyage to the Philippines.

Their quest was described as a "splendid little war" by Secretary of State John Hay.

The Presidio's Role
The Presidio was a natural choice because it is next to the finest harbor on the West Coast. The post also had enough land to house and train large numbers of troops.
The first overseas units left the Presidio in May 1898. They were the 1st California Infantry and the 2nd Oregon Infantry Regiments. Soon volunteer units from Washington State, Montana, Iowa, Wyoming, Kansas, Tennessee and Utah would be stationed at the Presidio. From the beginning of the war to 1900, some 80,000 men passed through the post on their way to and from the Philippines.
At the turn of the century, San Francisco offered many attractions, but army life at the Presidio was cramped, and sickness often flared up in the temporary tent camps. This situation prompted the military to improve troop facilities and helped change the face of the Presidio over the ensuing years.
Fighting Continues in the Philippines
Philippine rebels had been waging guerrilla warfare against Spanish colonialism long before the U.S. became involved. Their exiled leader, Emilio Aquinaldo, communicated with the U.S. Army already on its way to the Philippines. He believed the United States would help the "Insurrectos" gain independence from Spain.
But the U-S government had another idea. After the signing the peace treaty with Spain in late 1898, the U.S. gave Cuba its independence but kept the Philippines. The Philippine nationalists were outraged and it sparked a bitter and controversial conflict called the Philippine War.
---