Indoor Activities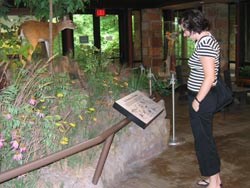 Travertine Nature Center
The Travertine Nature Center, located on Travertine Creek near the eastern edge of the Platt Historic District, serves as the park's main educational center. The nature center contains exhibit dioramas, live reptiles and amphibians, and an interactive learning area for visitors of all ages.
The Nature Center also contains an information desk and bookstore. A one-hundred seat auditorium at the Nature Center provides opportunities for ranger-led nature programs and video presentations on a variety of topics.
Park Film
"By the Rippling Waters"
This seven-minute film provides an overview of the history and resources of the Chickasaw National Recreation Area.
Western National Bookstore
The bookstore in the Travertine Nature Center carries books, souvenirs, games, nature guides, postcards, and numerous other items related to the park and its many stories. A portion of all sales benefit the park programs.
Chickasaw Nation Visitor Center
Across from the main entrance to Chickasaw National Recreation Area, the Chickasaw Nation operates a visitor center with brochures, art displays, a gift shop, park information, and several exhibit panels. Chickasaw National Recreation Area's Administrative Headquarters can also be found in the bottom floor of this modern, glass-front building. The Chickasaw Visitor Center is open from 9:00 a.m. to 6:00 p.m. daily, with the exception of Thanksgiving and Christmas Day.
Last updated: March 31, 2019