Operating Hours & Seasons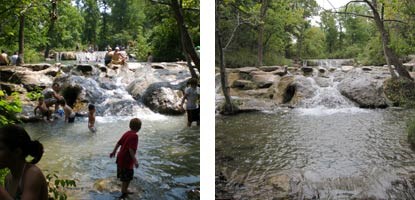 Summer Hours 2018
Travertine Nature Center: 9:00 - 5:30 Daily
Closed Thanksgiving, Christmas Day and New Years Day
Park Gates: Open 24 hours a day, 7 days a week
When is it busy?

The park is relatively uncrowded and quiet October through March. Visitation is lowest in December and January. Visitation is highest from April through September. The park is extremely crowded during summer holiday periods. Summer weekends tend to be busier than mid-week. All campsites are usually full during these periods.
---
The gates never close
The park is open 24 hours a day, all year. The Travertine Nature Center and other facilities have variable seasons and hours.
The Travertine Nature Center, located on Travertine Creek near the eastern edge of the Platt Historic District, is open year-round. Operating hours are 9:00 a.m. to 5:30 p.m. from Memorial Day though Labor Day. After Labor Day until the Friday before Memorial Day it is open from 9:00 a.m. to 4:30 p.m. except for Thanksgiving Day, Christmas Day and New Year's Day.
Park Headquarters, located at 901 West 1st Street, Sulphur, Oklahoma, is open Monday through Friday from 9:00 a.m. to 4:30 p.m. except for Federal Holidays.


Last updated: June 23, 2018