Moccasin Bend National Archeological District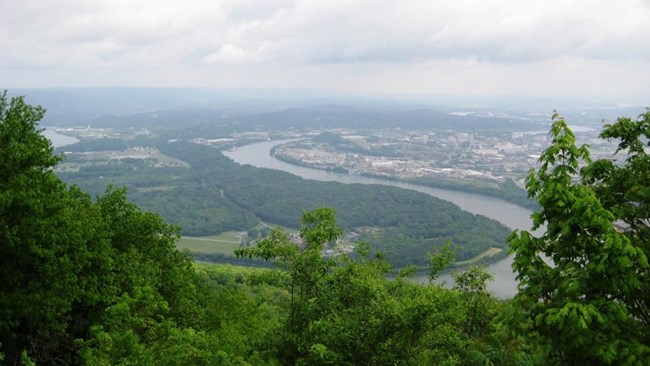 Moccasin Bend National Archeological District
Moccasin Bend is one of the most unique units found in the entire National Park Service system, spanning 12,000 years of continuous human habitation.
The Paleo-Indian Period (10,000 B.C.- 8000 B.C.) witnessed the first human inhabitants on Moccasin Bend. These nomadic tribes moved into the area due to the rich resources located in the valley.
The Archaic Period (8000 B.C.-700 B.C.) saw the development of stone tools. The various uses of these tools assisted in the establishment of permanent villages on Moccasin Bend.
The Woodland Period (700 B.C.-1000 A.D.) is possibly the best represented on Moccasin Bend. Archeological excavations have uncovered approximately twenty village sites on the bend. This period is notable for the introduction of ceramic pottery and the beginnings of agriculture.
The Mississippian Period (900 A.D. -1650A.D.) marked the time when the native people began building large mound complexes, farming larger tracts of land and having a strong socio-political structure based on kinship ties.
During the Mississippian Period, Spaniards under the charge of Hernando de Soto (1540) or Tristan de Luna (1560) possibly made contact with inhabitants of Hampton Place, a village located on the bend.
In 1838-39, Cherokees in the area were rounded up and placed in various deportation camps to await removal to Oklahoma. One of these camps was located at Ross' Landing, near Chattanooga. Several groups of Cherokees that left Ross' Landing traveled by water to Oklahoma and passed around the bend, while at least one group marched overland across the neck of Moccasin Bend. The Native American Removal to the West became known as the "Trail of Tears."
During the 1830s-1850s, the Brown's Ferry Federal Road was an active route on the antebellum slave trade, and numerous people were enslaved on farms on Moccasin Bend.
During the siege and battles that took place in the area in the fall and winter of 1863, Union artillery entrenched on the bend and periodically exchanged fire with Confederate batteries on Lookout Mountain. This peninsula was also used as part of the Union army's main supply line, known as the Cracker Line.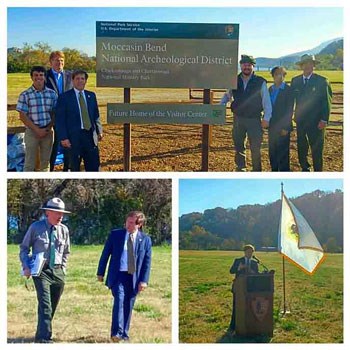 There are three areas for visitors to access Moccasin Bend National Archeological District. The "Gateway Site," is a grassy meadow located along Hamm Road. The site is an open green space that overlooks the Tennessee River, and can be reached by taking the Manufacturers Road exit off of Highway 27 and turning left. Then turn left onto Hamm Road, and the Gateway Site will be on your left. Additionally there are two developed trails on Moccasin Bend - The
Brown's Ferry Federal Road
and the
Blue Blazes Trail
.
Last updated: October 31, 2018