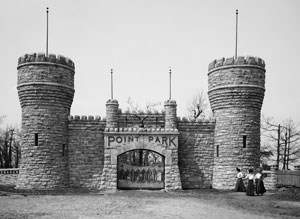 The Confederate Army followed up their victory at Chickamauga in September 1863 by pursuing the Union Army to Chattanooga. As Union troops prepared to defend the city, the Confederates encircled the city and prepared to lay siege. From early October through late November, Confederate troops perched high atop Lookout Mountain could observe the Union Army down below, and artillery positions on the point of the mountain could choke off Union supply routes, as well as shell Union positions down on Moccasin Bend.
In late October, Union and Confederate forces clashed at Wauhatchie in the valley to the west of Lookout Mountain and Union troops successfully opened up a supply route known as the Cracker Line. On November 24, 1863, Union troops under the command of General Joseph Hooker swept the northern slopes of Lookout Mountain in what became known as the "Battle Above the Clouds." For the rest of the Civil War, Lookout Mountain was a tourist destination for Union soldiers and civilians, and a photographer even established a studio to capture portraits of soldiers on the point. Today there are several areas of Lookout Mountain that are part of Chickamauga and Chattanooga National Military Park.
Point Park
Point Park is a ten acre memorial park that overlooks the Lookout Mountain Battlefield and the city of Chattanooga. There is a paved walking path around the park that takes visitors by several historic tablets, monuments. Confederate artillery positions, and scenic overlook. The largest monuments in Point Park is the New York Peace Memorial, which was erected by the state of New York as a tribute to peace and reconciliation between Union and Confederate veterans after the war. Inside Point Park, at the point of the mountain, is the Ochs Memorial Observatory. Inside are exhibits on Civil War signaling, photography, and Moccasin Bend, which is visible below the point. Admission to Point Park is $7 per adult aged 16 and over. Just outside of the park is a visitor center with exhibits on the Civil War campaign for Chattanooga, including a large painting "The Battle Above the Clouds."