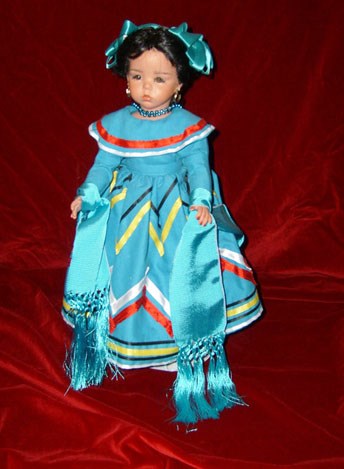 Capital: Durango
Both the caped collar and full skirt of this brilliant blue dress are circled by distinctive white, yellow and red zigzags, perhaps mimicking the abrupt rise and fall of Durango's western landscape against its bright skies.
The Sierra Madre Occidental and other smaller sierras traverse the western part of Durango, along with ravines and deep canyons, such as Las Quebradas. Northern Durango shares the flat and arid Mapimí Biosphere Reserve with the states of Chihuahua and Coahuila. (The term "biosphere" refers to living beings together with their environment.) In the narrow valley known as the Bolsón de Mapimí, diverse species of desert vegetation and animals, such as the desert tortoise, considered the largest tortoise of North America, are federally protected.
Durango also has a biosphere reserve in La Michilía, in the southeastern municipality of Súchil, devoted to the study of deer, an abundant species in various regions of the state, but now in danger of extinction from uncontrolled hunting.
Until 1800, the Mexican wolf was a common sight in the northern regions of Mexico. With the incursion of ranchers who view the wolf as a menace, the species is now all but extinct, appearing only occasionally in Durango and Chihuahua.
Durango is one of Mexico's largest producers of goat's milk, along with poultry, cow's milk, and lumber from pine and oak. San Dimas and Otáez are known for gold and silver mines, and aquiculture in the Guadiana Valley produces carp and mojarra.
Fairs scheduled along the agrarian calendar, such as the Canantlán Apple Fair and the San Juan del Río Nut Fair, promote regional products and agriculture.
In the municipality of Nuevo Ideal, colonies of Mennonites - peaceful hard-working people whose European forefathers settled in Durango - are primarily dedicated to agriculture, and the manufacture of sausages and delicious cheese.
The Tarahumara are concentrated in the Sierra Tarahumara (part of the Sierra Madre Occidental) in southern Chihuahua, which extends into northern Durango and Sinaloa. The Tarahumara are known for their amazing endurance as long-distance, often barefooted runners. Some Tarahumara have left the mountains seeking sustenance in urban areas, but many have remained in their remote homes, adhered to their traditions, and withstood drought and famine by cultivating corn, beans, and squash.
Did you know...?
Almost 500 years ago, as the Spaniards conquered what is now Mexican territory, one group of Conquistadors headed by Francisco Ibarra, took control of the region now known as the state Durango. Ibarra named the area after his birthplace which was near Villa Durango, in Biscay, Spain. In the Basque language, durango means "beyond the water".