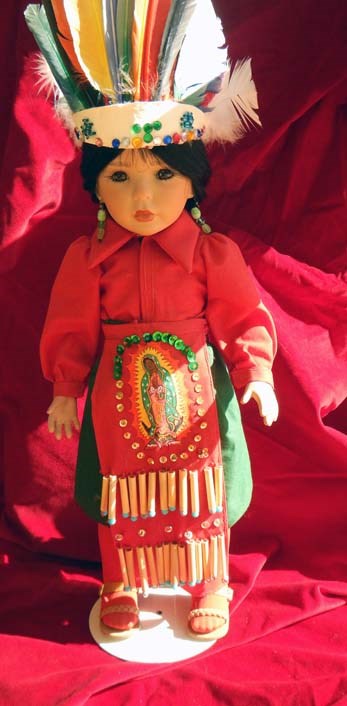 Capital: Saltillo
The powerful influence of Coahuila's indigenous people, the Kikapu, is visible in this ornate costume. Red aprons front and back feature rows of bamboo and beads, and multicolored feathers adorn both the aprons and the large headdress.
Coahuila was originally called Reino de León, and was one of the largest territories of New Spain, including what are today the states of Coahuila, Tamaulipas, and Nuevo Leon, and part of Texas, Durango, Zacatecas, and Chihuahua. In 1848, through the treaty of Guadalupe Hidalgo, Coahuila assumed its current boundaries and is still the third largest state in Mexico.
Coahuila is crossed from north to south by the Sierra Madre Oriental. To the southwest, if shares with Chihuahua and Durango a vast barren plain know as the "zone of silence" which in 1975 became the Mapimi Biosphere Reserve. Countless meteorites have fallen in the region and pepper the desert floor with intensely magnetic space fragments and metallic dust, which interfere with electromagnetic fields involved in radio communication.
Despite the dry climate, Coahuila's economy relies heavily on the dairy industry, with several large milk-producing plants. Livestock breeding, agriculture, wine making and liquor distillation are also important economic activities.
The capital, Saltillo, has retained much of its colonial character. Its quiet Plaza de Armas is flanked by the Governor's Palace and an ornate cathedral, while a few blocks away, the noisy Plaza Manuel Acuña is alive with shoeshine boys and boisterous vendors. Also nearby, the Museo de la Aves is dedicated to the region's amazing bird population.
Coahuila's Kikapu are among the many, extremely diverse indigenous people of Mexico, each with its own language and/or dialect. Traces of African influence also appear in this border state which, in the 1800s, a number of Africans entered from the United States as free blacks or as runaway slaves.
Did you know...?
When the Spaniards reached this territory in the 16th century, they first named the area New Extremadura and only late, Coahuila. The Indians living there called themselves Coahuilas. The Spaniards called them Coahuiltecos. Determining the exact meaning of such an ancient name is especially difficult because the languages spoken by the Indians of the region were unknown to the Spaniards. Further, words were written in old manuscripts the way they sounded, which was different to each chronicler. So, Coahuila, was noted as Cuagüila, Cúauila, Cavila, Cagüila, Cúagila, and Chabuila. Some historians think it means "flying snake", others suggest it means "place of many trees", or even "place where the serpents crawl".