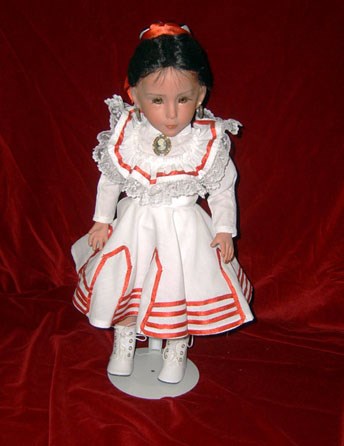 Capital: Monterrey
This broad lace-trimmed white collar and short full white skirt, both adorned with burgundy rickrack, show northern influence following the Mexican-American War of 1846. The outfit also speaks to the relatively urban atmosphere of Nuevo Leon, especially its capital city, Monterrey.
Known as the Sultana del Norte, the Sultan of the North, Monterrey stands out against the backdrop of El Cerro de la Silla, a portion of the distant mountain range that resembles a saddle.
Monterrey is one of the most important industrial cities in all Mexico. Huge commercial endeavors include cement and glass manufacturing, steel production, food processing, and beer brewing. The Cerveceria Cuahtemoc, named after a famous Aztec chief, brews most of the country's favorite beers, including Carta Blanca and Tecate.
The Obispado (Bishop's residence) built in 1788 is Monterrey's only remaining colonial landmark. While the city has not preserved much evidence of its past, it has a strong focus on the future. The prestigious Technologico de Monterrey is considered by many to be the best university in all of Latin America.
The railroad has played a critical role in the industrial development of Nuevo Leon, bringing in needed manufacturing materials from neighboring Mexican states and carrying products to border cities in Tamaulipas for export to the U.S.
In addition to industry, Nuevo Leon enjoys abundant agriculture, livestock breeding, bee keeping, fishing, forestry, and mining.
Unfortunately, one casualty of development in Nuevo Leon has been the Mexican grizzly bear, which all but disappeared in the mid-1900s as a result of hunting and alterations to his habitat. Now, the few remaining grizzlies' range is restricted to the sierras and northern areas of the state.
In Nuevo Leon's Grutas de Garcia (Garcia Caverns), discovered in 1843, and estimated to be between 50 and 60-million years old, petrified snails and seashells embedded in the cavern walls serve as proof that at one time the entire area was under the ocean.
Did you know...?
In 1582, the King of Spain, Felipe II granted Luis Carvajal y de la Cueva authorization to colonize what was known at the time as the New Kingdom of Leon, in honor of the Spanish kingdom of Leon.