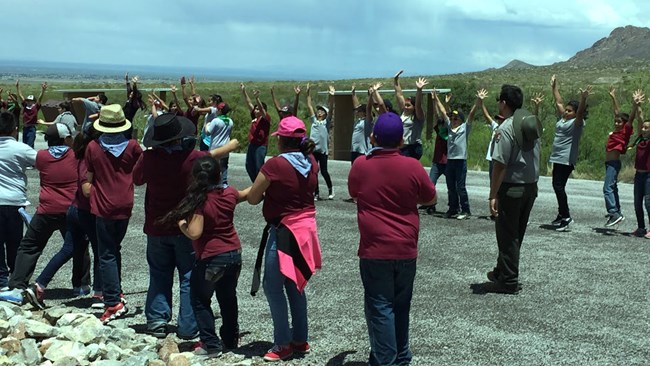 The Every Kid in a Park (EKIP) initiative is a national program that provides a free federal recreational lands pass to students from September 1 to August 31 of the year they are in 4th grade. The pass allows them to provide free entry for three adults who accompany them to any national park, wildlife refuge, forest, monument or other federal lands in the pass program. To support this initiative and provide as many opportunities as possible for El Paso area 4th graders to learn about the passes and experience a visit to a national park, Chamizal National Memorial has developed a program which introduces the students to national parks and the EKIP program and provides bus money for field trips.
What does the EKIP program at Chamizal entail?
The Chamizal National Memorial EKIP program includes two separate events: a presentation in your classroom by a park ranger and a field trip to Chamizal National Memorial.
Before the ranger visits your classroom, please work with your students to create the pop-up books that they will use during the ranger's presentation and on their field trip to Chamizal National Memorial. The books, which the students keep, will supplement and support their learning and could be used as an assessment.
Pre-visit Work: Pop-up Book
Materials
Printed pop-up book pages (8)

Scissors or cutting board

Glue stick

Liquid school glue

4.25 inch card stock squares (4)

Tape

24 inch length of string, yarn, or ribbon
Print and follow instructions for building your pop-up books, or use the video tutorial to guide you.