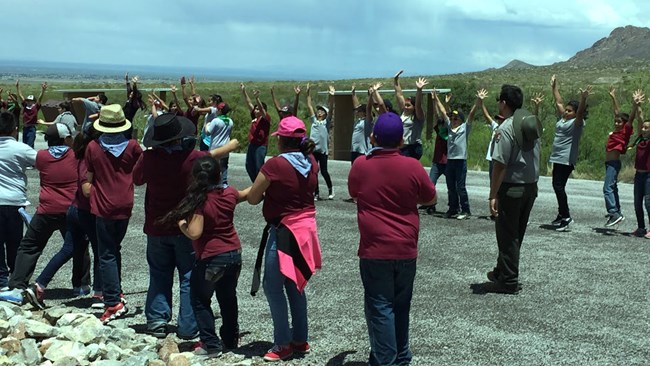 The
Every Kid in a Park (EKiP)
initiative is a national program that provides a free federal recreational lands pass to students from September 1 to August 31 of the year they are in 4th grade. The pass allows them to provide free entry for three adults who accompany them to any national park, wildlife refuge, forest, monument or other
federal lands in the pass program
. To support this initiative and provide as many opportunities as possible for El Paso area 4th graders to learn about the passes and experience a visit to a national park, Chamizal National Memorial has developed a program which introduces the students to national parks and the EKiP program and provides bus money for field trips.
What does the EKiP program at Chamizal entail?
The Chamizal National Memorial EKiP program includes three separate events: a presentation in your classroom by a park ranger, a "Camping Academy" field trip to Chamizal National Memorial, and a field trip during school hours to either Guadalupe Mountains National Park or Organ Mountains Desert Peaks National Monument for hiking.
Classroom
The park ranger meets with your students to introduce the National Park Service, Chamizal National Memorial and the Every Kid in a Park program. Presentations are about 45 minutes long. There should ideally be fewer than 45 students at a time. Back-to-back presentations are possible to accommodate all of the classes. After the presentation, the ranger will provide a paper voucher (pass) for every student.
Field Trip to Chamizal National Memorial
Since Chamizal National Memorial, though it is part of the National Park System, is unique as an urban park, we have partnered with two other parks to provide a hiking experience for the students. However, many young El Pasoans have never had the opportunity to leave the city and experience a remote, natural park, it important that they learn some camping and hiking skills. On their field trip to the Memorial, they will learn how to pack a backpack with the things they need, how to tie some useful knots, and how to make bedrolls and shelters from items they probably already have at home. At this point, if they haven't already, students exchange their paper voucher for a permanent plastic pass.
Hiking Field Trip
Classes leave at the beginning of the school day and travel to either Guadalupe Mountains National Park or the Dripping Springs Natural Area in Organ Mountains Desert Peaks National Monument (Bureau of Land Management). Students will hike with park rangers, eat their lunches at the park, and return by the end of the school day.
Why should I participate in the Chamizal EKiP program?
Not only will this be the highlight of your students' year, it is potentially free and covers the 4th grade Texas Essential Knowledge and Skills standards listed here.
Science: 112.15 (a) Introduction: (3&4) Outdoor investigation:(A&B) conservation & ecosystems; 112.15 (b) Knowledge & Skills:(1&3) Scientific investigation & reasoning: (A&B) Safe practices & recycling; (D) Careers of scientists; (7) Earth space:(A,B,C) Earth's surface and resources; (9&10) Organisms & environment (A&B) Food web, (10)(A) Adaptation.
Social Studies: 113.15 (a) Introduction: (1&2) History of Texas; (b) Knowledge & Skills: (6, 7, & 9) Geography: Maps, landforms, elements, habitat & wildlife; (12) Economics: (F) American progress and growth; (17) Citizenship; (19) Culture; (20) Social Studies Skills: (B&D) Analysis & difference of ideas; (23) (A&B) Problem solving & decision making.
How do I participate in the Chamizal EKiP program?
To find out available dates and details of the program, contact our
Education Specialist, Kathy Denton
. You will need to coordinate with other 4th grade teachers at your school and get written approval from your principal. The ranger's availability and funds are designated on a first-come-first-served basis to groups as they meet the program requirements, so sign up as soon!