Every Kid in a Park Education Program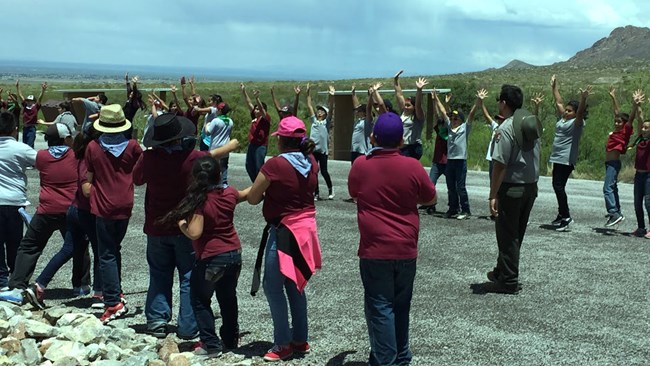 The Every Kid in a Park (EKIP) initiative is a national program that provides a free federal recreational lands pass to students from September 1 to August 31 of the year they are in 4th grade. The pass allows them to provide free entry for three adults who accompany them to any national park, wildlife refuge, forest, monument or other federal lands in the pass program. To support this initiative and provide as many opportunities as possible for El Paso area 4th graders to learn about the passes and experience a visit to a national park, Chamizal National Memorial has developed a program which introduces the students to national parks and the EKIP program and provides bus money for field trips.
What does the EKIP program at Chamizal entail?
The Chamizal National Memorial EKIP program includes two separate events: a presentation in your classroom by a park ranger and a field trip to Chamizal National Memorial.
Before the ranger visits your classroom, please work with your students to create the pop-up books that they will use during the ranger's presentation and on their field trip to Chamizal National Memorial. The books, which the students keep, will supplement and support their learning and could be used as an assessment.
Pre-visit Work: Pop-up Book
Materials
Printed pop-up book pages (8)

Scissors or cutting board

Glue stick

Liquid school glue

4.25 inch card stock squares (4)

Tape

24 inch length of string, yarn, or ribbon
Print and follow instructions for building your pop-up books, or use the video tutorial to guide you.
Visit our keyboard shortcuts docs for details
Duration:

7 minutes, 9 seconds
Make a pop-up book about Chamizal National Memorial with your class before the ranger visit to your school and your class field trip to the Memorial. This video shows you how to put the book together.
Classroom
The park ranger meets with your students to introduce the National Park Service, Chamizal National Memorial and the Every Kid in a Park program. Presentations are about 45 minutes long. Rangers will ideally meet with only one class of students at a time. Back-to-back presentations are possible to accommodate all of the classes. After the presentation, the ranger will provide an official pass for every student.
Field Trip to Chamizal National Memorial
El Paso area students have a unique opportunity to be within minutes of a national park. The National Park Service manages over 400 places that are singular in nature but all significant to our American heritage. Chamizal National Memorial was set aside by Congress for its historic and cultural importance. While a visit to the Memorial is certainly an urban experience, it is an authentic look into the National Park Service culture and an engaging way to learn about such an important international story.
Students and teachers can expect to learn about Chamizal history while standing at landmarks on the grounds or spotting distant ones, watching a video presentation, and studying exhibits in the Cultural Center and along the trails. The Chamizal National Memorial Field Trip may be led by the teacher or a park ranger. Priority will be given to teachers who have participated in an EKIP Teacher Workshop. Also, if students have not already exchanged their paper EKIP voucher for a permanent plastic pass, they will be able to do so at this time.
Plan to spend about 2.5 hours with park rangers during your field trip. Students will be split into classes or groups of no more than 30 people and will rotate through four or five stations. If you plan to bring food to enjoy a lunch on the grounds, please let the ranger coordinating your visit know your plans.
Activities
Chamizal History in the Museum: Students use their pop-up books to guide them through the museum exhibit, filling in the missing pieces of history.
Where's the Rio Now?: Students will use compasses, maps, and objects on the landscape to identify current locations of places involved in the Chamizal story.
Setting the Stage to Attend the Theater: Students identify and model behaviors expected in the theater while learning about the purpose of the Chamizal theater and how to attend performances.
The River, Solution and Consequences: Students use a river model to compare and contrast natural and channelized river characteristics and investigate the consequences of each for plants, animals, and people in the Chihuahuan Desert.
If Countries Can Cooperate, So Can I: Students play a cooperation game that celebrates the importance of the history Chamizal National Memorial commemorates.
Hiking Field Trip
Depending on availability of funds and school district travel constraints, a limited number of hiding field trips to Guadalupe Mountains National Park may be available. Please contact the education specialist for more information.
Why should I participate in the Chamizal EKIP program?
Not only will this be the highlight of your students' year, it is potentially free and covers the 4th grade Texas Essential Knowledge and Skills standards listed here. Not every program covers all of these standards. Programs may differ by presenter. If there is a specific standard you would like to have included, please make it known to the education specialist.
Texas Essential Knowledge and Skills in EKIP Activities
Social Studies: 4.21(A), 4.21(D), 4.22(D), 4.9(A), 4.9(B), 4.9(C), 4.21(E), 4.6(A), 4.19(B),
Reading/Writing: 4.2(B), 4.11(D), 4.13(B), 4.13(B)
Science: 4.7(B)
Listening and Speaking: 4.27(A), 4.27(B)
How do I participate in the Chamizal EKIP program?
Attend an EKIP Teacher Workshop at Chamizal National Memorial. If you are not able to attend, you may still be able to sign up for a ranger classroom visit and field trip. To find out available dates and details of the program, contact our Education Specialist. You will need to get written approval from your principal. The ranger's availability and funds are designated first-come, first-served to groups as they meet the program requirements, so sign up as soon!
Last updated: September 26, 2018