News Release
Visitors to Catoctin Mountain Park and Cunningham Falls State Park to experience spring and summer parking limitations and road detours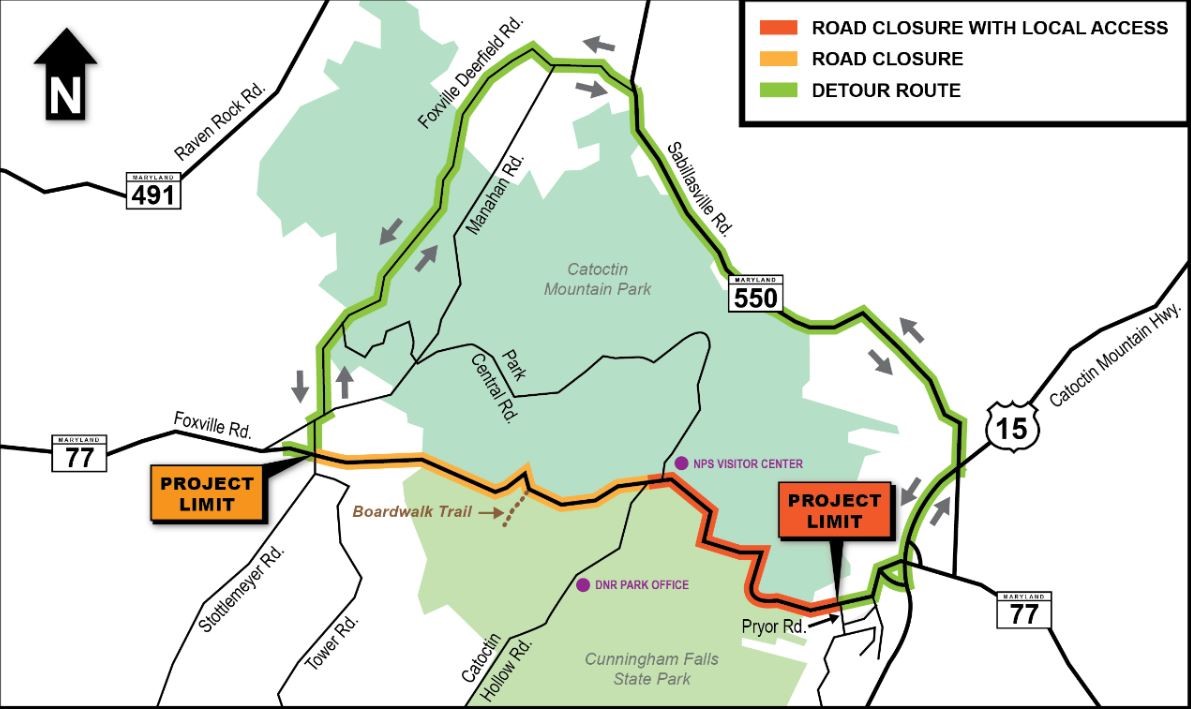 News Release Date:
May 1, 2019
FOR IMMEDIATE RELEASE
: May 1, 2019
Contacts: Peggie Gaul (National Park Service) 301- 663-9388, e-mail us
Gregg Bortz, (MD Department of Natural Resources) 410-260-8021, 
e-mail us
MDOT SHA Office of Communications 410-545-0303
Visitors to Catoctin Mountain Park and Cunningham Falls State Park to experience spring and summer parking limitations and road detours
Thurmont, Md. – Three construction projects will limit parking and affect how visitors access some areas of the National Park Service's Catoctin Mountain Park and Maryland's Cunningham Falls State Park through summer 2019. Construction projects this summer will improve visitor services in the most popular areas at both parks.
The National Park Service started a 
bridge replacement project
 in fall 2018 at Catoctin Mountain Park, closing the gravel parking lot near the park's visitor center through August 2019. This parking lot also serves as an access point for several popular trails on the east side of the park.
"The bridge replacement started in November, but we are just now beginning to see the parking crunch on nice weekends," Catoctin Mountain Park Superintendent Rick Slade said. "Visitors are encouraged to explore trails on the west side of Catoctin Mountain Park, to visit on weekdays when visitation is lighter, or if hiking on the east side of Catoctin Mountain Park to use the Hog Rock, Thurmont Vista or Wolf Rock parking lots."
Maryland's Cunningham Falls State Park is making major renovations and upgrades to the picnic area and restroom facilities at the William Houck Area, as well as constructing a new Nature Center. The Houck Area is popular with visitors during spring and summer weekends, which occasionally leads to temporary closures due to the park being filled to capacity. Visitors are encouraged to call the park at 301-271-7574 before arrival to check the status. 
On or about May 3, the Maryland Department of Transportation State Highway Administration (MDOT SHA) will close and detour MD 77 (Foxville Road) between Pryor Road and Stottlemeyer Road 
(approximately five miles west of Thurmont) 
to replace 46 aging culverts. The entire $2.1 million project is expected to be complete summer 2020.
Motorists using MD 77 to and from US 15 (Catoctin Mountain Highway) will be detoured to MD 550 (Sabillasville Road) and Foxville Deerfield Road. Local traffic and p
ark visitors will be able to travel westbound on MD 77 to Park Central Road and Catoctin Hollow Road.
After May 23, MD 77 will reopen to travel in both directions with flagging operations on weekdays from 8 a.m. to 4 p.m., and possibly overnight from 7 p.m. to 6 a.m.
For updates on parking, road closures and detours check the Catoctin Mountain Park website at 
www.nps.gov/cato
, Cunningham Falls State Park website 
http://dnr.maryland.gov/publiclands/Pages/western/CunninghamFalls/Cunningham-Falls-and-Gambrill-State-Parks-Alerts.aspx
, or the Maryland State Highway Administration website 
https://apps.roads.maryland.gov/WebProjectLifeCycle/ProjectHome.aspx
. Visitors can also call Catoctin Mountain Park at 301-663-9388 or Cunningham Falls State Park at 301-271-7574.

###
About Catoctin Mountain Park
: Catoctin Mountain Park, one of America's 419 national parks, protects cabins, roads, trails and other structures that were constructed during the Depression era as a Recreational Demonstration Area. Today the park offers the public valuable outdoor recreation opportunities in a natural setting. Learn more at 
www.nps.gov/cato
 or follow us on Facebook.
About Cunningham Falls State Park/MDNR: 
Cunningham Falls State Park is located in the picturesque Catoctin Mountains. It is divided into two separate but unique areas. The William Houck Area located three miles west of Thurmont on Route 77 has the lake, falls and camping. The Manor Area off Route 15 three miles south of Thurmont has the Scales and Tales Aviary, camping and the historic Catoctin Iron Furnace. Leisure opportunities include swimming, hiking, fishing and canoeing. 
Last updated: May 1, 2019