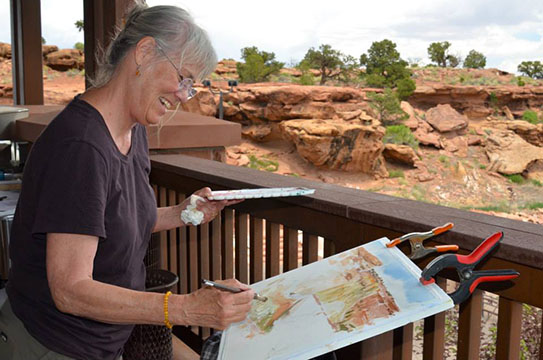 News Release Date:
February 23, 2017
Contact: Cindy Micheli, 435-425-4112
Application forms for Capitol Reef National Park's 2017 Artist-in-Residence program are now being accepted. We are seeking applicants for the park's first Artist-in-Residence program who will be able to express the park's features and issues in a powerful and engaging way through the medium of painting, drawing or photography. The goal of this emerging program is to present a new perspective and understanding of Capitol Reef's effect on us, and of the challenges the park faces in this century.  
"This residency program is an exciting progression of our relationship with the artist community, and will give visitors the chance to know Capitol Reef in a new and different way, through the eyes of an artist," said Capitol Reef National Park former Superintendent Leah McGinnis. This first Artist-in-Residence is scheduled to coincide with the Fourth Annual Arts and the Park: Light on the Reef Plein Air Event, scheduled for May 30 - June 3, 2017.
For those who are interested in applying, the online application is now available at
https://www.nps.gov/care/getinvolved/artist-in-residence.htm
. Application materials must be received by Wednesday April 5, 2017. For more information, please call 
435-425-4112
.