Artist-in-Residence Program
Capitol Reef National Park's Artist-in-Residence Program
The Artist-in-Residence (AiR) Program at Capitol Reef National Park offers professional artists the opportunity to pursue their artistic discipline while being surrounded by the park's inspiring landscape. "This residency program is an exciting progression of our relationship with the artist community, and will give visitors the chance to know Capitol Reef in a new and different way, through the eyes of an artist," said former Capitol Reef National Park Superintendent Leah McGinnis who helped form the program in 2017.

In 2022 the park is offering one night sky photographer residency for 2-4 weeks. As an International Dark Sky Park, we are interested in engaging in art and culture with our dark skies.

The park also offers three artists a choice of residency of 2-4 weeks during the months of January thru November for visual and performing artists, writers and composers.

The selected artist will be given rent-free use of a furnished park house and will also receive a $500 contribution from The Entrada Institute to assist with travel and supply expenses.

This Artist-in-Residence program is supported by Capitol Reef National Park, in partnership with the Capitol Reef Natural History Association and The Entrada Institute.
The application period for 2022 is closed. 2022 artists will be announced soon. Applications for 2023 will be accepted in September/October of 2022.

2021 Artists-in-Residence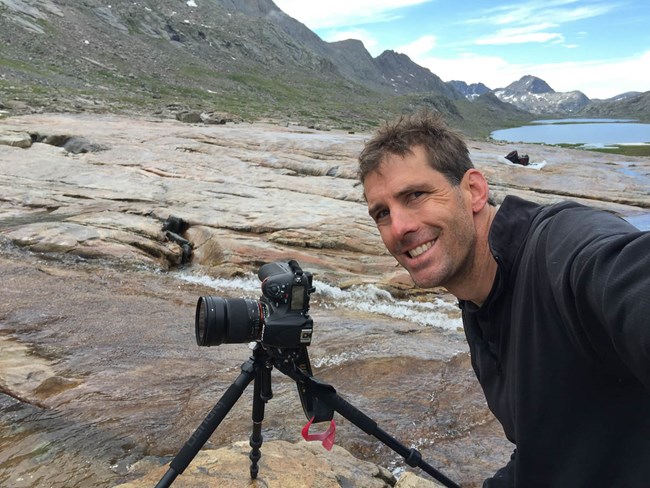 David Hunter
Night Sky Photographer - June 2021
David Hunter is a former photojournalist turned landscape and nature photographer that moonlights during the day as an elementary school teacher in central California.
He has been an artist-in-residence at Bighorn Canyon National Recreation Area in Wyoming, as well as the first photographer artist-in-residence at Craters of the Moon National Monument and Preserve in Idaho.
David has also photographed special projects for several national parks including biological sky islands in Yosemite, caves in Sequoia National Park, and two BioBlitz surveys in Great Basin National Park.
He enjoys photographing all forms of landscapes and is looking forward to focusing his skills on the many possibilities Capitol Reef's night skies and stunning landscapes have to offer.
A significant portion of David's work is centered on awareness and preservation of the natural and cultural environment. He strongly believes it is his responsibility to use photography to promote stewardship of the land and awareness of its cultural and natural history.More of his work can be seen at
www.davidhunterphoto.com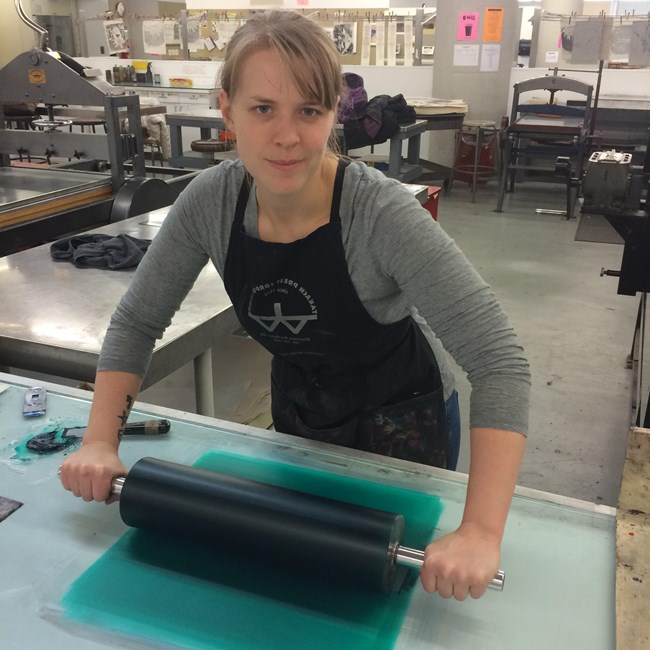 Maureen Moll
Printmaker - July 2021
Maureen Moll is a printmaker who currently resides in Pennsylvania. She has traveled through much of the country and especially loves the Southwest, visiting as often as she is able. A graduate of the Pennsylvania Academy of the Fine Arts in Philadelphia, and a professionally trained lithographic printer, from the Tamarind Institute for Fine Art Lithography, in Albuquerque, she works in a variety of forms of printmaking from reliefs like woodcuts and linocuts to screen prints and lithographs. You can see examples of her work on her website,
www.maureenmoll.com
.
Artist's Statement: "It is with gratitude, joy, and a tinge of heartache that I observe nature, because the beauty I see is fleeting; it will be lost to human development, climate change, or simply the passage of time, and it is that knowledge that informs and inspires my work, whether abstract, representational, or somewhere in between."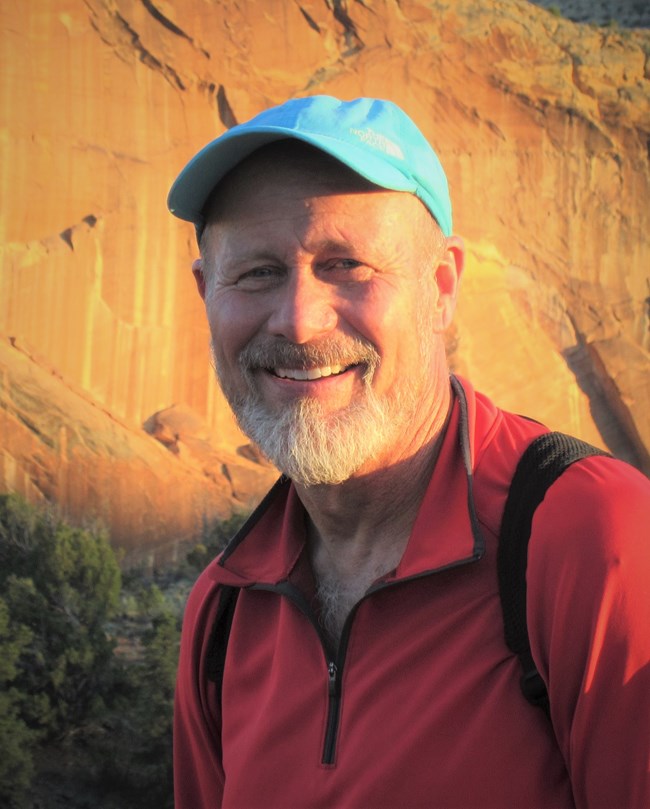 Rick Young
Painter - September 2021
Rick Young is a Colorado-based painter who has explored the West as artist, historian, and teacher. Initially attracted to the high mountains of Colorado, Rick soon found himself drawn to the mesas and canyons of the Southwest and the Colorado Plateau. Rick's art expresses the sense of awe and wonder he feels when he is out on the land. It is the artist's hope that his paintings lead viewers to look at the world differently—to see more color, more movement, more whimsy in the landscape. Ever since retiring from teaching, Rick has painted full-time, and his work is exhibited in galleries in both Colorado and New Mexico. Rick completed an artist residency at Mesa Verde National Park in 2019, and he looks forward to bringing his unique artistic vision to Capitol Reef in 2021. Rick's work can be seen at
www.rickyoungfineart.com
.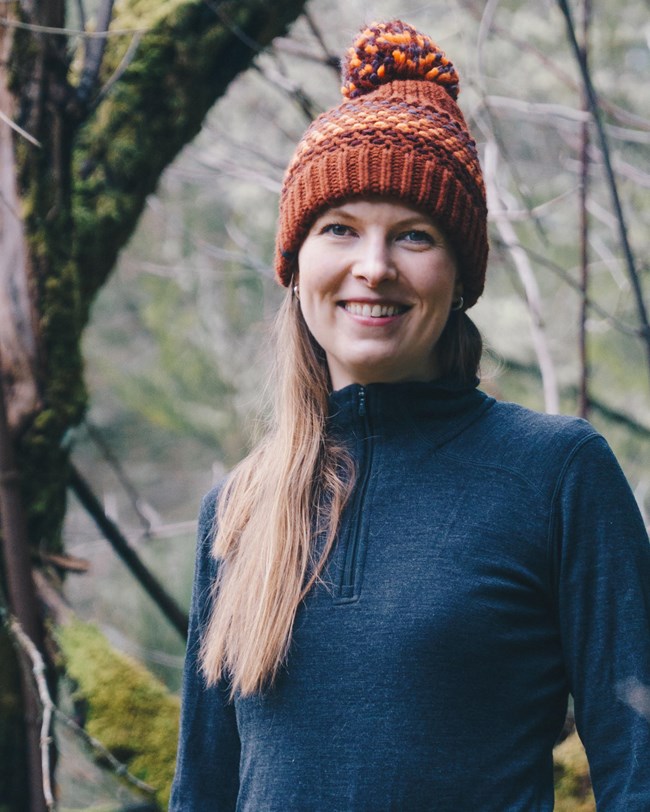 Claire Giordano
Environmental artist and writer - October 2021
Claire Giordano is an environmental artist and writer who creatively tells stories of science, climate change, and the modern experience of nature. Her work was profiled in a 10-page art feature and essay in the
Alpinist,
and her illustrations have appeared in presentations at the American Geophysical Union Annual Meeting and the The Smithsonian Science Education Center's national curriculum. She works in acrylic and watercolor and creates many of her paintings outside and on-site. Through paint and words Claire strives to forge emotional connections between people and place, and to invite others to approach science and out changing world with curiosity and empathy.
In the last three years Claire's work on climate change and glaciers led her to create paintings in the mountain ranges of her home state Washington, to Greenland as an artist and lecturer with Seabourn Cruises, and to Chamonix where she collaborated with The Research Center for Alpine Ecosystems (CREA). She is also the founder of the Adventure Art Academy and leads monthly virtual watercolor lessons filmed entirely outside.
You can follow along with her work on Instagram (@claireswanderings) and on her website,
www.claireswanderings.com
.
Questions:
If you have any questions, please contact Penni Torgerson at 435-425-4101.
Selection:
Selections are made by Capitol Reef National Park staff, park partners and community arts leaders based on merit and how the artists' work can communicate the park's national significance and its relevance to park visitors. While artists may indicate the session of their preference, selection for that session is not guaranteed.
Responsibilities and Duties:
Artists-in-Residence are enrolled in the Volunteers-in-Parks program. The artist works an average of 40 hours of work per week in the park or other approved locations.
During the residency, the artist presents one 45-minute public interpretive program for a two-week residency or two 45-minute presentations for a four-week residency either in the park and/or at The Entrada Institute.
No later than six months after an artist's residency, the artist will donate an original, Capitol Reef-inspired product to the Capitol Reef Natural History Association (CRNHA). The Superintendent of the park will select the piece to be donated. Artwork must be framed with glass, if appropriate, and prepared for hanging before donation. Contributed works will be held by the CRNHA and will be in the public domain, and not subject to copyright laws.
Lodging and Area Information:
The AiR will be lodged for free in temporary park housing within the Historic Fruita District. Utilities are included. ADA-compliant (standards issued under the Americans with Disabilities Act) housing is currently not available. The AiR will have a private bedroom and studio but may have shared common living areas, bathrooms and kitchen. Housing rules apply, such as no family or pets or smoking. Prior approval is required for guests.
The house is furnished and has a telephone line for local or phone card calls. Wi-Fi is provided however, there is no cell phone service in the park. A shared washer and dryer are available in the park to use. Kitchen includes major appliances (refrigerator, stove, sink), and some very basic utensils and dishes. The selected artist is responsible for bringing everything else he/she may need.
Dental and medical care, churches and groceries are available within 30 miles west of the park in Torrey, Bicknell and Loa. More extensive services are available in Richfield (population 7,500) located 75 miles to the west of the park.
2017 Artist-in-Residence Kit Frost
2018 Artists-in-Residence
2019 Artists-in-Residence
2020 Artists-in-Residence
Visit the
Artists in Residence photo gallery
or the
Music page
for a selection of art from previous artists.
Other Artist-in-Residency Programs across the National Park Service
Last updated: October 26, 2021