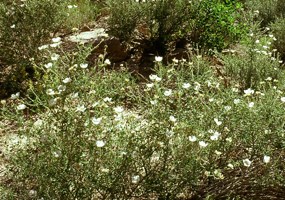 Common Names: Apache Plume
Scientific Name: Fallugia paradoxa
Size (height): up to 6 feet (1.8 m) tall
Habitat: Lowland riparian, mixed desert shrub, pinyon-juniper. It is found throughout the park but is especially abundant in Grand Wash and Capitol Gorge.
Flowering Season: April - August
Range: Utah, New Mexico, and Arizona
Description: Apache plume has scaly bark, wedge shaped leaves, and white flowers with five petals. The feathery seeds resemble the war headdress of the Apache Indian, hence the common name. Apache plume is an important browse plant for big game.