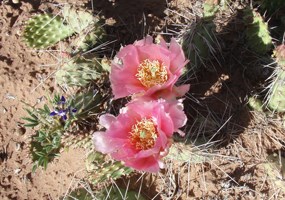 Common Names: Central Pricklypear
Scientific Name: Opuntia polyacantha
Size (height): 4-12 in (10-30.5 cm) tall; clumps may spread 8-10 ft (2.5-3 m) wide
Habitat: Widespread throughout the park in mixed desert shrub, sagebrush, pinyon-juniper, and mixed conifer communities.
Flowering Season: May - June
Range: Utah, Nevada to Oklahoma and north to Canada
Description: Central pricklypear is a mat forming cactus with jointed stems and moderately flattened oval to circular pads that are up to 5 in (13 cm) long and equally wide. The specific name polyacantha means "many spines" which describes the surface of the pads. The flowers are 1.5-3.5 in (3.8 -8.9 cm) wide and yellow, orange, pink, or violet.