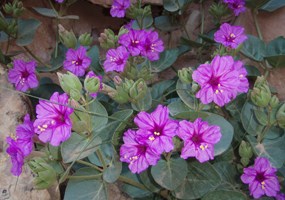 Common Name: Showy Four O'Clock
Scientific Name: Mirabilis multiflora
Size (height): Up to 36 in (91 cm) tall
Habitat: Mixed desert scrub, pinyon juniper woodlands; often grows in the shade of a tree.
Flowering Season: May-July
Range: Utah, western US
Location in park: Widespread in the park; can be seen along the Hickman Bridge trail, in Grand Wash, and in Capitol Gorge.
Description: Showy four o'clock is a sprawling perennial that can spread to 36 in (91 cm) wide. It has bright green, egg-shaped leaves with magenta flowers that open in the afternoon. Native Americans used these flowers for medicinal purposes.