The Needles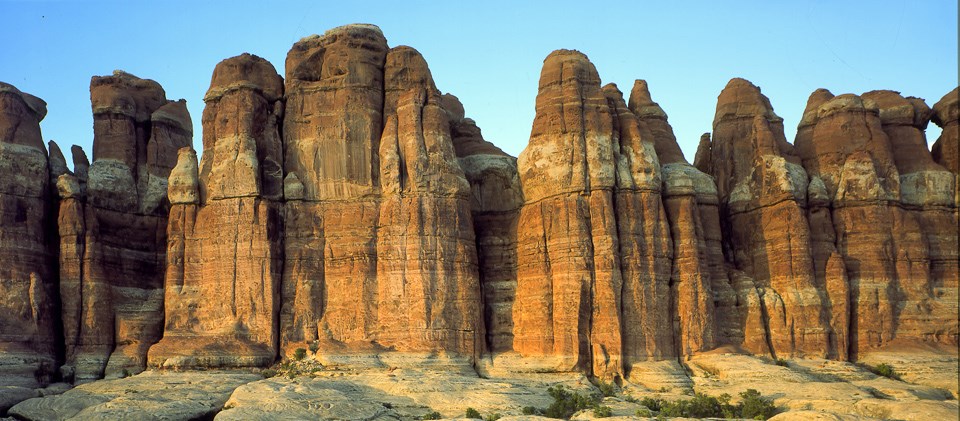 The Needles forms the southeast corner of Canyonlands and was named for the colorful spires of Cedar Mesa Sandstone that dominate the area. Hiking trails offer many opportunities for long day hikes and overnight trips. Foot trails and four-wheel-drive roads lead to such features as Tower Ruin, Confluence Overlook, Elephant Hill, the Joint Trail, and Chesler Park.
Location
On US 191, drive 40 miles (60 km) south of Moab or 14 miles (22 km) north of Monticello, then take UT 211 roughly 35 miles (56 km) west. UT 211 ends in The Needles, and is the only paved road leading in and out of the area.
We strongly recommend using a map to reach The Needles. GPS units frequently lead people astray.
Visitor Center
The Needles Visitor Center is open daily, spring through fall. Hours vary by season. Features include: exhibits, book and map sales, backcountry permits, picnic area, general information, and park rangers on duty. You can also watch a park orientation video. Water is available at the visitor center year-round. Electric outlets are not available.
Ranger Programs
Rangers present evening programs at the campground most nights, March through October. Check at the visitor center and on bulletin boards for subjects and times. Check the calendar for other special events.
Things to Do at The Needles
Last updated: November 11, 2022