Outdoor Activities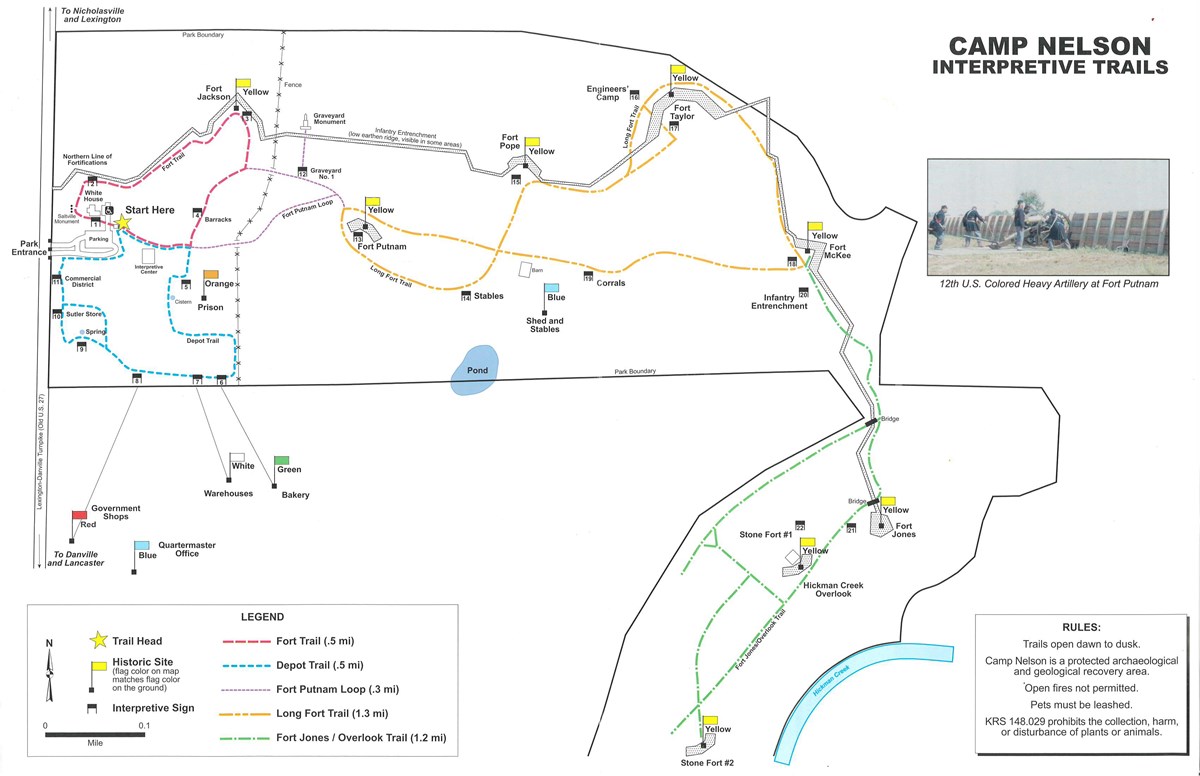 Walking/Hiking Trails
Find a wealth of information both inside the museum and outside on Camp Nelson's walking trails. These trails provide opportunities for viewing a beautiful central Kentucky landscape and stretching your legs, while learning about various sites that made up the busy and complex Camp Nelson supply depot.
Park grounds are open daily, dawn to dusk. Pets must be leashed. Please clean up after them. Do not collect or disturb animals, plants, or artifacts.
Find more information about the trails, including an interactive map, on the Jessamine County trail site.
Fort Trail
0.5 miles (0.8 km)
View infantry entrenchments and Fort Jackson, one of the earthen forts built to protect the camp. Visitors can enter this meadow trail from the north side of the White House, or from just north of the prison site.
Depot Trail
0.5 miles (0.8 km)
This meadow trail starts near the visitor center and extends southward toward sites associated with the supply function of the camp, such as warehouses, government shops, and bakery, plus sites with more specialized functions like merchants' row and the prison. The trail also passes by the officer's spring with its dry-laid limestone retaining walls and footbridge built as a Boy Scout project.
Fort Putnam Loop
0.3 miles (0.5 km)
Allowing visitors to experience the Civil War appearance of the earthen forts, Fort Putnam has been reconstructed following archeological excavations. Graveyard No.1, resting place of numerous civilian refugees, is also along this trail.
Long Fort Trail
1.3 miles (2 km)
Continue the meadow trail east of Fort Putnam to view three more fortifications, sites of the engineers' quarters, and corrals and stables. The engineer battalion was responsible for the design and construction of the fortifications.
Fort Jones/Overlook Trail
1.2 miles (1.9 km)
More adventurous hikers can continue along this trail through the woods to Fort Jones and the two Stone Forts. Fort Jones, with its extensive stone revetment walls, is one of the best-preserved Civil War forts in the state. The Stone Fort Overlook affords a breathtaking view of the Hickman Creek Valley and the Hickman Creek Nature and Conference Center.
Last updated: December 16, 2019