Permits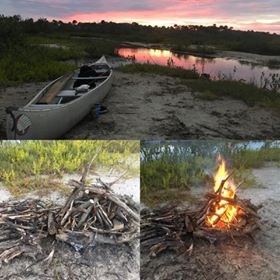 Backcountry Camping
Reservations for the 14 backcountry island sites must be made using www.Recreation.gov. Reservations may be made up to six (6) months in advance.
Backcountry Overnight Primitive Island Camping Fees: $20/night.
Permits must be printed from www.recreation.gov before entering the campsite. Camper is required to state the area of entrance to waterway. Two permits must be printed, one kept with the visitor and one for the vehicle if parked in the seashore.
Call the Apollo Beach Visitor Center for information on canoe availability and to reserve a canoe for sites 1-5.
Island capacities vary from 6-60 people.Refund and Cancellation Policy:Full refunds will only be given in the event of park closure due to inclement weather or administrative purposes. Otherwise, refunds are as follows:

For cancellations requested 30 days or more from date of reservation, guests will receive a full refund.
For cancellations requested between 8 & 29 days prior to reservation, guests will receive a refund of half the value of the reservation.
Cancellations requested seven days or less prior to the reservation date will not receive a refund.
Reservation Changes: Once your permit is printed, no changes will be allowed (refer to cancellation policy). Changes in the number of people within the same dates and campsites are allowed when available and completed prior to printing your permit. Changing the date of entry requires a new reservation. Cancel your current permit and reserve a new permit.
No-Shows: No refunds will be given in the event of a no-show.
Camping and canoe reservations may be cancelled due to inclement weather, by the seashore, in this case full refunds will be given.
***No overnight camping is allowed anywhere within the Playalinda District of the park.


Last updated: May 15, 2020