Permits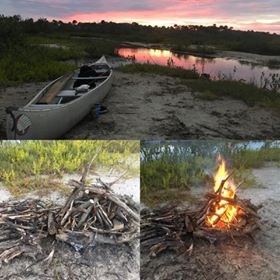 Backcountry Camping Reservation Information
Reservations for the 14 backcountry island sites must be made using www.Recreation.gov, by calling 1-877-444-6777 or there is Recreation.gov mobile app. Once you are on the reservation site, select the "Canaveral National Seashore Permit" page.
Reservations may be made up to six (6) months in advance.
Backcountry Overnight Primitive Island Camping Fees: $20/night.
Permits must be printed from www.recreation.gov before entering the campsite. Camper is required to state the area of entrance to waterway. Two permits must be printed, one kept with the visitor and one for the vehicle if parked in the seashore.
Call the Apollo Beach Visitor Center for information on canoe availability and to reserve a canoe for sites 1-5.
Island capacities vary from 6-60 people.Refund and Cancellation Policy:Full refunds will only be given in the event of park closure due to inclement weather or administrative purposes. Otherwise, refunds are as follows:

For cancellations requested 30 days or more from date of reservation, guests will receive a full refund.
For cancellations requested between 8 & 29 days prior to reservation, guests will receive a refund of half the value of the reservation.
Cancellations requested seven days or less prior to the reservation date will not receive a refund.
Reservation Changes: Once your permit is printed, no changes will be allowed (refer to cancellation policy). Changes in the number of people within the same dates and campsites are allowed when available and completed prior to printing your permit. Changing the date of entry requires a new reservation. Cancel your current permit and reserve a new permit.
No-Shows: No refunds will be given in the event of a no-show.
Camping and canoe reservations may be cancelled due to inclement weather, by the seashore, in this case full refunds will be given.
***No overnight camping is allowed anywhere within the Playalinda District of the park.
Cell Phone Additional Information
Internet Additional Information
Accessibility Information
Visit our keyboard shortcuts docs for details
Duration:

6 minutes, 17 seconds
Canaveral National Seashore offers primitive island camping on 14 islands in Mosquito Lagoon. Here is everything you need to know to have a wonderful and safe camping adventure.
Handy Tips for Planning Your Backcountry Island Camping Adventure
Plan your trip. Know where you are going and how long it will take to get there.
Bring only what you need. Everything you pack in must be packed out using Leave No Trace principles.
Make sure to bring plenty of water at approximately 1 gallon per person per day.
Bring your own firewood, only down wood may be picked and it is rare.
Please leave things cleaner than how you found them. We are happy to supply extra trash bags upon request.
Obey all Florida State Saltwater Fishing Regulations.
Always make sure your fire is out.
Make sure to secure all food from raccoons.
Bug spray and sunscreen are recommended anytime of year.
And remember this is backcountry camping, there are no public phones (bring your phone), restrooms, or facilities of any kind on the islands. Camp smart, be prepared.
All vessels, with the exception of non-motor-powered vessels less than 16 feet in length, non-motor-powered canoes, kayaks, racing shells or rowing sculls, regardless of length, must be registered through your local Tax Collector's Office.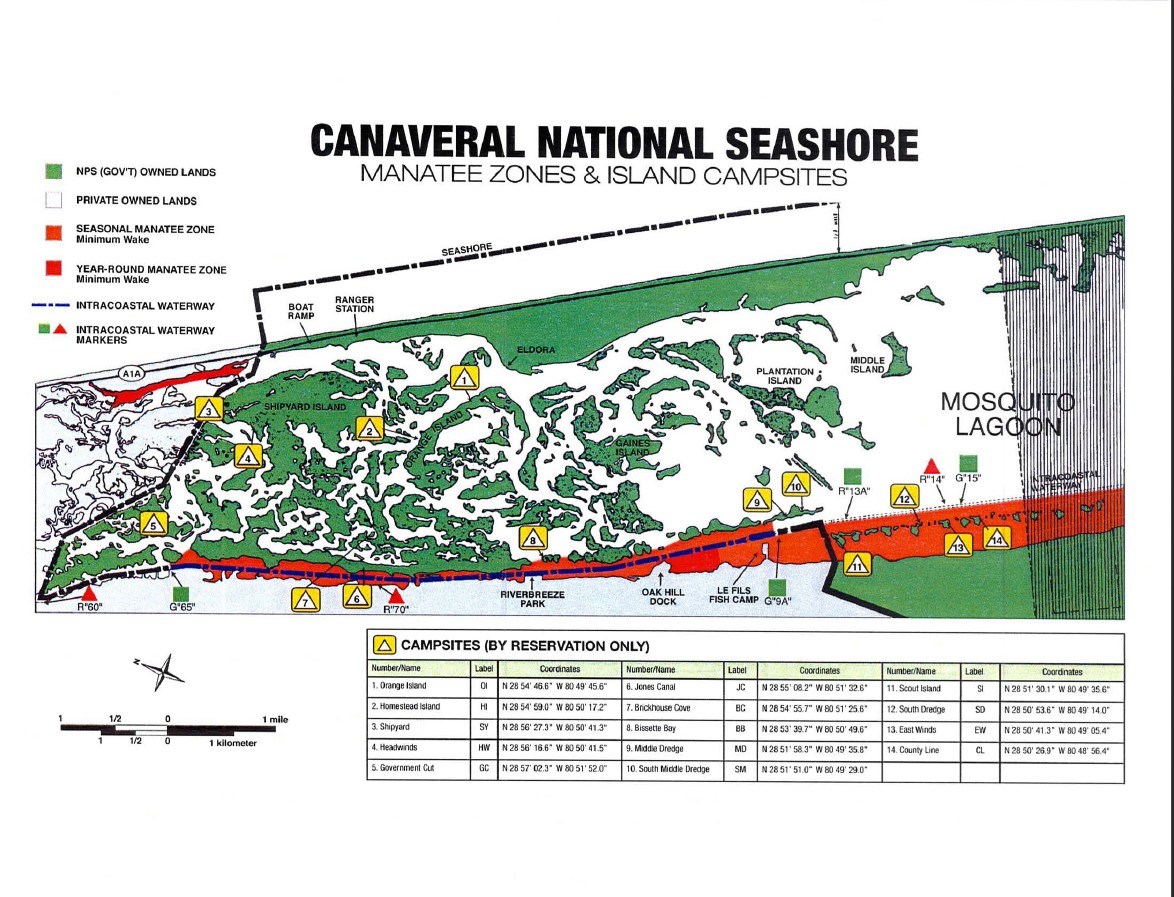 Linked here is the Backcountry Camping brochure for the Apollo Beach 14 campsites located in Mosquito Lagoon. GPS coordinates for each campsite can be found here.


Last updated: September 17, 2023