Permits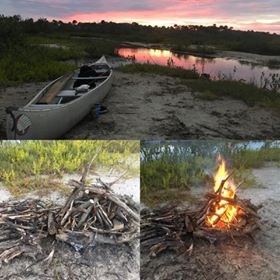 Backcountry Camping
Reservations for the 14 backcountry island sites must be made using www.Recreation.gov. Reservations may be made up to six (6) months in advance.
Backcountry Overnight Primitive Island Camping Fees: $20/night.
Permits must be printed from www.recreation.gov before entering the campsite. Camper is required to state the area of entrance to waterway. Two permits must be printed, one kept with the visitor and one for the vehicle if parked in the seashore.
Call the Apollo Beach Visitor Center for information on canoe availability and to reserve a canoe for sites 1-5.
Island capacities vary from 6-60 people.Refund and Cancellation Policy:Full refunds will only be given in the event of park closure due to inclement weather or administrative purposes. Otherwise, refunds are as follows:

For cancellations requested 30 days or more from date of reservation, guests will receive a full refund.
For cancellations requested between 8 & 29 days prior to reservation, guests will receive a refund of half the value of the reservation.
Cancellations requested seven days or less prior to the reservation date will not receive a refund.
Reservation Changes: Once your permit is printed, no changes will be allowed (refer to cancellation policy). Changes in the number of people within the same dates and campsites are allowed when available and completed prior to printing your permit. Changing the date of entry requires a new reservation. Cancel your current permit and reserve a new permit.
No-Shows: No refunds will be given in the event of a no-show.
Camping and canoe reservations may be cancelled due to inclement weather, by the seashore, in this case full refunds will be given.
***No overnight camping is allowed anywhere within the Playalinda District of the park.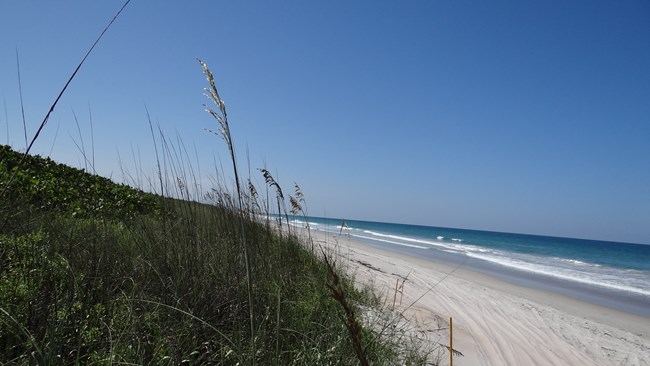 Backcountry Hiking Permits
Backcountry hiking permits allowing access to Klondike Beach are issued at both entrance stations. There is a limit of 25 permits issued per day at an administrative cost of $5.00. Permits are sold on a first come first served basis. Permits may be suspended for operational safety. Hikers must be out of the park by closing time.

Backcountry Hiking is permitted for the east side of the dune only. Crossing the dune is a resource violation, because the dunes and the plants on the dunes are protected.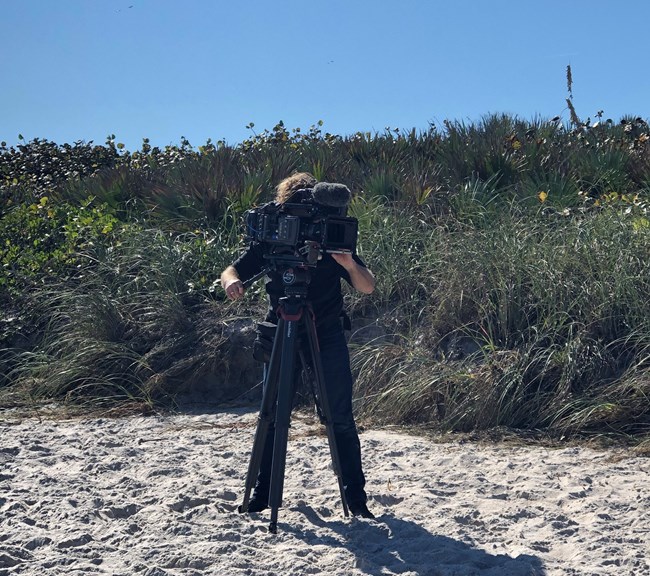 Commercial Photography & Filming Permits
If you are planning to do any filming or photography involving talent, products or props in front of a camera, you will need to obtain a filming permit. All permit applications are reviewed on a case-by-case basis, and will not normally be issued for areas of high visitation or on weekends. If you have further questions, please contact (321) 267-1110.
Insurance Liability Requirements: $300,000 minimum. Larger scale productions (cast, crew, equipment) typically require liability insurance in the amount of $1,000,000. U.S. Federal Government must be listed as ADDITIONAL
INSURED on liability policy.

General
A permit will not be required for a visitor's personal, noncommercial filming and photography activities within normal visitation areas and hours. (Outside normal visitation areas and hours, a permit may be required).
Commercial Filming
All commercial filming activities require a permit. Commercial filming means filming that involves the digital or film recording of a visual image or sound recording by a person, business, or other entity for a market audience. This includes recordings such as those used for a documentary, television or feature film, advertisement, or similar project.
Still Photography
In accordance with Public Law 106-206, still photography (whether commercial or noncommercial) will not require a permit unless;
it takes place at a location(s) where or when members of the public are generally not allowed, or

it uses model(s) or prop(s) that are not a part of the location's natural or cultural resources or administrative facilities, or

the Park Service would need to provide management and oversight to prevent unacceptable impacts.
If none of the conditions identified above exist, then a permit is not required.
Public Law 106-206
In

Public Law 106-206

,

Congress acknowledged the importance of resource protection
and provided that a permit request should be denied if:
There is the likelihood that resource damage would occur that cannot be mitigated or restored under the terms and conditions of the permit;

There is the likelihood of unreasonable disruption or of conflict with the public's use and enjoyment of the park;

There is the likelihood that the activity poses health or safety risks to the public;

There is the likelihood that the activity would result in impairment of park resources or values;

The requested activity will violate any other applicable Federal, State, or local law or regulation

.
News Coverage
News coverage does not require a permit, for either filming or still photography, but is subject to time, place, and manner restrictions, when warranted, to maintain order and ensure the safety of the public and the media, and to protect natural and cultural resources.
Permit Fees
Commercial filming permits and still photography permits (when applicable) are statutorily subject to cost recovery and a location fee, neither of which may be waived. The location fee is determined by the type of activity (commercial filming versus still photography). It is based on the current schedule, the number of permitted days, and the number of people on park lands associated with the permitted activity. There is no deviation from the schedule.
Location Fee Schedule
Commercial Filming/Videos

Still Photography

1 – 2 people camera & tripod only

$0/day

1 - 10 people

$150/day

1 - 10 people

$50/day

11 - 30 people

$250/day

11 - 30 people

$150/day

31 - 49 people

$500/day

Over 30 people

$250/day

Over 50 people

$750/day
Nature Films
To address the needs of videographers and cinematographers who produce nature films highlighting the wonders of national parks, the following provision is in effect:
Commercial videographers, cinematographers, or sound recording crews of up to two people with only minimal equipment consisting of a camera and a tripod, working in areas open to the public are required to obtain a commercial filming permit and are subject to appropriate permit terms, conditions and cost recovery charges, but are not subject to location fees.
Additional Information
When a filming permit is required, liability insurance naming U.S. Federal Government/Canaveral National Seashore as additionally insured is also required. The minimum amount of the liability coverage is $1,000.000.00

All vehicles must be parked in a designated parking area.

The Commercial Film/Photography application with proof of insurance must be submitted at least seven business days prior to filming. Once all aspects of the filming project have been approved, a Commercial Filming Permit will be issued.

The use of all props and equipment other than photographic equipment must be specified in your application and approved in the Commercial Filming Permit.

Film crews must not interfere with the enjoyment of visitors or force visitors to leave a certain area of the park in order to conduct the filming.

Commercial film permittees and associated support personnel identified in the permit will not be charged an entrance fee.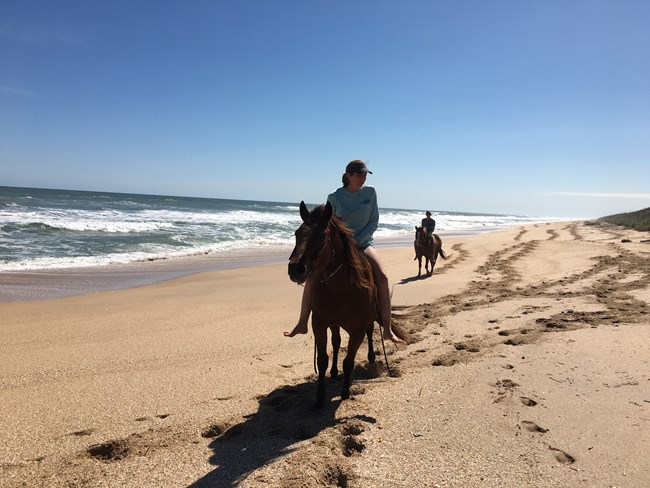 Horseback Riding
Reservations are required. Prior to riding in Canaveral National Seashore, private stock users must obtain a Horseback Riding Permit. A separate permit is required for each day you will be riding. Only one individual in the group needs to obtain a permit. To obtain a permit, please call the Apollo Visitor Center at (386) 428-3384 ext. 0. On the day of your reservation please check in at the visitor center in person, 7611 S. Atlantic Ave., New Smyrna Beach FL, 32796.
Horse use is restricted to Apollo Beach. There is no horse use at Playalinda Beach.

A Special Use permit must be obtained before using horses within the seashore. The permits will be issued upon check-in at the visitor center at a recovery cost of $75.

Horseback riding is permitted in the designated area with access from the Administrative boardwalk across from the Information Center. Horseback riding is prohibited within the seashore from April 15 (or when the first turtle nest is laid) through October 31(or after the last nest is hatched), because of sea turtle nesting season.

Reservations - There is a limit of six (6) horses per reservation per time slot. Due to limited parking for trailers, there will be no waiting with horses for access to the beach. Reservations may be obtained by calling the visitor center and selecting an AM or PM time slot.

Parking - All horse trailers and vehicles must be parked in designated parking areas. The designated parking area is across from the visitor center near the administrative boardwalk. Do not blocking access to the road or boardwalk.

A valid Coggins certificate must be presented at the time the permit is issued.

Horse owners are responsible for maintaining sanitary conditions. Horse droppings must be removed from the parking areas, beaches and roadways by owners.

Horses must be led over the boardwalk by the rider, not ridden. Horses must proceed at a slow walk when passing the immediate vicinity of persons on foot. Care must be used by riders to avoid entanglement with fishing line and equipment.

Neither rider nor horses are permitted in the dune zone.

Horses are not permitted to consume vegetation. All forage and water must be provided by the owner.

Canaveral National Seashore reserves the right to cancel a permit at any time if it is n

ecessary to protect natural or cultural resources or if the activity is deemed detrimental

to health and safety.
Special Park Use Permits
Special Use Permits authorize activities that benefit individuals, groups or organizations, rather than the public at large. Examples include: weddings, memorial services, special assemblies, and First Amendment activities. The National Park Service may permit a special park use providing the activity will not cause derogation of park resources or values, visitor experiences, or the purpose for which the park was established.

Special Park Use Permits are required for short-term activities that take place in the park area which:
• Provide a benefit to an individual, group or organization, rather than the public at large;
• Require written authorization and some degree of management control from the NPS in order to protect park resources and the public interest;
• Are not prohibited by law or regulation.

Special Park Use Application Form -Be as detailed as possible. We must know the specific type of event, desired time and location, equipment (including vehicles), total number of participants (including contractors) and any special needs you may have. When identifying the desired park location for your event, specify the park district (Apollo Beach or Playalinda Beach). As an example, to clearly identify the desired location for an event, you should write, "Apollo Beach by parking area #1", in the preferred location section of the application.
A $150 non-refundable processing fee is required with your application. Liability insurance may also be required. Payment of fees shall be via money order or bank draft made payable to the National Park Service. Do Not Mail Cash. Our permit coordinator may be reached at (321) 267-1110.
As a general rule, permit refunds will not be issued for event cancellations, inclement weather, or park closures required by Kennedy Space Center security operations. The information on the application will be used by National Park Service staff to evaluate the impact of your event on park resources and other visitors. In addition, exclusive park staff services may be required, at a cost of $50 per hour, per person, depending on the scope and size of the proposed activity.
How To Pay For Your Guests to Enter The Park
While a Special Park Use permit covers the entrance fee for the permit holder, it does not waive entrance fees for guests or participants. We do not accept advance payments for guests as part of the permit process. This is because experience has shown that more often than not, the number of anticipated guests does not match the number of guests who actually arrive for the event.
To accommodate permittees who may wish to pay their guest's entrance fees, the permittee, or a designated individual may remain at the entrance station fee booth as guests arrive. The Visitor Use Assistant on duty will keep count of the authorized guests or participants with you, and payment will be made after you indicate the last anticipated guest or participant has arrived. Persons arriving for your event after that transaction has been completed will be charged the normal entrance fee, if they do not have a valid park pass.

Wedding Permit Application Supplemental Information
Group size limits & authorized event locations -
Canaveral National Seashore can accommodate smaller wedding groups with a permit, which do not exceed 20 participants, and which will require no more than 15 parking spaces. Both the Playalinda and Apollo District have a designated location which is most suitable for holding small wedding ceremonies. These locations were selected based on parking availability, ease of beach access, and in order to minimize interference to other park visitors who are not event participants. Exceptions to the above guidelines will be considered on a case-by-case basis, and require special approval by the Superintendent or Chief Ranger.

Authorized Wedding Ceremony Locations:
Apollo Beach (north district) ………………….. Beach access parking area # 1
Playalinda Beach (south district) ………………. Eddy Creek beach access area.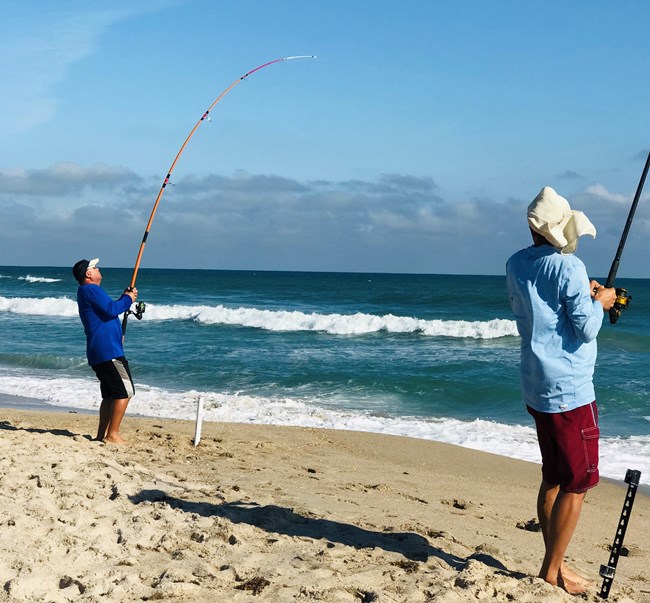 Commercial Harvesting Permits
Monthly Catch Log

Catch logs are required because harvest data is needed to manage sustainable aquatic populations. On your logs, please record hours fished in each area even if no fish were caught. We ask that you record number of people fishing/harvesting, including guides or assistants who are actively fishing. Our Resource Management team greatly appreciates your cooperation.
Mail to: Canaveral National Seashore, 212 S. Washington Avenue, Titusville, FL 32796 ;

Fax to: (321) 264-2906.
Please do not submit a year's worth of monthly reports.


Last updated: April 2, 2020