Artist In Residence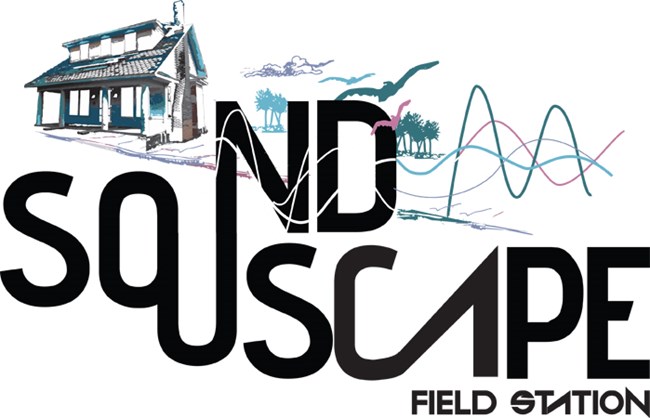 The legacy of artist and environmentalist Doris Leeper has connected Canaveral National Seashore and Atlantic Center for the Arts (ACA) for many years. The two organizations are now embarking on a collaboration that uses creative arts to advocate for environmental health. Leeper's home at Eldora, located on the grounds of Canaveral National Seashore, is the site of an environmental artist residency program unlike any other in the United States. ACA's Soundscape Field Station at Canaveral National Seashore is the first of its kind in the United States dedicated to preservation of natural sounds, following in the tradition of other types of successful National Park Service artist residency programs located in more than 100 parks throughout the country.

Arts in Park Around the Nation https://www.nps.gov/subjects/arts/air.htm
ACA's Soundscape Field Station at Canaveral National Seashore , managed jointly by Canaveral National Seashore and Atlantic Center for the Arts is designed to provide a creative platform where sound artists and scientists can discover sustainable solutions and raise awareness of sound as a natural resource. The goal for each artist-in-residence is to find innovative approaches that help preserve a healthy and balanced soundscape for current and futuregenerations.
From urban design to wildlife ecology, the sounds of our environment tell a story of wildlife biodiversity and the health of people living in that community. The World Health Organization has compiled evidence that, "the burden of disease from environmental noise" can cause:
anxiety, hypertension, sleep deprivation, and high blood pressure

lack of concentration, loss of hearing, and loss of communication
In addition, adverse effects of human-based noise on wildlife causes:
ACA's Soundscape Field Station at Canaveral National Seashore is a:
creative studio

community classroom

audio laboratory
Canaveral National Seashore is an ideal location for soundscape work due to its protected location on the east central coast of Florida. The park contains 58,000 acres of barrier island, open lagoon, coastal hammock, pine flatwoods and offshore waters, representing an excellent example of a relatively stable barrier beach backed by a productive lagoon system. This stretch of land is known as one of the darkest spots on the east coast of Florida and is the control for darkness studies on sea turtle disorientation. ACA's Soundscape Field Station at Canaveral National Seashore offers a unique opportunity for artists to contribute to the public understanding and appreciation of Canaveral National Seashore. The curation team for this program is led by Atlantic Center for the Arts, an organization with over 40 years of experience in producing artist-in-residency programs that attract distinguished artists from all over the world.
This program invites sound artists, musicians, composers, field recordists, and soundscape ecologists to live and work in a historic home in Canaveral National Seashore for 4-6 weeks. Artists are encouraged to explore innovative ideas about environmental health and soundscape preservation. Each resident is required to volunteer time each week to interact with park visitors and facilitate community outreach. In a continuing effort to offer interpretive programs to the public, artists are asked to donate a tangible creative work produced at the residency. These works may take the form of exhibitions, digital recordings, slide lectures, visitor center resources, or video documentation.
Residency Details and Application
Follow us on INSTAGRAM

Support the program
ACA's Soundscape Field Station at Canaveral National Seashore is funded by contributions from individuals, private foundations, and educational institutions.
Support this program by contacting Eve Payor, Atlantic Center for the Arts Director of Community Programs at 386-427-6975 or click here.
Click here to listen and read about the Artist-In-Residence work...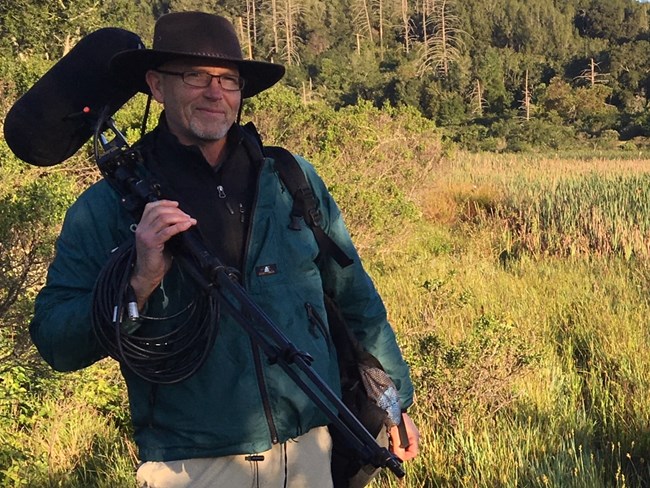 Featured Artist-In-Residence
Jack Hines
Soundscape Specialist
Glen Ellen, CA 95442
Musician, environmental advocate, GIS technician, fieldrecordist,
soundscape ecologist, and educator, Jack Hines has
been an associate member of the Wild Sanctuary team for nearly
20 years.
His deep understanding of sounds of the natural wild, their
relationship to music, and to those of enhancing human health
and wellness, make him a multi-talented leader in this field.
Both studied and intuitive, Jack's comprehensive field and
teaching skills along with his enthusiasm to share the wonders of
the outdoors - and relate them to life in the modern world - are
timely and vital.
A versatile and accomplished songwriter and musician, Jack is a vocalist, plays both
electric and upright bass, viola da gamba, guitar, and piano, receiving a BA in Music
from San Francisco State University in 1988. Performances include Hong Kong,
Singapore, and Kuala Lumpur tours. Jack's San Francisco Bay Area collaborations have
ranged from Jazz to Brazilian to Afro-Cuban and Salsa styles, along with a variety of
other performers, musical partners, and bands.
In 2004, Jack became a full-time music teacher working with at-risk adolescent boys at a
large residential center in Sonoma, CA., producing concerts twice a year for 15 years,
where he also led guided wilderness backpacking trips and day hikes. In this capacity,
his skills with guided meditation, life coaching, wilderness awareness and ecology
fostered new environmental connections and launched many related programs for his
students.
Under his own label, Jack has produced 6 albums, including: Howard Lake, Ledson Marsh,
Magpie's Song, Moab, Death Valley Oasis, and Pinyon Forest Dawn.
For further information visit:
www.EarToTheWild.com
Wild Sanctuary albums with Bernie Krause include: Sequoia High Country.
For further information visit:
www.WildSanctuary.com
Jack is a Wild Sanctuary field associate, sharing natural soundscape awareness for science, art, education, and public outreach. He's recently completed two extensive European field-recording explorations within Romania (REX) and the Scottish Highlands (S:HEX); a collaborative sound-led project with Wild Sanctuary, Missing Wolf, and Ear to the Wild.

Last updated: March 31, 2020