Special Use Permit - Long-Term Parking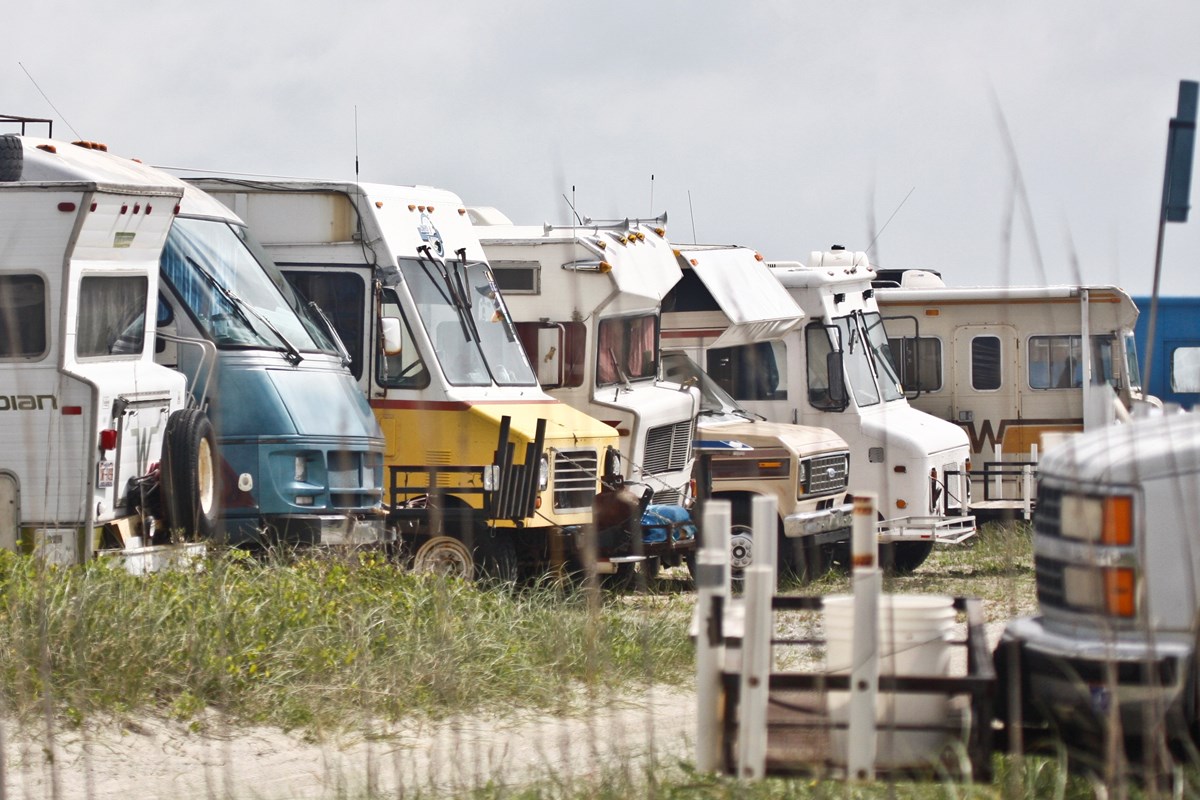 If you are interested in the convenience of parking your vehicle at Cape Lookout National Seashore, the following information will be helpful. A Long-Term Parking Permit is required to leave your vehicle unattended for more than 24 hours. Individuals parking their vehicle at the Harkers Island Visitor Center while camping on the barrier islands are not required to purchase a permit. Follow the guidelines below to ensure that your permit is approved in time for your trip.
For unattended parking more than 24 hours, the issued decal is required to be displayed on the driver's side front bumper of the permitted vehicle or on the body of a permitted trailer. All unattended vehicles must be in one of the park's three long term parking areas:
Great Island Cabin Area on South Core Banks
Cape Lookout Lighthouse Area on South Core Banks
Former Long Point Cabin Area on North Core Banks
Vehicles left unattended for less than 24 hours do not require permits and may be left on the open beach provided they are not obstructing traffic and are outside of areas closed to vehicles. They also may be left in designated short-term parking areas.
Permit Pricing
The authority for the National Park Service to recover and retain costs associated with managing special park uses is found at 54 USC 103104 and 54 USC 200101. Charges established for a Special Park Use under this authority are intended to recover costs associated with managing that activity and not to generate revenue beyond actual cost.
Weekly Long Term Parking Permits cost $15 per week. Annual Long Term Parking Permits are $450 and are valid for the entire season. If you are leaving your vehicle on the islands for longer than 30 weeks, it is more cost-effective to purchase an annual permit.
If you wish to add additional time to your weekly permit, you may do so at the Great Island Cabin Office (open daily during the season from 8-3:00) or by calling the Cabin Office at (252) 725-0256.

Obtaining a Long-Term Parking Permit
In order to obtain a Long-Term Parking Permit, you must first fill out an application. Download the application, fill out with your information, scan copies of your license, reregistration, and insurance and email all documents to it to CALO_SUP@nps.gov.
Application for Long-Term Parking Permit

No decals will be issued without all requested documentation (complete application, copy of license, vehicle registration, and insurance). License, registration, and insurance must be valid at time of purchase. Updated documentation will be the responsibility of the permittee.
After sending your application, you will be contacted within7-10 business days to collect payment. Once we receive your payment, a permit will be emailed to you for a signature. Permits decals for Long Point will be mailed. For South Core, permit decals can picked up at Great Island Cabin Office between 8-3:00pm.
Note: If you are unable to fill out application digitally, you may print application, complete, and scanned copy to CALO_SUP@nps.gov. If you are unable to submit the application digitally, call Harkers Island Visitor Center (252) 728-2250 to request an application to be mailed to you.
If you have any questions regarding long term parking permits or the ORV permit, please feel free to contact Tonya Seely, Lead Recreation Fee Technician, at Harkers Island Visitor Center (252) 728-2250.
Last updated: December 29, 2022