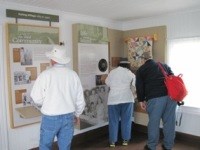 What was once a bustling sea village now stands as a testament to times gone by. Exhibits on "lightering", community life, and survival in this village can be seen in the Theodore and Annie Salter House and Visitor Center, the School, the Post Office and General Store, and the Life-Saving Station.

These buildings, as well as the Henry Piggot House, are open to the public seasonally.

Other structures are occupied by National Park Service personnel or holders of NPS leases. Please respect their privacy.
PLEASE NOTE The Methodist Church is closed to the public as a result of damage sustained during Hurricane Sandy.