Wedding Permits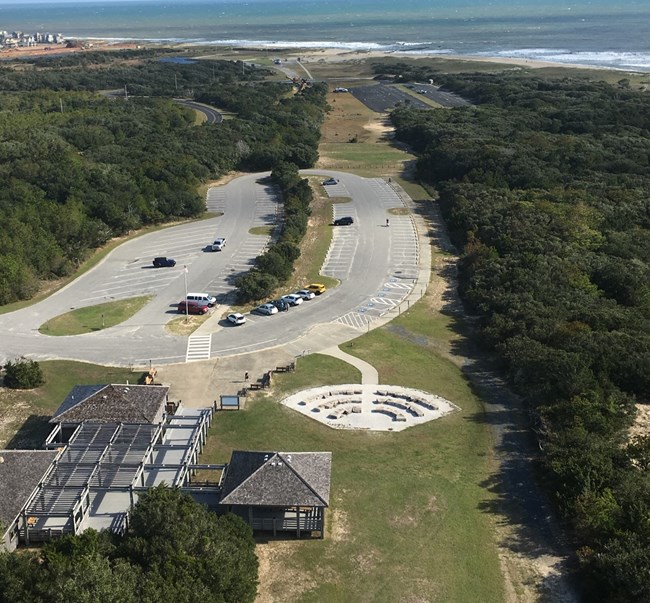 Weddings at Cape Hatteras National Seashore
---
General Information
A Special Use Permit is required for all wedding ceremonies and vow renewals within Cape Hatteras National Seashore, regardless of the number of attendees or length of the ceremony.

Cape Hatteras National Seashore beaches provide a wonderful setting for these special occasions. Outer Banks beaches south of the town of Nags Head on Bodie Island, on Hatteras Island and Ocracoke Island are all within the Seashore. Beach areas in front of hotels, houses and business on Hatteras Island (villages of Rodanthe, Waves, Salvo, Avon, Buxton, Hatteras and Frisco) are also within the Seashore. Wedding and vow renewal ceremonies in these locations all require permits.
Weddings are also permitted on the grounds of the Bodie Island, Hatteras and Ocracoke Lighthouses.
Between the third (3rd) Friday in April through Columbus Day, weddings at the lighthouses must occur before 9:00am or after 5:00pm. No chair or arch set-up permitted at the lighthouses.

Additional information about wedding locations is provided below.
Types of Wedding / Vow Renewal Permits
Two types of wedding / vow renewal permits are available. One for small, simple weddings and another for larger weddings and weddings with chairs.


Description
Application Fee
Monitoring Fee
Small / Simple Weddings

Up to 49 Participants
Limited number of chairs-Only for elderly or guests with disabilities.

$100
Monitoring is typically not required or charged for small/simple weddings
Large Weddings / Weddings with Chairs

Formal chairs and other equipment (any number of chairs); and/or
50+ Participants
No chair set up around lighthouses, soundside beaches, life guarded beaches and Off Road Vehicle (ORV) routes
Wedding equipment must be coordinated with a park approved Commercial Use Authoriztion holder.

$200
The seashore may choose to monitor large weddings and weddings with chairs and will charge the permittee staff time to monitor the event. Monitoring fees are estimated at $55 per hour/per ranger. For a large 2 hour event, fees could be up to $220.

NOTE: All weddings with formal chair set-up and equipment, such as white folding chairs and/or archway provided by a rental company must apply for a large wedding / wedding with chairs permit and provide an application fee of $200 regardless of the number of chairs requested. For example, a 25 person wedding with a formal chair set-up needs a permit for a large wedding/wedding with chairs.
Application Instructions
Complete the Wedding Permit Application.

Pay a non-refundable application fee of using Pay.gov. You can pay using debit or credit card. $100 application fee for small weddings(less than 49). $200 application fee for larger weddings (50 or more) or any wedding with a chair set-up.

E mail the signed application and receipt of required payment to the e-mail address at the top of the permit application.
The non-refundable application fee covers the cost of administering the permit request.
Please submit your application at least 45 days before your requested date. You will receive a response regarding your application within two weeks of receipt.
Wedding Locations at Cape Hatteras National Seashore
Certain areas of the National Seashore are better suited for wedding ceremonies than others, particularly given the limited parking resources available within the park. Our three lighthouses have different parking space availability. Please note that all of our sites are for wedding ceremonies only; we have no facilities for receptions. However, there are a number of such facilities available privately. Please check some of the links provided below. During nesting and breeding season (spring and summer), some sections of the beaches may be closed to visitors and vehicles to protect nesting species. Given the size of the Seashore, (over 30,000 acres), wedding parties are always able to find a suitable spot for the ceremony. Here are some suggestions:
Lighthouses
Bodie Island Lighthouse
Situated approximately eight miles south of Nags Head, NC, this is perhaps the most accessible of the park's lighthouses for most visitors. The site includes a nice expansive grassy area, parking facilities for up 50 cars and restroom facilities. This is ideally suited for larger wedding parties. From the third (3rd) Friday in April until Columbus Day, permits will only be issued for weddings occurring before 9:00 AM or after 5:00 PM daily. No chair or arch set-up permitted at this location.
Cape Hatteras Lighthouse
The Cape Hatteras Lighthouse is located in Buxton, NC. This is perhaps the most famous of all lighthouses on the Atlantic Coast, and it is the tallest. Thousands of visitors visit this lighthouse on a daily basis during the summer months. While this lighthouse is open to the public from time to time, weddings cannot be performed within the lighthouse itself or on its steps and paths. Continuous public access to the lighthouse is required at all times. Parking and restroom facilities are readily available, and this area is more suitable for larger weddings of up to 25 people. However, the area is less intimate given the great number of people visiting the lighthouse on a daily basis. From the third (3rd) Friday in April until Columbus Day, permits will only be issued for weddings occurring before 9:00 AM or after 5:00 PM daily. No chair or arch set-up at this location. Larger weddings can more easily be accommodated at the beach area just beyond the lighthouse. See the information below on Beach Areas.
Ocracoke Lighthouse
Immediately south of Cape Hatteras, Ocracoke Island must be reached by ferry operated by the North Carolina Department of Transportation. Travel time by car and ferry averages about two hours from Nags Head, depending on the time of day. The ferry operates at different times during the day, and the schedule is published at the North Carolina DOT Ferry Schedule Page. Parking is extremely limited at the lighthouse, and the lighthouse itself is closed to the public. Because the area is immediately adjacent to wetlands and fragile grasses, this site is best suited for very small and intimate wedding ceremonies of three to twelve people. From the third (3rd) Friday in April until Columbus Day, permits will only be issued for weddings occurring before 9:00 AM or after 5:00 PM daily. No chair or arch set-up at this location.
Beach Areas
Ocracoke Island
There are a number of sites that are well suited for wedding ceremonies along the magnificent coastline of the Atlantic Ocean. Just north (approximately 4 miles) of the Village of Ocracoke is the day use beach area with parking spaces for 35 cars. During the summer season, it is also a lifeguarded beach. Approximately one mile north of the day use beach is the campground with parking spaces for 50 cars. And, approximately 3 miles north of that is the pony pen area with parking for 25 cars. All provide beach access and spectacular views of the ocean. No chair or arch set-up during life guard season at Ocracoke Day Use Area.
Hatteras Island
Adjacent to the Cape Hatteras Lighthouse are a number of beach areas ideally suited for weddings. Entering the park and across from the visitors parking lot is a beach access that leads to a picturesque and large expanse of beach suitable for larger weddings. Most days there is adequate parking for larger numbers of people, and immediately nearby is our new restroom facility. Above that site are the stones marking the original site of the lighthouse. This area and the adjacent beach are also picturesque sites for a wedding. Past the ranger's station, follow the park road leading to the Point and a smaller parking area for approximately 15 cars. This is a beautiful and usually less populous section of beach. Most beach locations provide an excellent view of the lighthouse for special photo opportunities. No chair or arch set-up during life guard season at Old Lighthouse Beach or Frisco Beach.
Bodie Island
Immediately east of the Bodie Island Lighthouse is the Coquina Beach Day Use Area with parking spaces for 115 cars. The beach is very popular with visitors to the seashore. Vehicles are not permitted on the beach north of the ramp access. Restroom facilities are available, during the summer and fall months. No chair or arch set-up during life guard season at Coquina Beach.
Permit Conditions and Restrictions
Permits for wedding / vow renewals at Cape Hatteras National Seashore do not allow for organized parties and receptions and are typically limited to 2 hours. Venues for receptions and parties may be available in areas of the Outer Banks outside of the seashore. Please see the links below for more information.
The following section outlines the permit conditions for wedding and vow renewals.
Permit Conditions for all Wedding / Vow Renewal Permits
A written permit is required for all wedding ceremonies fixing the date, time, and place of the ceremony.

Weddings and vow renewals must be held on the beach or in grassy areas. All activities must stay within open trails and public areas. No ceremonies may be held within or upon any park structure, walkway, steps or approaches, except the Keeper of the Light Amphitheater (Also known as the "Circle of Stones") near Cape Hatteras Lighthouse.

Access for other park visitors must not be impeded. This permit does not authorize exclusive use of any public lands. The permittee shall insure that the rights of the general public visiting the park are not infringed by the permitted activity. All activities must take place in areas open to the public.

Available parking is limited and cannot be guaranteed. Permittees and their guests must park within designated parking areas. Carpooling or private shuttle is recommended and may be required for some sites.

Music - Public address, speaker systems, and any electrically amplified instruments is prohibited. Acoustic music and non-amplified singing is permitted. Music played with a small, handheld speaker (such as a small Bluetooth speaker) is permitted. The permittee must keep music to a low volume so that it cannot be heard at a distance of more than 50 feet from the perimeter of the wedding/vow renewal ceremony.

The releasing of balloons, birds or butterflies and the throwing of rice, birdseed, flower petals or other natural or artificial material is not permitted.

A limited number of chairs may be used for older guests or guests with disabilities.

Permittees must exercise particular care to avoid disturbing wildlife and vegetation. Visitors, photographers and weddings are not permitted in undisturbed dune areas.

All activities must stay within open trails and public areas. No weddings may be held within or upon any public park structure or its approach or steps.

Affixing signage to existing buildings, property, signs, poles or plants is prohibited.

All trash must be placed in onsite trash containers. If the site does not have containers or if trash volume exceeds container capacity, permittee must bag and remove trash from parklands. Permittees failing to effect such cleanup will be charged the cost for such services.

Between the third (3rd) Friday in April until Columbus Day, permits for weddings will only be issued at the lighthouse areas, to include the Keeper of the Light Amphitheater (also known as the "Circle of Stones") near Cape Hatteras Lighthouse before 9:00 AM or after 5:00 PM daily.

The permittee many not use Unmanned Aircraft Systems, (UAS), also known as drones. Launching, landing, or operating an unmanned aircraft from or on lands and waters administered by the National Park Service within boundaries of Cape Hatteras National Seashore is prohibited.
Permit conditions specific to Wedding/Vow Renewal Permits with approval for chairs and other wedding equipment on the beach:
If the permittee chooses to purchase services for wedding equipment set-up, the permittee must work with a business that has a current Commercial Use Authorization (CUA) to do business in Cape Hatteras National Seashore. The list of companies authorized to provide wedding equipment services at Cape Hatteras National Seashore are listed on our

Commercial Services Page

.

The permittee may set up chairs, arches, benches, and a small ceremony table for the wedding/vow renewal.

Chairs and wedding equipment may be set up for no more than 2 hours total.

Chairs and wedding equipment may only be ser up in the following beach areas:

Ocean beaches that are vehicle-free areas (VFAs) including, but not limited to, beaches on Hatteras Island in front of Buxton (year-round) and the following villages between April 15 and October 14 only: Rodanthe, Waves, Salvo, Avon, Frisco, and Hatteras.

Chairs and other wedding equipment are prohibited in the following areas: Lifeguarded areas, beaches open to off-road vehicle use (ORV ramps and routes), Non-beach areas, and sound-side beaches.
Additional Outer Banks Wedding Resources
While the National Park Service neither endorses nor promotes public or private business activities, the following sites are offered to assist you in planning your visit to the Cape Hatteras area:
http://www.darenc.com Marriage License Information
http://www.outerbankschamber.com
http://www.outerbanks.org
http://www.obxwa.com
Questions and Additional Information
For questions or information about permits for other types of uses, or if you have any questions about the process or your permit, please contact our Special Park Uses Coordinator at (252) 475-9034 or via e-mail to e-mail us.
Last updated: December 4, 2020