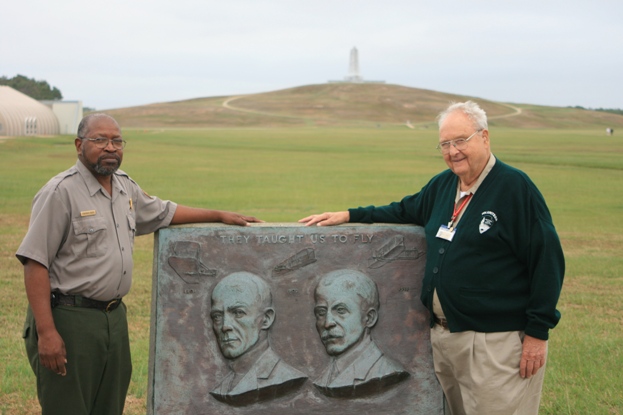 News Release Date:
November 3, 2009
Contact: Mary Doll, 252-473-2111 Ext. 164
Since October 24, 1989, Joe Hardman has had a public calling to share his love of aviation history while working as a volunteer at Wright Brothers National Memorial. His passion for the Wright brothers' story and the first flight has inspired hundreds of thousands of National Park Service visitors. 
From the time he was a Civil Air Patrol cadet in high school, Hardman has been fascinated with airplanes. He has spent a lifetime collecting books and memorabilia on aviation and has a wealth of knowledge about aviation history. "I retired to the Outer Banks 20 years ago after 33 years of federal service," stated Hardman. "The park has been a vacation destination for family and friends and volunteering here was the right thing to do. The teamwork and friendships that have developed with other volunteers and park staff through the years keeps me coming back for more."
In 2006, Hardman received the President of the United States Volunteer Achievement Award for donating over 4,000 hours of service. To date, Hardman has over 6,200 hours of volunteer service at the park.
"Working at the world shrine of aviation has enabled me to meet many aviation legends, as well as relatives of the Wright brothers themselves," stated Hardman.  Neil Armstrong, the first man to step on the moon, Wick Wright, the nephew of Wilbur and Orville Wright, and his daughter Amanda Wright Lane are among the highlights of my experiences volunteering at Wright Brothers National Memorial.
"The National Park Service is fortunate to have a volunteer the caliber of Joe Hardman," stated Outer Banks Group Superintendent Mike Murray. "His 20-years of volunteer service at Wright Brothers National Memorial have been an obvious labor of love. My hat is off to him for his 53-years of dedication to the public good."
Last year more than 175,000 people donated their time and talent to the National Park Service performing visually every task imaginable. Volunteering in your national parks is a great way to see the beauty this country and learn about its history. If you would like to volunteer at any of the National Park Service Outer Bank Group Parks, please call (252) 473-2111 ext 164.