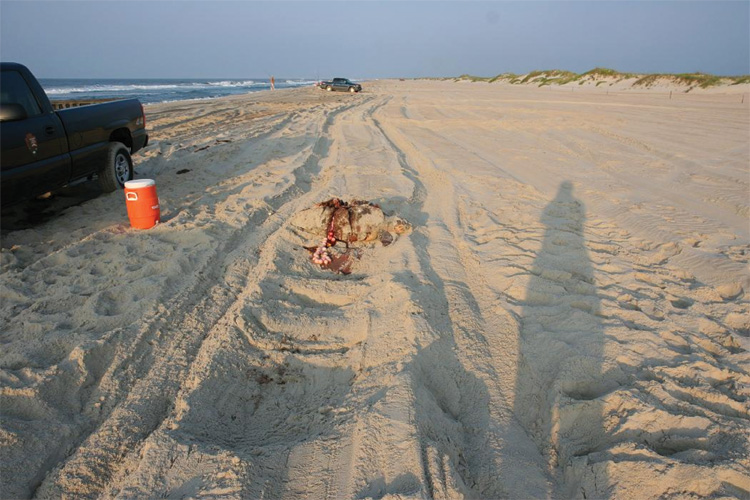 News Release Date:
June 25, 2010
Contact: National Park Service, 252-473-2111 x148
The National Park Service (NPS) is seeking information from the public about the death of a nesting female loggerhead turtle that was struck and killed by an off-road vehicle (ORV) during the night-time hours between June 23 and June 24.  The turtle had crawled out of the ocean and attempted to lay a nest between Ramps 70 and 72 on Ocracoke Island. The turtle was hit by an ORV and dragged approximately 12 feet, causing fatal injuries to the turtle. It is believed to be the first time a nesting sea turtle has been killed by an ORV at the Seashore. 
The animal was found dead by NPS turtle patrol at 6:10 a.m. on June 24. NPS law enforcement rangers are investigating the incident.  The incident is believed to have occurred during the early morning hours of June 24 in violation of the posted night-driving restriction. Because the Seashore is nesting habitat for three species of Federally-listed threatened or endangered seas turtles (loggerheads are listed as threatened), under the court approved consent decree ORVs are prohibited on the beach from 10 p.m. to 6 a.m. during the turtle nesting season.  The vehicle that struck and killed the turtle is likely to be a four-wheel drive sport utility vehicle (SUV) or pick-up truck.
Loggerhead turtles are protected under the Endangered Species Act. If anyone has any information about this incident, please call the Dare Community Crime Line at 252-473-3111.