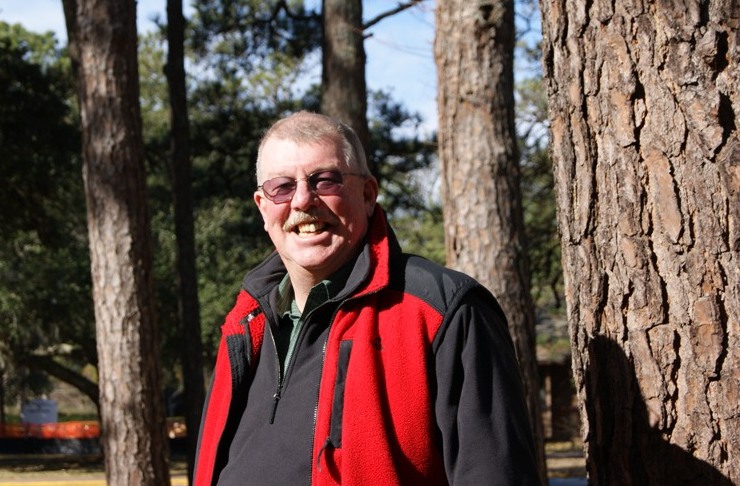 News Release Date:
December 10, 2010
Contact: Outer Banks Group, 252-473-2111  Ext. 148
After 37 years with the National Park Service (NPS), Dennis McGinnis, a second generation NPS employee, will be retiring on January 1, 2011. McGinnis, a native of Manteo, North Carolina, began and now ends his career at the Outer Banks Group, which includes Cape Hatteras National Seashore, Fort Raleigh National Historic Site and Wright Brothers National Memorial. He returned home to Manteo in November 2008 as the Group's Chief of Facility Management, thereby following in the footsteps of his father, Dennis McGinnis, Sr., who held the same position in the 1960's.
As a youth, Dennis spent 11 summers as an actor in The Lost Colony, the nation's longest running outdoor symphonic drama, which is held every summer at the Waterside Theatre in Fort Raleigh NHS. His 37 year NPS career began as a seasonal lifeguard at Coquina Beach in Cape Hatteras National Seashore. His career eventually spanned 5 parks in 3 regions and included 13 years of service as an active member of the National Type 1 Incident Command Team. Serving in a variety of incident command team positions, McGinnis assisted parks and their neighboring communities on many nationally significant events and natural disasters such as, the 50th Anniversary of Pearl Harbor in 1991, Hurricane Andrew in 1992, the Yosemite flood in 1997, Hurricane Isabel in 2003, and various Presidential visits and other high profile special events.
In addition to his many contributions to parks across the country, since returning home McGinnis has been instrumental in a number of key projects for the Outer Banks Group. He recently supervised two significant, multi-phased Line Item Construction projects involving the rehabilitation of the Group's administration offices, visitor center and The Lost Colony office building at Fort Raleigh National Historic Site and the renovation of the 1872 Bodie Island Lighthouse, one of three iconic beacons in Cape Hatteras National Seashore. McGinnis also facilitated the renovation and improvement of several key NPS facilities at Fort Raleigh that are used by the park's partner, the Roanoke Island Historical Association, for the production of The Lost Colony. These projects included the installation of new light towers, the construction of a new maintenance facility to replace the one lost during the September 2007 costume shop fire, the reconstruction of the men's dressing room, and repairs of the rehearsal hall.
"Dennis has had a remarkable career that has comes full circle with his return to his 'home park' to fill the same position held by his father nearly four decades ago," said Superintendent Mike Murray. "Dennis is known throughout the Park Service as an outstanding project manager and incident command team member. The Outer Banks Group has truly benefited from his experience and hard work the past two years. On behalf of his many Park Service colleagues throughout the country, we wish Dennis well in his retirement."
After retirement, McGinnis will make his home in Manteo, NC.