Date:
March 2, 2010
Contact:
Cyndy Holda, 252-473-2111  Ext. 148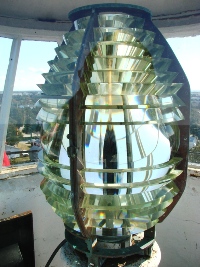 Superintendent Mike Murray announced today that at dusk on the evening of Wednesday, March 3, the Ocracoke Lighthouse beacon will once again be visible from the village of Ocracoke. The lighthouse, originally constructed in 1823, received significant restoration work during the past four months and the light is ready to be turned on once again. The work included repairs to historic metalwork, new glass in the lens room, and lightning protection measures to the structure.
The 1860 Fresnel lens remained in the lighthouse during the restoration work, protected in a specially designed enclosure. The beacon was darkened on November 13, 2009 and will resume normal operation on March 3, 2010.
The work has been performed by Alex Klahm Architectural Metal and Design, a Florida firm specializing in lighthouse restoration. No stranger to the Outer Banks of North Carolina, last winter the Florida-based firm replaced 195 damaged steps inside the Cape Hatteras Lighthouse. 
For more information on this project, contact the Public Affairs Office at 252-473-2111 ext. 148.