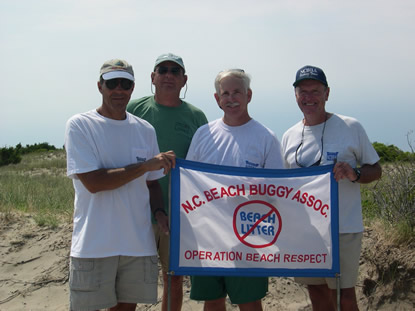 News Release Date:
July 2, 2007
Contact: Outer Banks Group, (252) 473-2111
In cooperation with the National Park Service (NPS) the North Carolina Beach Buggy Association (NCBBA), recently sponsored "Operation Beach Respect" on Cape Hatteras National Seashore beaches. The event occurred on Saturday, June 23 when NCBBA members manned many park beach access ramps and distributed information and free trash bags for beach users. Park staff and Youth Conservation Corp (YCC) students pitched in to help.
Park visitors were encouraged to participate in cleaning litter and trash from park beaches while safely enjoying the many recreational activities such as fishing, swimming, bird watching, surfing, or sunbathing. NCBBA members offered helpful tips and hints for safe beach driving and rules for off-road operation. NCBBA President, Jim Keene, reminds all beach goers "We wish everyone an enjoyable visit to the beaches of the Outer Banks and please remember to pack in and pack out your trash. In honor of National Clean Beaches Week, please remember to be responsible beach users and preserve the beauty of the beach by removing and disposing of trash in proper receptacles while visiting the Seashore."
"The Beach Buggy Association is an important partner of the National Park Service. We greatly appreciate their outreach education program and the beach and roadside clean up efforts they conduct three times a year," stated Superintendent Mike Murray.
NCBBA members sponsor three annual beach clean up efforts each year during the months of May, June and November and make a noticeable difference in keeping our beaches clean. In addition, NCBBA participates in the Adopt-A-Highway roadside litter removal program keeping the highway roadside from Coquina Beach south to Ramp 4 clean and free of litter. The North Carolina Beach Buggy Association is a non-profit organization dedicated to preservation of vehicular access to the natural beach resources of the Outer Banks through conservation, a code of ethics for safe behavior and support of local, state and federal agencies dedicated to these same goals.
As part of the fourth annual National Clean Beaches Week, the Clean Beaches Council (CBC) – a non-profit organization devoted to sustaining America's beaches – aims to raise awareness of the threats facing our beaches and to increase public responsibility and stewardship of public beaches around the country.