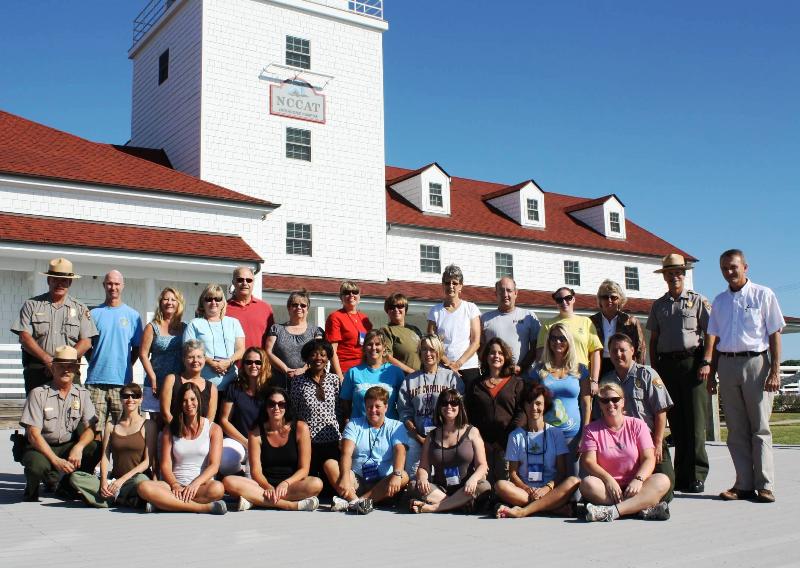 News Release Date:
November 30, 2010
Contact: Cyndy Holda, 252-473-2111  Ext. 148
Cape Hatteras National Seashore -- On a sunny, warm September day, the ferry ride to Ocracoke Island brought together twenty-two teachers from all regions of North Carolina, National Park Service staff and members of the North Carolina Center for the Advancement of Teaching (NCCAT) to launch a new endeavor --- a seminar entitled "The Landscape of Democracy: Our National Parks."
Alton Ballance, Center Fellow for NCCAT and life-long resident of Ocracoke Island, said the idea for the new seminar was influenced by the Ken Burns "America's Best Idea" series. "Doing a seminar with a National Park Service focus was also a natural since we visit and discuss the Park's resources during most seminars," he stated. "NCCAT's mission and the educational programs the national park system provides throughout America are a common thread that connects us." The seminar is one of many high-quality and innovative programs offered to North Carolina teachers as part of NCCAT's mission to advance teaching as an art and profession. In addition to improving the quality and enthusiasm of the teachers themselves, NCCAT ultimately improves student engagement in learning and academic achievement.
NCCAT has two inspiring campus locations, one located in the mountains of North Carolina and one on Ocracoke Island on the Outer Banks of North Carolina. "Our Ocracoke campus just happens to border the southern gateway to the Cape Hatteras National Seashore. We are also fortunate to have easy access to the seashore's great beaches, marshes, maritime forests, and cultural resources such as the lighthouse," stated Ballance. In addition to this seminar, NCCAT also offers other seminars that study the seashore's resources such as "Sea, Sand and Human Hands: The Changing Face of the Outer Banks" and "From Sound to Sea: The Ecology of the Barrier Islands."
The seminar, first offered September 19-23, 2010, quickly filled to capacity with 22 teachers from the mountains, piedmont and coast of North Carolina. The teachers joined several NPS staff including Bob Sutton, NPS Chief Historian from Washington, DC, and Outer Banks Group staff including Superintendent Mike Murray, Cultural Resource Specialist Doug Stover, Chief Ranger Paul Stevens, Ocracoke District Ranger Kenny Ballance and Public Affairs Specialist Cyndy Holda.
The seminar introduced teachers to the NPS mission of protecting and preserving while providing compatible recreational opportunities in some of America's finest landscapes. The program also explored some of the conflicts that come with that mission in today's world and included various community perspectives on appropriate visitor use of the seashore.
"The national parks belong to all Americans, both current and future generations," stated Superintendent Mike Murray. "Programs such as this NCCAT seminar allow both participants and NPS staff to reflect about our joint responsibility in preserving these special places." For some teachers, the class was their first introduction to America's best idea….the unique formulation of the national park concept in the United States that reflects and reinforces the idea that our most valuable and scenic landscapes should be kept for all people and for future generations.
For more information, check out www.nccat.org and www.nps.gov/caha or call 252-473-2111 ext. 148.