Crowds Gather to Watch Turtle Nest Excavations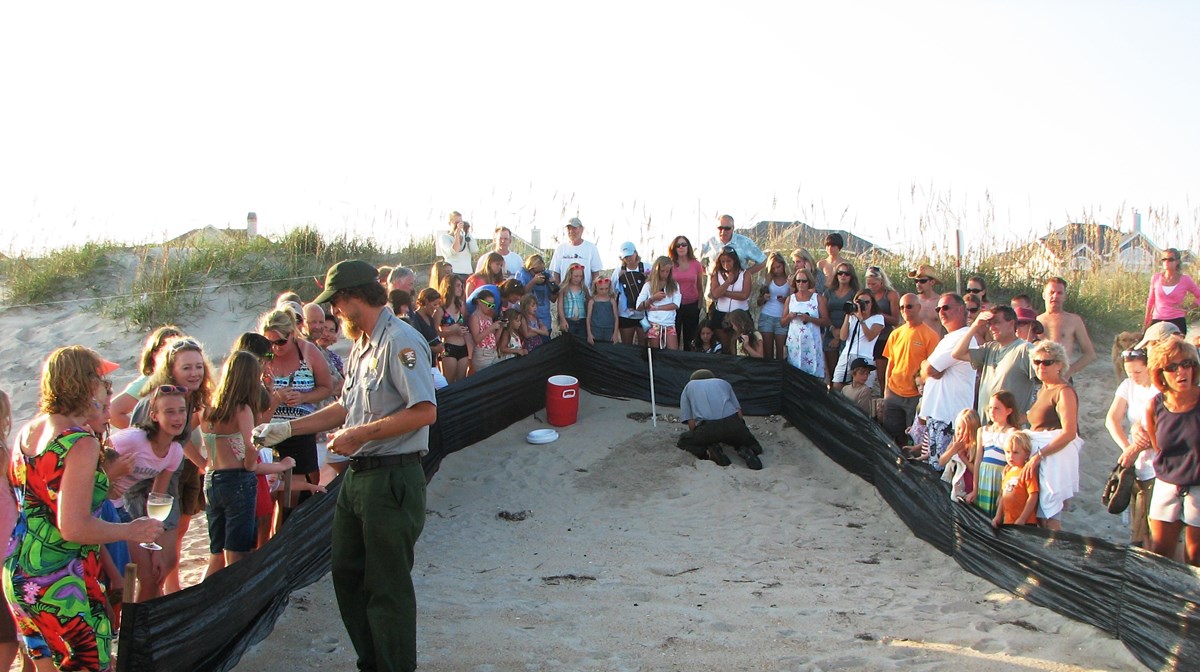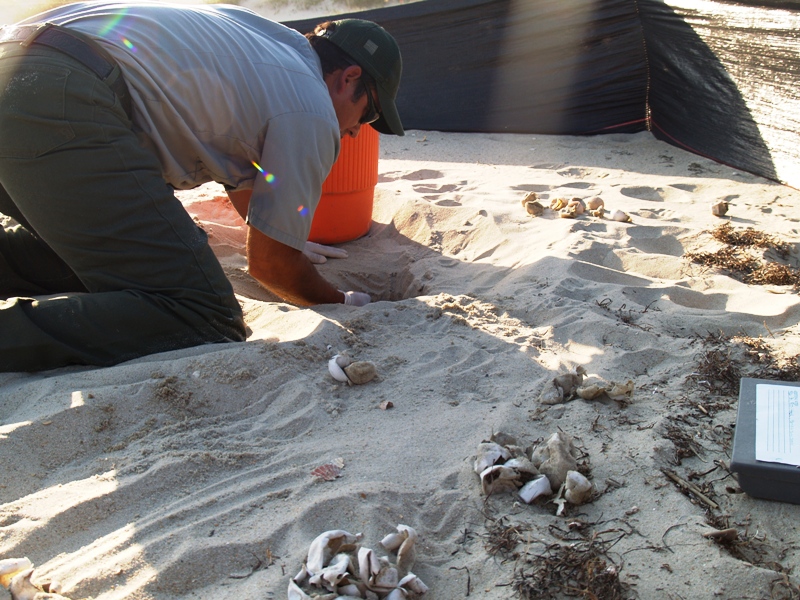 News Release Date:
August 30, 2010
Contact: Cyndy Holda, 252-473-2111 x148
On a hot, late summer evening with quiet ocean waves lapping on the beach, crowds of national seashore visitors gather to watch the excavation of a sea turtle nest in Cape Hatteras National Seashore, as National Park Service biological technicians perform an important part of their duties.
The seashore has experienced a record number of 151 nests to date for the 2010 season. At least 72 hours after a sea turtle nest has naturally hatched, the nest cavity is examined or "excavated" by park staff to count eggshells and determine the hatch and emergence rates for the nest. A nest excavation begins with park staff carefully removing sand from the nest cavity to examine eggshell fragments and any remaining unhatched eggs. Eggshells and eggs are counted and unhatched eggs are checked for stage of development and fertility. Sometimes the staff will find live hatchling(s) that have not made it out of the nest cavity and will release the hatchling(s) into the ocean at least one hour after dusk. From this examination, the hatch success for the nest can be determined and the information is added to the turtle nesting databases for the seashore and the State of North Carolina.
In addition to the information gained, excavations provide park staff a chance to learn the result of their many hours of effort to monitor and protect these nest sites, and also provides an opportunity for park visitors to observe the process and share the experience.
Interested persons should check the bulletin boards or contact the Ocracoke Visitor Center (252-928-4531) or Buxton Visitor Center (252-995-4474) to check the date for the next nest excavation (if available) at a nearby seashore location or call 252-995-6968 during normal business hours.
For more information, see the park website at: https://www.nps.gov/caha
Last updated: April 14, 2015