Bodie Island Lighthouse Restoration Update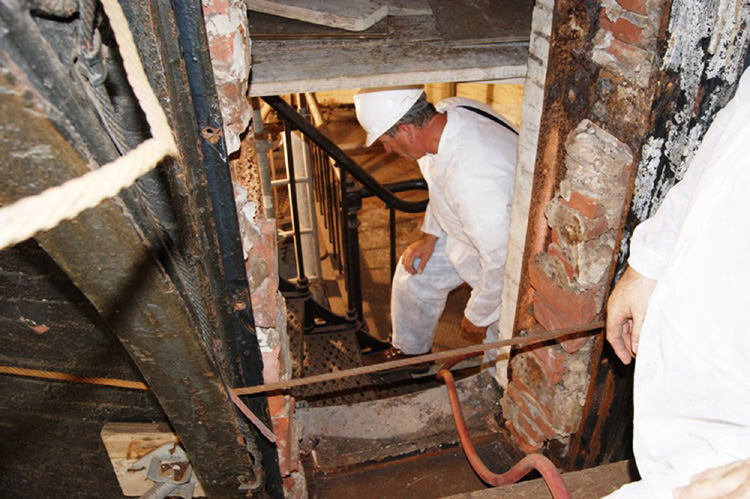 News Release Date:
July 27, 2010
Contact: Cyndy Holda, 252-473-2111 x148
Cape Hatteras National Seashore's Bodie Island Lighthouse, located south of Nags Head just off of N.C. Hwy. 12, is undergoing a massive restoration project this summer. Although the site is a busy and active construction area, the Bodie Island complex remains open to the visiting public. The park visitor center and Eastern National bookstore are open and offer a variety of interpretive programs from 9:00 am to 6:00 pm, seven days a week, to the visiting public.
The lighthouse looms on the southwest horizon as you travel south along NC Hwy. 12 toward Oregon Inlet. The tower and lantern room are encircled by an extensive 2,000-piece scaffolding system and a protective "shroud" made of nylon-reinforced, weatherproof fabric. Park visitors and engineering enthusiasts can view, from close proximity to the base of the lighthouse, at the complexity of the renovation project and take a short walk on the adjacent boardwalk.
Work accomplished to date includes:
Paint removal on the interior masonry is complete and all hazardous materials have been removed and properly disposed.
Interior of the lighthouse has been pressured washed.
The first primer coat has been applied to stair treads and touch-up work continues.
Interior masonry repointing has begun.
Negative air machine, the vacuum system and decontamination station have been removed from the site.
Work to be accomplished next week:
Begin second primer coat on interior metal work
Masons plan to be on-site to begin interior brick masonry repoint and stitch repairs.
The project is managed by the National Park Service in conjunction with prime contractor, United Builders Group, LLC from New Bern, NC, the restoration contractor, Progressive Contracting Company, Inc. from Owings Mills, MD, and the metal restoration work will be handled by Enberg Mold and Tool from Jacksonville, FL. 
For more information on this project, contact the Public Affairs Office at 252-473-2111 ext. 148.
Last updated: April 14, 2015