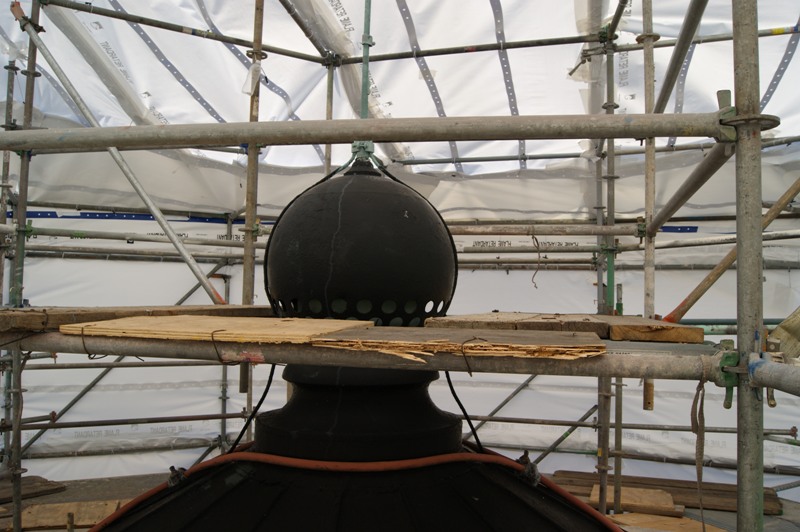 News Release Date:
February 24, 2010
Contact: Cyndy Holda, 252-473-2111  Ext. 148
Another milestone in the restoration project for the Bodie Island Lighthouse became obvious this week as the entire top of the lighthouse was enveloped in a white "shroud" and work continues on the historic landmark. 
The "shroud," made of nylon reinforced weatherproof fabric, provides several protective measures which include capturing sand blasted materials to prevent them from being released into the environment and creating a work environment that is more protected from harsh weather conditions.
Work accomplished to date includes:
Exterior scaffolding erection and shroud installation is 100% complete

Interior scaffolding is 50% complete

Mortar samples have been taken and sent out for analysis

Metal sample patterns are being submitted

Work on the negative air system is ongoing and will be in place before paint stripping work begins
Work to be accomplished next week:
Interior wooden door repairs will begin

Additional safety equipment and safety station are located on-site

A security fence will be installed around the construction site (base of the lighthouse)

Interior scaffolding will be completed

Trim samples
The project is managed by the National Park Service in conjunction with restoration contractors, United Builders Group, LLC from New Bern, NC, the prime contractor, Progressive Contracting Company, Inc. from Edenton, NC, and the metal restoration work will be handled by Enberg Mold and Tool from Jacksonville, FL. 
For more information on this project, contact the Public Affairs Office at 252-473-2111 ext. 148.