Field Trips
Due to ongoing restoration efforts the Cape Hatteras Lighthouse will likely not be open for climbing in 2023.

Bringing your class to Cape Hatteras National Seashore can be a rewarding experience and careful planning helps make a successful visit.

If you wish to have the Cape Hatteras Lighthouse climbing fee waived, you must request an Academic Fee Waiver from the Outer Banks Group Fee Manager at least four weeks in advance of your scheduled visit. If approved, you will receive an approval letter from the Fee Manager. The letter must be presented at the park entrance station upon arrival at the site. If you do not have an approval letter with you when you arrive at the site, you will be charged the applicable entrance fees.
FEE WAIVER CRITERIA
1. Eligibility
National or international applicants must prove they are a school or bona fide academic institution by submitting one of the following types of documentation:
A statement confirming educational or scientific tax exemption from the Internal Revenue Service (IRS) or the applicant's national, state, or local tax authority; or

A statement from a bona fide academic institution meeting one of these eligibility standards, confirming that the group is visiting for the purpose of providing transferable academic credit based on a curriculum; or
A statement of accreditation or recognition as an educational institution from a legitimate international, national, regional, state, or local authority for the applicant's location.
It is not sufficient to merely state or imply this on official letterhead.
2. Educational Purpose of the Visit
Applicants must provide a written statement (documentation) verifying that the visit supports a specific curriculum for which academic credit is offered. (Course outlines, lesson plans, or a copy of the curriculum meet this requirement)
3. Relevance of Park Resources or Facilities
Relevance to park resources must be described. Applicants must provide a written statement identifying the park resources and/or facilities that will be used to support the educational purpose of the visit, and how they are relevant to that purpose.
Home Schools
Home schools may apply for waivers based on the course of study following the procedures above and must meet the state's requirements for home schools.
Chaperones
The following criteria will be used in determining an appropriate number of chaperones eligible for a fee waiver. The number of allowable chaperones is based on the age and grade level of the students. The ratio is 1:5 for elementary school, 1:8 for middle school; 1:12 for high school; and 1:20 for college students. Fee waivers apply only to students and the appropriate number of chaperones per the above formulas. Any additional chaperones are required to pay the applicable per person fees.
Submitting the Fee Waiver
Please email fee waiver applications and required documents to:
caha_permits@nps.gov
Should you have any additional questions, please call 252-473-2111.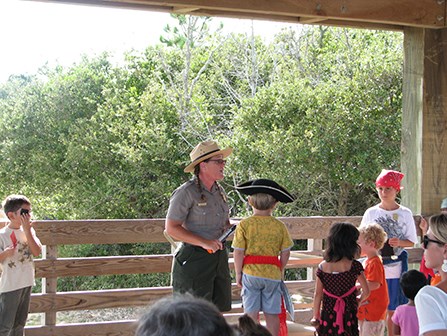 Last updated: May 17, 2023