National Park Service staff at Cape Hatteras National Seashore Recreational Area (Seashore) are looking forward to welcoming visitors from all around the world this Memorial Day weekend.
The Seashore offers a variety of recreational activities, including beach recreation (swimming, sunbathing, shell collecting, etc.); off-road vehicle (ORV) use; fishing from the surf, boats, and piers; lighthouse climbing; interpretive programs with a park ranger; camping; hiking; kayaking; watersports (surfing, windsurfing, kiteboarding, etc.); and wildlife viewing.
ORV Travel
Currently, there are more than 90% of ORV beach routes (25 to 26 miles) available to enjoy. Over the last several years, the park has worked to improve access for this popular activity. For example, a number of beach ramps now open at 6:00 am. The Seashore has also constructed multiple new ORV ramps, an Inside Road between Buxton and Frisco, and a bypass road south of Ramp 44 to enhance ORV access. An area at the southernmost tip of Cape Point is closed to protect shorebirds; however, ORV users can still access a large area towards Cape Point and north of Ramp 43. Additionally, 13 miles in front of the villages are wide open for non-motorized activities, along with 20 more miles spread across the Seashore.
Daily beach access updates are posted on the Seashore's
Facebook
and
Twitter
accounts. Learn more about ORV travel at
https://www.nps.gov/caha/planyourvisit/orv_faq.htm
.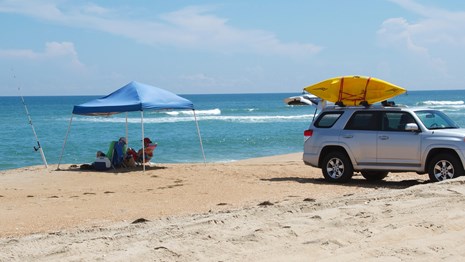 Programs with a Park Ranger
Over Memorial Day weekend, there are many opportunities to participate in ranger-led programs. The following is a listing of programming being offered this weekend:
Hatteras Island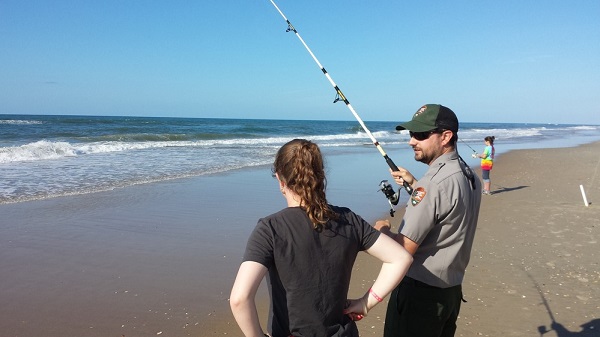 Bodie Island
Ocracoke Island
Lifeguarded Beaches
There are three beach locations along the Seashore that are staffed with lifeguards starting Memorial Day weekend. The locations are:
Bodie Island

: Coquina Beach, located across from the Bodie Island Lighthouse site.

Hatteras Island

: Cape Hatteras Lighthouse Beach, adjacent to the Old Cape Hatteras Lighthouse site.

Ocracoke Island

: Ocracoke Day Use Beach, 1.5 miles south of the NPS campground.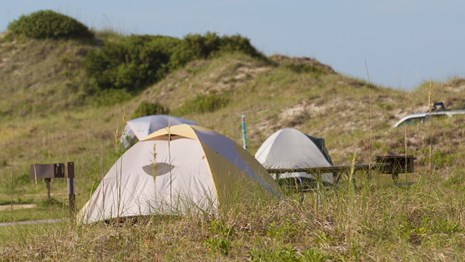 Whether you are enjoying the beach, kayaking the sound, or climbing the Cape Hatteras Lighthouse, there is something for everyone to explore at Cape Hatteras National Seashore. We wish you a safe and enjoyable Memorial Day weekend.