Off-road Vehicle Frequently Asked Questions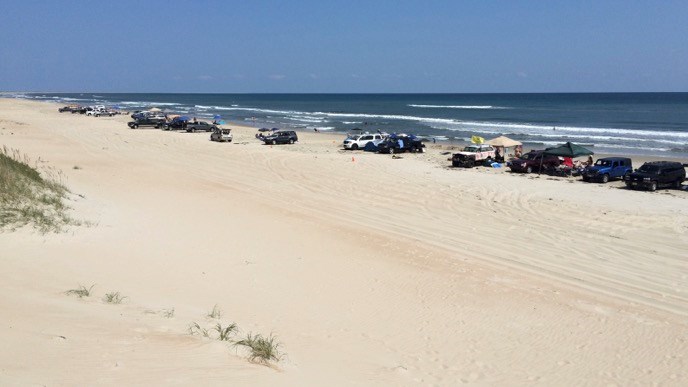 Updated January 20, 2017

Cape Hatteras National Seashore's Off-Road Vehicle (ORV) management plan and special regulation helps preserve the unique plants and wildlife of this dynamic barrier island ecosystem while permitting the use of vehicles on designated ORV routes. This FAQ provides information on the Seashore's ORV regulations and how you can obtain a permit to drive on the beach within the Seashore.
Basics
What is an ORV?
An ORV is any motor vehicle used off of paved park roads; such vehicles must comply with the vehicle and equipment requirements established by the park's ORV management plan and special regulation, and use designated ORV routes. Any vehicle that does not comply is not authorized for use off of park roads. ATVs, UTVs, and motorcycles are not allowed on park beaches.
Wildlife Closures
Can I walk in the water around a wildlife closure?
Walking in the water adjacent to the park boundary can pose several issues for anglers. First and foremost, safety is a huge concern. The NPS does not recommend anglers walk in the ocean outside of the NPS boundary to avoid a temporary wildlife closure because they would be violating federal regulations if they became tired and needed to walk onto the beach (into the closure). Even if anglers stayed outside the NPS boundary the entire time, disturbance that they caused to the wildlife within the temporary closure area would be a violation of federal regulations. Temporary wildlife closures and buffers are in place to protect federally listed species, species of concern, and other wildlife at Cape Hatteras National Seashore.
The best way to avoid a potentially unsafe condition that may result in a fine is to avoid walking in the water adjacent to temporary wildlife closures.
Permits
Do I need a permit to use a vehicle off-road at the seashore?
Yes. An ORV permit is required.

What are my options for obtaining an ORV permit? There are two types of permits: 10-day/$50 permits (valid from the date issued) and annual/$120 permits (valid for one year from the date issued).

If you have access to a printer, you may also obtain a permit at any time via the web by visiting www.recreation.gov. Search for "Cape Hatteras ORV" from the home page or call 1-877-444-6777 to be connected to a recreation.gov representative.

You can also purchase or pick up your permit by visiting one of our three permit offices open seven days a week from 9:00-5:00 pm. Here are the locations and operating hours for the visitor centers.
If you choose to purchase a permit in person, you must:
Bring your driver's license and vehicle registration with you;

Fill in the permit form and view a 3.5 minute educational video;

Sign the permit to acknowledge that you understand and agree to abide by the ORV use rules at the park; and

Pay the permit fee.
Once this is done, you will be given a permit and a "proof-of-permit." The proof-of-permit is a color-coded windshield sticker. The proof-of-permit must be displayed on your vehicle during off-road driving.

What is a print-at-home permit? A print-at-home permit is an ORV permit that you can obtain, 24 hours a day/7 days a week, through www.recreation.gov. After you purchase the permit online, you will receive a digital copy of your permit registration, the rules and regulations, and a proof of permit windshield tag.
Page one of the printed permit is the registration form and should be secured in the glove box of the permitted vehicle while driving on Seashore beaches. The signature block on the permit form must be signed in order for the permit to be valid.
Page two of the printed permit contains all the beach driving rules and regulations.
Page three of the printed permit is the visible proof of permit that must be affixed (taped) to the inside bottom corner of the driver's side windshield. The visible proof of permit must be affixed and displayed properly, in order for the permit to be valid.
Annual permittees may print at the time of purchase a temporary proof of permit. The permanent annual decal will be mailed to the permittee within 7-10 business days. The temporary proof of permit must be affixed, using tape, to the inside of the driver's side windshield and must be displayed at all times that the permittee wishes to access the beach with an ORV. The temporary proof of permit can be used for no longer than 30 days and should be immediately substituted with the permanent decal once it is received via U.S. mail.

Do I have to print the permit, or can I keep it digitally on my smart phone? You must print all three pages of the permit. The permit must be signed and the proof of permit must be properly displayed to be valid.

I need assistance with a problem I have with an online permit order. Who do I contact? If you need assistance with ordering an ORV permit, please contact Recreation.gov directly. You may contact the customer service department by phone, email, and chat. Here is the information that you will need:
Email or chat, go to https://www.recreation.gov/contact-us. They will respond to your email inquiry within 24 hours.
Reservation Line: 1-877-444-6777, Customer Service Line: 1-877-345-6777.
What if I don't have access to a printer?
Just come into any one of our three permit offices with you confirmation number and we can print it for you.
If I misplace my permit, or lose it, can I print another copy?
Yes, here are the instructions:
Login to your Recreation.gov account.
Click on your name in the upper right corner.
Click on the "My Reservations" from the list.
Find the correct permit and click "Reservation Details."
Click on "Print Permit."
Watch the 3.5 minute ORV Safety Video on the Cape Hatteras ORV Permit page at recreation.gov.
Are there any specific permit requirements for my vehicle?
Yes. To get an ORV permit your vehicle must:
Be registered, licensed, and insured for highway use and comply with inspection requirements for the state, country, or province where the vehicle is registered;

Have no more than two axles and have tires that are listed or approved by the U.S. Department of Transportation; and

Have a low-pressure tire gauge, shovel, jack, and jack support board.

Other equipment that is recommended, but not required, is a full-sized spare tire, first-aid kit, fire extinguisher, trash bag or container, flashlight (if night driving), and tow strap.
Is there a limit to the number of ORV permits available?
No. There is no limit to the number of permits available.
Does the ORV permit guarantee that all ORV routes will be open for me to use?
No. There are several reasons that parts of ORV routes may be closed to ORV use:
There are seasonal closures along certain routes from April 1 to October 31. These are shown on the ORV route map;

Routes may be temporarily closed if the carrying capacity is reached;

Routes may be temporarily closed if there is a specific need for resource protection; and

Routes may be temporarily closed for safety reasons.
All closures are clearly signed. For the most up-to-date route status, please visit https://go.nps.gov/beachaccess.
Several of my family members have ORVs. Do we need to get a permit for each vehicle?
Yes. You must get a permit for each vehicle.
Can family members or friends use my vehicle on the beach if I have an ORV permit for it?
Yes. The person driving the ORV permitted-vehicle must have a valid state motor vehicle driver's license. The ORV permit must be in the vehicle and the proof-of-permit properly displayed. You should carefully review the regulations printed on the ORV permit with any person you let operate the vehicle. Your ORV permit can be revoked if they violate these regulations.
I plan to rent or lease an ORV during my vacation. How does the permit work with that?
In general, the person renting or leasing the vehicle should be the one applying for the ORV permit. Businesses that rent vehicles specifically for beach driving may obtain annual ORV permits for their fleet of rental vehicles and allow renters to use the permitted vehicles. The operator of the vehicle, whoever that may be, must obey the ORV regulations. The business-owned permit can be revoked if a customer violates the regulations.
Can I use my Interagency America the Beautiful National Parks and Federal Recreational Lands Senior or Access pass to get my ORV permit?
No. The ORV permit falls under the NPS Special Use Permit Program, so Federal Recreational Lands passes do not provide discounts for your ORV permit.
Is a separate permit required for night driving, when night-driving is allowed?
No. You only need your ORV permit.
Routes
Where can I get a map of the designated ORV routes?
You can pick up an ORV route map from any park visitor center or any Outer Banks Visitors Bureau welcome center.

What are the priority ocean beach routes? Routes that are accessible from Ramps 2, 4, 25, 27, 43, 44, 48, 49, 70, and 72.
Why do I sometimes see ORVs in areas closed to ORVs?
In addition to NPS vehicles being used by NPS employees to conduct approved management activities and emergency response vehicles, the NPS allows ORV use in certain areas closed to ORVs only for very specific purposes, this includes:
Participants in regularly scheduled fishing tournaments if such tournament use was allowed in that area for that tournament before January 1, 2009.

The use of special-permitted ORVs to transport mobility-impaired individuals to a predetermined location in a beach area in front of a village that is not otherwise open to ORV use. Stop by your local permit office for more information about this mobility-impaired transport permit.

Commercial fishermen with a NPS commercial fishing permit when actively commercial fishing—as long as a beach is not

a resource closure or a lifeguarded beach. Also, commercial fishermen can drive

on the beach at 5 am on days when night-driving restrictions are in effect for the general public if they are actively engaged in authorized commercial fishing activity and able to present a fish-house receipt from the previous 30 days.
Driving on the Beach
How does the carrying capacity work?
The maximum number of vehicles allowed on any ORV route at one time is, basically, the length of the route that is open divided by 20 feet (6 meters). This, in essence, allows vehicles to park side-by-side, one row deep, as long as there is still room on the beach for two-way ORV traffic to pass behind parked vehicles safely. The carrying capacity prevents over-crowding and best provides for safety and visitor experience. In past years, such closures have only occurred on the Bodie Island spit for several hours, once or twice a year—and there were still many miles of beach open for ORV use elsewhere on the seashore.
Can I drive my two-wheel-drive vehicle on ORV routes?
Yes. Four-wheel-drive vehicles are recommended however, two-wheel-drive vehicles are allowed if, in your judgment, the vehicle is capable of off-road use in deep, soft sand.
What about tire pressure? What if my vehicle gets stuck on the beach?
When driving on ORV routes, tire pressure must be lowered in order to keep adequate traction within the posted speed limit. Tire pressure of less than 20 psi is recommended for most vehicles. The softer the sand, the lower the pressure needed. Re-inflate tires to normal pressure as soon as possible after you return to paved roads. If you get stuck and cannot get your vehicle out, your best bet is to call a commercial towing service. NPS rangers are not allowed to pull or tow your vehicle.
Can I tow a boat or utility trailer with my vehicle on ORV routes?
Yes. Towed boat and utility trailers with one or two axles are allowed. Trailers with more than two axles are prohibited.
Can I tow a travel or camping trailer (a trailer with sleeping and/or restroom facilities) on ORV routes?
No. Travel or camping trailers are prohibited on ORV routes. If you camp in the park, you must use one of the park's designated campgrounds.
What is the speed limit on ORV routes?
The speed limit is 15 mph unless otherwise posted.
What are right-of-way rules I need to know?
Pedestrians always have the right-of-way. Vehicles must yield to pedestrians and move to the landward side of the beach when approaching or passing a pedestrian. When traveling within 100 feet of pedestrians, ORVs must slow to 5 mph.
Can I drive on ORV routes at night?
Yes, but there are some seasonal restrictions:
November 16-April 30, all designated ORV ramps are open to night driving (24 hrs a day);
May 1–July 31, to help protect nesting sea turtles, priority ORV ramps open at 6:00 am and close at 9:00 pm. All other designated ORV ramps open at 7:00 am and close at 9:00 pm;
August 1-September 30, to help protect nesting sea turtles, priority ORV ramps open at 6:30 am and close at 9:00 pm. All other designated ORV ramps open at 7:00 am and close at 9:00 pm; and
October 1 - November 15, All designated ORV ramps, including priority ramps, open at 7:00 am and close at 9:00 pm.
September 15-November 15, all designated ORV ramps, including priority ORV ramps, open at 7:00 am and close at 9:00 pm. Transition to night driving could occur if there are no sea turtle nests remaining along a route.
Priority ocean beach routes are routes that are accessible from Ramps 2, 4, 25, 27, 43, 44, 48, 49, 70, and 72.

For the most up-to-date route status, please visit https://go.nps.gov/beachaccess.
Can I leave my ORV parked on the beach if I don't drive it between 9 pm and 7 am during the seasons that night-driving restrictions are in effect?
No. During the restricted seasons, all vehicles are prohibited on ocean beaches.
Inside Road
What is the Inside Road?
It is a sand road, approximately 4-miles long, that allows off-road vehicle travel between Beach Access Ramp 44 in Buxton and Beach Access Ramps 48 and 49 in Frisco.
We've heard of a road called the Inter-dune or Inter-dunal road—is this the same thing?
Yes
Is an off-road vehicle permit required to use the Inside Road?
Yes
When did the National Park Service decide to build this road?
The National Park Service made a decision in 2013 to build the Inside Road and several other access and parking projects. For more information,
looking at this planning site
.
When was this project originally scheduled to be completed?
In 2018. However, as a result of the 2015 National Defense Authorization Act, the National Park Service expedited the construction of the Inside Road and Ramp 48, and completed the projects in January 2016. For more information, look at this page on the act.
How does the Inside Road facilitate access?
In several ways, including:
The Inside Road, paired with the new Ramp 48, provides an additional route to access the ORV route in Frisco that was previously only accessible from Ramp 49. There may be times that Ramp 48 may allow partial ORV access to the route in Frisco that would have otherwise been inaccessible.

The Inside Road allows ORV users to travel between the Buxton and Frisco area and use sections of ORV-accessible beach without refilling their tires with air (airing up), going back out to the highway, and lowering their tire pressure (airing down) once back at Ramp 49.

The Inside Road significantly enhances access to approximately 3 miles of beach that is designated as a vehicle free area (VFA) located between just north of Ramp 48 and Cape Point. This VFA still exists; however, ORV users can park along the side of the Inside Road and walk over the dunes to more easily access certain sections of the seashore to enjoy activities such as shell collecting, fishing, swimming, and walking. Although sections of this VFA are likely to be closed to entry during the height of the summer shorebird nesting season, the Inside Road should provide easier access to many areas of this VFA during early spring, late summer, fall, and winter.
Will this road just be closed all summer due to wildlife nesting buffers?
Probably not. The Inside Road was designed to be far enough behind and below the primary dune so that the road and vehicle traffic are not visible from the beachfront and will not disturb nesting wildlife. As such, we do not currently anticipate seasonal closures of the road.
Does the road change which ORV routes are open and closed or the size and duration of wildlife buffers?
No, all of the existing ORV routes and vehicle free areas remain unchanged. The size and duration of wildlife protection buffers also remain unchanged; information on wildlife protection buffers can be found here.
Last updated: August 5, 2019